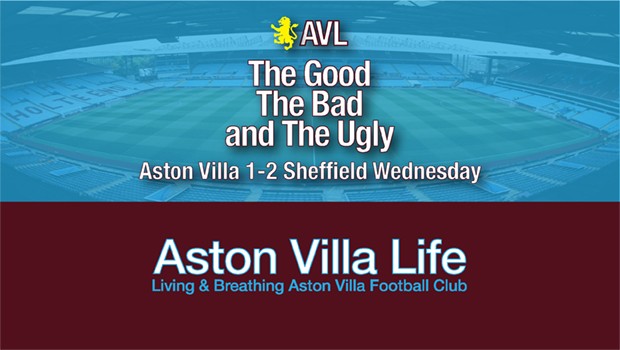 Villa hosted Sheffield Wednesday looking to make it two in a row on Saturday, but were simply outplayed and bowed out 1-2 losers. Steve Bruce put out the same formation as he did Tuesday, with Kodjia and Abraham up top, but Albert Adomah got the nod over Anwar El Ghazi.
This is going to get a little long, so bear with me or skip to the end. I might not be saying anything you didn't already know because we've all been watching the same thing for a while now.
The Good
John McGinn's equalizer was an absolute beauty. Can't take the ball of the volley any better than that. An attacking formation for the second match in a row. While some are questioning Jack's play of late, I will say I liked that he was looking to shoot. He should be. And the more he does, the more likely they'll start to go in, or at least force saves and/or defensive breakdowns and second-chance opportunities. Alan Hutton's last-gasp tackle was a goal-saver—crunching and timed to perfection.
The Bad
Bruce said it all himself: "We just didn't play well enough—individually or collectively. We gave the ball away far too regularly and didn't move it quick enough at all. We were slow and static in our movement against a team who put five at the back and four in midfield."
Accordingly, Wednesday had the initiative throughout most of the match. They pressured relentlessly all over the pitch, came up with far more than their share of the 50-50 balls, found their outlets, and moved it around nicely. In short, they looked like they had a much better idea of who they are and what they're supposed to be doing.
Villa didn't have much response beyond McGinn's wonder goal. During the match, I heard someone on the commentary remarking rather incredulously that there was no shape, system, or coordination.
As I've noted many times, a continuing issue is players receiving telegraphed passes with their backs to goal. You want to be static and give the ball away? That's a good way to do it. And it seems to be our system.
And on a day when Kodjia's touch was non-existent—the ball repeatedly coming back off him or being intercepted by players unafraid of being turned or otherwise caught out—there's was no fixing it, apparently. Abraham had a bit more joy, but not enough. Touch seemed to be a factor for a number of players, likewise accuracy, and this was obviously down to the pressing. As they do, Grealish and McGinn tried to carry the ball through the middle, switch sides, and find wide runners.
Grealish, in particular, I think is feeling not only the weight of expectations, but also trying too hard to single-handedly break teams down because the system isn't doing it. He gets his head down and often isn't looking for the pass quickly enough.
McGinn, for his part, looked to jump-start attacks when receiving the ball with his back to goal by slipping and turning to get it going upfield, and it was nice to see, likewise his unending industry.
But with McGinn and Hourihane regularly coming back roughly in line with each other in front of the back four, there's no obvious spearhead. One either has to carry the ball, or find Grealish in the free role he apparently has now from wide left. It's either that,  send it up to Kodjia, or go out wide.
As we know, our fullbacks play off and don't shut down opponents, and our centerbacks are taxed. Jedinak doesn't offer much support when pressing up, and Chester is looking somewhat a shadow of himself since being paired with Jedi. I liked the idea of giving giving Abraham someone to work with up front, but yesterday, at least, Kodjia meant Villa were often playing with 10 men, and Wednesday 12, since he couldn't keep hold and didn't add anything to winning it back.
The Ugly
More booing at the final whistle to sum up one win in seven. This is not the start we needed. Quite obviously the exact opposite.
Final Verdict
We can't press, and we can't handle pressure. We seem to be chasing shadows when an opponent is playing well. We rarely impose ourselves for more than 15 or 20 minutes. It is true that on the day Villa didn't necessarily play well at the individual level. But despite the attacking set-up (which just means a large number of talented attacking players, in Bruce's view), there were little of the complementary aspects needed to make the set-up successful.
In looking to contextualize the challenge on the day, Bruce plaintively pointed out the Owls were "playing five at the back and four in the middle." Which would seem to be the reason we couldn't break them down.
Yet, that seems to miss the point that they also broke with pace and intent, and had the ball for large stretches in central areas and our third. They weren't hunkered down and weathering a storm. They simply were playing a modern game more cohesively, and executing a well-drilled plan. We made it easy for them to look good because we couldn't do anything to make them pay for the pressure. Further, we don't win the ball back quickly. We don't shut down outlets. We tend to get players isolated, and while there might be one outlet, there isn't the second and third, or fourth that forms a pattern of play. They're all shut down. We turn it over or go backwards.
Anytime more than one player is on you, there's someone not marked. But if the opponent overloads quickly and takes away the outlets? You have to make it hard for them to overload. You have to have composure, knock passes together, and get them chasing. They'll back off when they can't get it for a while. But when we're playing down the line, you've already done half their job by making the touchline a defender. It's all well and good if you're catching them out and moving into space vacated by wingbacks and wingers. Otherwise? You need more room to move, and you need to make them defend more area. As they high press, you have to slip it past them quickly and get turned upfield.
To be fair, there were a couple of breaks into space that saw Abraham or Kodjia running in on goal. But the necessary lay-off or through-ball is either late, inaccurate, mis-weighted, or non-existent. Players are also marking themselves out of the game, taking up positions where they'd be very lucky to receive a ball. You'd think this could be corrected and drilled on the training ground. Grealish, Hourihane and McGinn all have the quality in them.
Since these are talented players, something else is amiss. Are they disaffected and showing a lack of confidence in or affection for the system? Are they just feeling their way into the season? Or are we lacking an actual way of playing beyond simply setting people out in positions with basic instructions like get it up to Kodjia/Abraham, or play it wide and knock it in?
So, here we are yet again. While we may have showed attacking intent with personnel and formation, execution was lacking. No system will work if the players can't execute it. And you can't really call what we're seeing a system.
We hear from Bruce that we'll be working on the defensive side of things this week. Which I'm not taking as good news because I don't think it's going to involve winning the ball back further up the pitch, or seizing the initiative and imposing ourselves. It won't involve more movement off the ball, hunting in packs, or quick interchanges.
I fear, rather, that it involves playing off, not 'overcommitting', not getting enough players forward, and playing with a DM to cover the back four. I take Bruce's point that needing to score three every week is an ask. At the same time, the back line that needs help is his doing, and it may be the case that we can't play two up front and will have to go back to playing five in the middle. Or that Kodjia needs to ride the bench to make way for Hogan. If nothing else, Hogan provides more chasing, tracking back, and overall energy.
Bottom line: You generally know what an opponent is and what they'd like to do. The difference between good teams and bad teams is that good teams can execute their game against anyone, sooner or later. Right now, Villa don't have a game, and if they do, are all too easily stopped. Meanwhile, we're leaking goals. It's not a good combination.
Over to you.