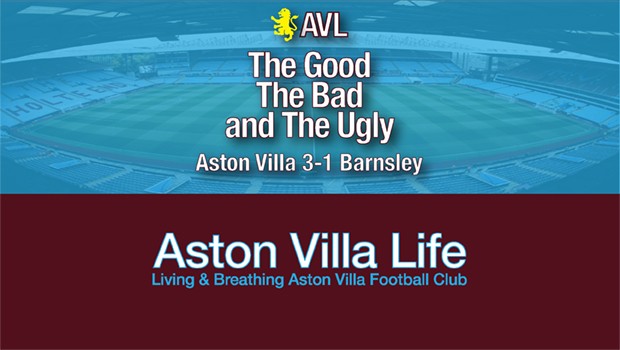 Villa continued their 2018 winning streak in convincing fashion yesterday, making it four in a row, and sending Barnsley home on the wrong end of a 3-1 scoreline. Two quick goals from Scott Hogan provided the necessary cushion, and Conor Hourihane's seventh of the season kept Barnsley at arm's length. As a result, Villa pulled within thee points of second, and only failed to overtake Cardiff in third due to the Swans 0-0 draw with Wednesday.
The Good
Wins are what's required, and winning is what Villa are doing. In fact, they're ticking over quite nicely at the moment. A fast start was rewarded with two Scott Hogan goals in two minutes. Conor Hourihane's made it three, and it was good to see him back on the score sheet. More important, it was good to see Villa grab the third following Cavare's powerful header to get Barnsley back in the game at 2-1. Shame the lovely move putting Hogan in for the hat-trick ended in his effort coming back off the woodwork. Sam Johnstone made a couple of good saves in the second to keep the game from getting too interesting down the stretch.
There was good energy, good pressing, some tidy play, nice deliveries.
The Bad
As Steve Bruce mentioned, Villa tend to relax and allow goals after scoring quickly, and did so again. Didn't matter in the end, but the side have to keep themselves grounded and switched on when it looks like a romp is in the offing. Eighty to 90 minutes is a long time for a team to get back into a game.
Villa also got a bit sloppy down the stretch. But I don't think it would've looked quite like that had the scoreline been tighter. Villa have shown they can close out 1-0s, so I think it's more the case that when they're feeling it going forward and looking for more, they're likely making Steve Bruce very nervous by leaving the game more wide open that it might need to be.
The Ugly
Once again, nothing here. Except maybe my work week, but that's unrelated.
Final Verdict
This is the sort of run that looks like progress. Goals have been coming from a variety of players, and Villa are playing more quickly, combining nicely, and finally looking cohesive. We're not looking like juggernauts just yet, but it does look like it's finally coming together and that the potential in the squad is starting to be realized.
It would be hard to ignore Grealish's impact, since he really is showing quality and leadership on the pitch, a far cry from the puzzling player he was before his injury. With someone to carry the ball who always offers a threat and an outlet, Villa finally have someone to run things through the middle and aren't reliant on long balls to a hold-up man, or the very predictable build-ups down the touchlines.
On Hourihane's goal, he scoops up the failed clearance, gets directly into the box, deftly dribbles to make room, looks up to see Hourihane's clever run, and slots the ball perfectly across for the Irishman to pass into the net. Quality stuff at an important juncture in the game. Of note was the way the excellent Cavare, wary of fouling Grealish right on the edge of the box, allowed him to slide by.
But Jack isn't doing it alone. Elmohamady's fine delivery for Hogan's first is exactly the kind of service the striker feeds on. Hogan's second, courtesy of an excellent delivery from Snodgrass on the corner, was another poacher's gem. Hourihane's little run into space was intelligent (and attacking), and you could see how gratified he was that Grealish picked it out.
Johnstone has made all the saves you could ask him to make. Hutton is playing the best football of his Villa career, and even though the goals may have dried up a bit for Adomah at the moment, he offers constant width, pace, and creativity down the left. James Chester has been quality throughout the campaign, and John Terry is doing what John Terry does.
The players look happy and confident, and that self-confidence bodes well for the final stretch. They're winning close ones, and comfortable ones, and it looks like a goal is always in the side. Now, of course that's the way things look when it's going well, but things are going well. With a little luck, one starts to believe this is the sort of overall performance we can expect more often than not. We won't always score three or five, but we don't need to. At the same time, we can, and that's what makes teams hesitant and creates openings.
So, once again, I'm a happy man, and I'm pretty sure everyone in claret and blue is feeling pretty good, too, right now.
Over to you.