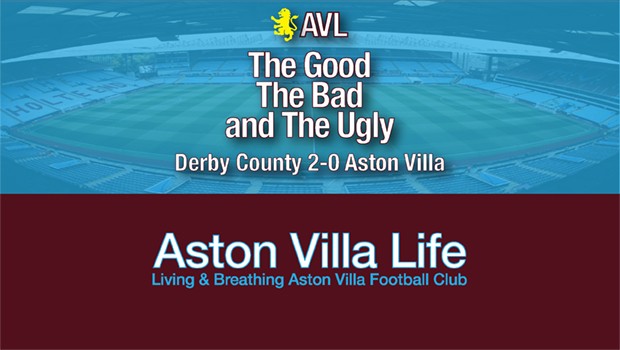 To say Villa's 0-2 loss to Derby was underwhelming would be an understatement. In the first of two consecutive matches with the teams on either side of us in the table, Villa failed to produce the goods. Fortunately, Sheffield United have been stumbling badly. But the trailing pack is closing, and two points from the last three games is not the return Villa need.
On Derby:
The Good
Sam Johnstone. Jack Grealish. The interplay down the left side. And that was about it.
To expand a little, I did take some encouragement from Grealish going forward. He looked to drive forward, was tidy on the ball, and seems ready to play a role, rather than drift along. The downside is that there wasn't really anyone for him to partner with up front.
Oh, and Neil Taylor made an excellent tackle to prevent Nugent from scoring right off the bat.
The Bad
Pretty much all of it. Villa weren't abjectly poor, they were just what we've come to expect. Generally too slow going forward, missing the well-placed pass to put players through on the counter, terrible in the air, and simply too predictable overall. And often you see players dithering, unsure, missing the quick outlet, or afraid to try the pass that unlocks a defense.
In fact, I've had trouble conjuring up any sort of insightful analysis of late (if I ever do) because every game looks very much the same—they're starting to blur together. You can tell who's going to pass to whom. You can tell the ball will be generally slightly behind the advancing player receiving it. You can tell we'll hug the touchline and give ourselves little room to work with. You can tell that if Adomah gets deep and has support, it will go back to Taylor, then across to a trailing midfielder and come to naught because everything is static in the middle and the defense are back in position.
And often when Adomah gets deep, you'll see two or three players hemming him in. It's become obvious he's our main scoring threat, and he's having trouble getting free to cross, let alone get in on goal. You can sort of ignore Snodgrass on the right is what teams are basically saying.
Which brings us to the fact you can tell that if Snodgrass does get a good look at goal he's going to scuff his shot. You can tell that if a player is drifting into space in the middle of the park that he won't generally receive the ball. And if he does, it's not really in any sort of threatening position. If we do avoid passing sideways to get it to Taylor to start up the flank, there's not another clever player to offload to in the middle. You can tell that too many times whoever is receiving a pass either has his back to goal, or is static and marked. You can tell that we won't handle pressing well.
And of course, I'll close this delightfully uplifting segment with the choice of Onomah as a striker, when we had Hogan on the bench. Not that Hogan's been pulling up trees, but really?
The Ugly
Well, you have to go with Whelan's howler, don't you. You just can't gift a team goals, and while I love holiday spirit, Whelan's was a bit too indiscriminate.
Final Verdict
We're not going anywhere. Yes, injuries are definitely playing a part. For example, we'd have expected Kodjia to be back to his old self by this point, or close to, anyway, but of course he's not in the frame. His presence would pull defenses around, open up space, and pose a real threat. Absent Kodjia, there's no real threat from the front line besides Adomah.
Adomah has done his bit, to be sure, but due to the lack of quality around him up front, it's too easy to focus on him, and obviously opponents have picked up on this. Grealish can certainly give you some goals, but right now, he's got no real targets to pick out to amplify his influence.
This points to all the money spent on Hogan and McCormack being a complete waste, never mind the fact it's hampering our search for a Kodjia replacement. Whatever the team's weaknesses might be elsewhere, this really is doing us in up front.
Davis is a fine target man, especially given his age, and when he's on song, he's also slick with the ball. But he's hardly prolific, and once again, the lack of a partner is a big reason why.
So, given we won't apparently look at any of the other players in our ranks, I'm not really sure what to tell Bruce. I could tell him O'Hare isn't likely to produce any less end product than Snodgrass at the moment. I could tell him that maybe some of the other kids who've had good outings wouldn't do any worse than Whelan and Onomah. I could tell him that whatever it is that's driving Onomah's constant inclusion is perhaps hurting the team and that it might be a good idea for him to go back to Spurs in January. I'm not seeing any development. Pretty sure Pochettino isn't, either.
In short, I don't really know what to do. Calls for change will inevitably mount if results don't improve, and I've no idea whether it would do any good. But progress seems to have stalled, and I'm not seeing any signs that we're about to break out of the mold we've been set in. You look at the record, and it's not 'bad'. It's just barely good enough to have us in contention for promotion. I'll leave off whether the team as it is would survive if we do go up.
Perhaps it's just a bad patch. Perhaps we just aren't good enough to beat the teams around us and we really are just an also-ran once again. Perhaps Xia has asked too much. Or asked too much of the wrong people.
What I do know is that if we don't beat a struggling Blades side this weekend, we might find ourselves irrevocably drifting out of touch come January.