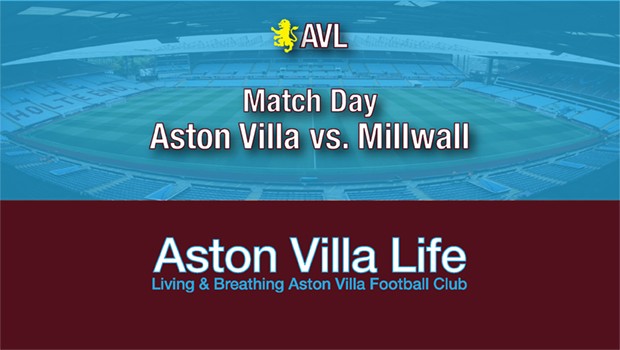 Villa's three-game winning streak was interrupted last Friday night with a draw away to Leeds, and today sees Millwall, currently 17th, coming to Villa Park. With Sheffield United and Bristol playing each other, it would be a good day to pick up three points. Then again, they pretty much all are.
I'd prefer to see Sheffield and Bristol draw, of course, but would also be alright with a United win in that fixture as long as we keep pace. Wolves have Sunderland at Molineaux, so I think we all know how that's going to go, but it wouldn't hurt for Wanderers to slip up. Cardiff travel to Reading, and maybe there's a chance for us to pick up a couple of points on the Bluebirds.
At any rate, the team sheet is out now, and the only change is Lansbury coming in for Hourihane. Many might be surprised that Onomah is in and Grealish isn't…But perhaps I give Steve Bruce the benefit of the doubt here regarding Jack's overall fitness.
It also probably doesn't hurt the side to at least start off with only one change, and seems to fit Bruce's recent preference to keep the side unchanged barring injuries. Makes it easier for everyone else to keep going the way they have been, and Lansbury will have a stable side around him to make his role clearer and keep the team cohesive.
Of course, you could also say it shows a lack of imagination on Bruce's part, or an overabundance of caution. And then someone else could say back to you that at least Bruce isn't chopping and changing now that he's got more players to choose from. So, take your pick.
One would certainly expect Grealish to make an appearance at some point. There's also the question of whether Onomah is pretty much guaranteed to start as part of his loan deal. But I would have to think that regardless of such an agreement, if the scoring is still going to fall largely to Adomah, and we don't see much creativity elsewhere, Jack has to be in the frame.
Interesting also that Hutton continues to nail down a place and Elmohamady stays on the bench. You have to hand it to Alan. He's a gamer and a survivor, and I don't know that we've missed Elmo much. But he does have a better final ball in his locker, so…
Anyway, doesn't really matter, because that's the line-up on the day, and three points is the remit. Derby's up next, a much sterner test, so once again, it really is a day for the lads to dig deep and make sure they come away with a win. Millwall have only won just one of their last five, and Villa are 3-1-1. You'd like to think it's on the cards.
As noted on the last thread, if Villa can get going early, it might be a fun day to be a Villan. But it's just as likely we can expect this to be a scrappy affair and that Villa will rely on having a bit more quality to fashion the telling chance or two.
Over to you, and COYVB. This is a crucial period, so let's keep playing like it.