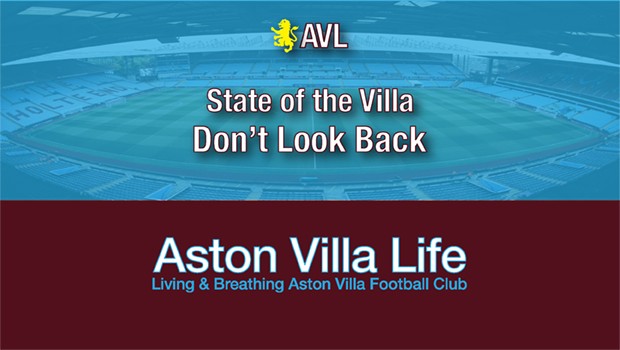 There is an old saying, "time waits for no one". It's true for me as it's true for you only we don't see it in ourselves. We haven't slowed down, become more dodgy, or less brilliant. Then that one day we notice that fence or that hill or that piece of technology is suddenly beyond our grasp. For some of us it's such a gradual thing that we feel just as we did 20, 30, or 40 years ago. For others it's a short, sharp, slap in the face. For me it was when I couldn't keep up with my crew and I resigned myself to the cab of the truck and contact via radio. Now it's the fact I take an afternoon nap if I want the rest of the day to be anywhere enjoyable.
I think time has caught up to Aston Villa, and it did so seven years ago when Martin O'Neil left and Randy Lerner got tired of the rigours of English football. A succession of managers who, not slouches but comfortable in Lerner's thinking as that is what he knew, failed to keep up with the times. (Lack of money didn't help either) There are managers who have taken a different slant with less money and were successful. Forward thinking, willing to experiment, and less likely to fall back on tried and true recipes that worked in the past. And it's possible for old dogs to learn new tricks re managers. Claudio Raneri, and Arsene Wenger come to mind.
Villa, I think, are in that hesitant cycle. People who make the decisions are afraid or unwilling to step out and face the future. Falling back on what was once comfortable, once worked, and was once successful is too strong a feeling to really change. Well for the fans it's a "been there done that". Old tactics aren't working anymore. Filling the team with veterans who have been incredibly successful would appear to be a good idea but like I said time waits for no one. They might be a positive influence on youth but have they been an influence on the score sheet? Clogging up the middle because you're not fleet of foot anymore isn't the answer. Neither is fielding a back line that can't turn on a dime.
It was a good bit of business for Stoke to sell Whelan. A "so long and best wishes" for Terry from Chelsea and like a light bulb's last bright blast providing an extension for Hutton. Still good players but past that elusive due date we all carry around. Who can blame them for wanting to extend a career and a wonderful life? Football is a ruthless sport as all professional sport is. Adapt or get left behind or worse, eaten. Unfortunately past brilliance isn't a go to formula for success. Not learning that mistake is Villa's downfall.
A light shone bright last week. It was the youth from Villa's academy. We all knew they were there, we all knew they were good. But were they good enough? Conservative thinking kept them away from the first team. A few tidbits of appearances in a handful of games last year. If you're lucky a place on the bench. And then last week circumstance brought them out into the light. And what a light it was. Clouds parted and the sun shone on Villa Park.
Unfortunately the comfortable past showed up and Villa reverted to form. Like him or hate him, Tim Sherwood has no fear in playing youth. Nor does he have any qualms in changing his tactics. Never one to stand still or blow hot air.
Youth is where it's at. At least 5 players should be youth every game. They aren't burdened by their history—they haven't got one yet. They aren't scared of making a mistake, speed and skill will correct it. The fans are on their side. Are they willing to accept youthful errors for a fast, exciting game? Yes, you have to balance a winning side with a sporting spectacle but does the spectre of not being promoted hang over management's head and produce dour results? Would fans be more reasonable regarding promotion as long as they saw an entertaining game and continued improvement? I think so.
So, take the shackles off, let them play, let them be creative within a game plan that is offensively minded. Give them a place on the first team or close to it. Give them some ownership of team Villa. Do it soon or other teams are going to make offers too good to turn down.