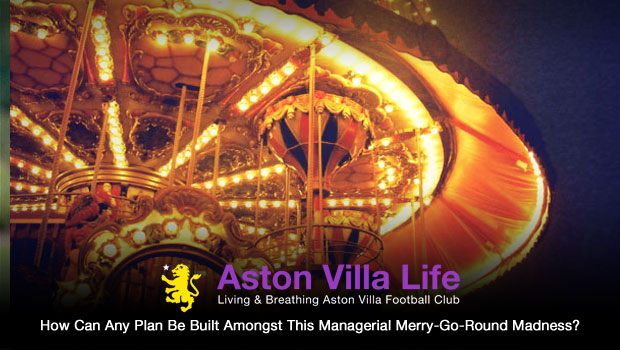 In 2013, more than half of the managers in the Premier League left their club. For some, such as David Moyes or Roberto Martinez, the move was a favourable, upward one.
For others, the situation was a little more depressing, though the likes of Andre Villas-Boas and Roberto Mancini will no doubt be consoled by significant contract payouts.
However, regardless of the reason for a manager moving, change means, well, change. A new manager can have a differing view on the game, on players and on tactics, often rendering expensively purchased (and still-needing-to-be-paid) players redundant. For Aston Villa, we have seen this issue specifically as constant chop-and-changing of personnel has left the club seemingly headless.
By contrast, moves in recent years by the likes of Swansea City – to develop an ethos independent of personnel -has provided an ideal coping mechanism, simply by ensuring that each manager appointed doesn't need to blow the whole thing up.
Sadly for Villa, their choices – both of managerial hires and of an overarching plan – have been less than ideal, and that is being polite.
The reality is there has been no coherent long term football plan in place. A financial plan? Most definitely, but even that has only been a recent response to overspending, spending that was, whether the club care to acknowledge it or not, authorised by those in charge. The problem beyond the finances however, is that anyone taking even a casual glance at Villa since Randy Lerner's arrival will see a trail of footballing disarray.
Why? We have seen in recent years a lot of change at Villa Park. Not only have managers come and gone, but players have too, although many of Villa's issues with players tend to revolve around those who have come and rotted instead.
As mentioned prior, when a club fails to have a coherent footballing strategy, financial management is akin to refilling a paper bucket riddled with holes, whilst ignoring the fact that perhaps, just maybe, paper wasn't the best way to make the bucket in the first place.
Of course, it is possible to keep the bucket topped up, but it is hard work, and work that doesn't address the root cause of the issue. For Villa, the board are guilty of the content of an old Chinese saying that "a man does not know what he does not know" and, in the case of the board, it is clear that they do not know football strategy.
In a sense, this doesn't mean that Villa will fail. In fact, as with any situation, luck and probability can make even the most crazy plan fluke out, but it does make it less then favourable. As stated, if you can't fix the root cause of your issue – having a plan that goes far further than the thoughts of one individual – you will forever be clearing decks, trying to sell players nobody wants.
Which is where Villa have found themselves in recent years. Some still laud the ownership of Darren Bent as a big thing but, and this is key, there has been limited evidence to say that anyone else wants him for anywhere near what we pay him, so I wouldn't expect him to leave too quickly barring a massive change of view by a potential buyer.
Getting beyond Villa, however, the fact that so many managers are leaving is a worrying problem, especially for clubs that don't have set strategies for their longer term. Crazy as it sounds though, there are clubs who have changed with their next step looking like a non sequitur. Who? Let me explain.
Manchester United, despite their repeated success in the Premier League era, are still very much the byproduct of one man and his logic. Yes, they have maintained success, but so much of that has been down to Sir Alex Ferguson rather than the board per se. Add into that the fact that David Gill left Old Trafford in the summer, and it is no real surprise that their season started badly. It also should have been no surprise that they wanted to build their future through another long term person – rather than a plan – so Moyes was the obvious choice.
Tottenham Hotspur too, seemed like their longer term plan was lacking. We all know that Spurs play in an attacking, flair style, so when Andre Villas-Boas had them playing in a more restrained manner, it could well have ended in tears, and did. Factor in the £100m+ spent and you can see why too much change is sometimes, well, too much change, leaving Tim Sherwood in post to work out how to get the club going again.
And then you have the likes of Everton. Thankfully for them, Roberto Martinez is intelligent enough to know you don't change everything all at once, though he has been fortunate to take on a solid team that finished far higher than the team he left, Wigan Athletic. What it does make us consider is whether these boards have a plan or, like Lerner, are they gambling from one person to another, hoping, praying that the manager can guide the club completely?
The above is certainly how Lerner felt when Martin O'Neill was in charge, such was the flexibility he was left to operate under. No, O'Neill wasn't signing the contracts himself, but he was suggesting x and y to the people in charge – players didn't just happen to sign for a certain wage with no knowledge of what was being offered.
However, Lerner had to make changes to fix the problem. The reality for Villa though was that it wasn't O'Neill's transfer fee spending that was the issue per se, it was a three factor problem – the fact the squad didn't rotate, and was thus exhausted; the fact players were bought and not used; and the fact that the club chose to pay certain salaries to certain individuals.
O'Neill is, in a way, made out to be the wholesale scapegoat, like he was literally running away with Lerner's chequebook like a kid stealing money. That wasn't the case, obviously, but the fact that a distinct lack of knowledge stopped the board having an argument was wholly relevant. The board could have done something earlier but they were naive and took years to do so, leaving Villa paying their price and, in the years that followed, the board ended up believing this "fixing" of finances was, in some way, a panacea for all of the club's ails.
Which, if we are honest, it isn't. Yes, it helps the business side of things, but football is an entertainment industry. For example, are you happier paying a comparatively cheap price for a ticket to watch a rubbish comedian? Or would you prefer to spend a bit more and actually, you know, be entertained?
What Villa need now is a plan. Experience, for certain, has to be at least part of that. Nobody is expecting every youngster to be dropped, but a bit more leadership on the pitch could help – we can't just rely on Ron Vlaar as the Holy Grail of team organisation.
So, whatever the club to do and, for the record, I actually hope that includes keeping the manager in post, they do need to help relieve the pressure on the team before it is too late. As another old saying goes, you have to spend money to make money and, in Villa's case, never a truer word could have been spoken.
Full List Of Managerial Changes
For reference, below is the list of all the managers who left their clubs in the past year at Premier League level – Roberto Martinez's exit from Wigan Athletic is not included as they were already relegated when he left to go to Everton.
David Moyes – resigns from Everton, joins Manchester United, is replaced by Roberto Martinez
Malkay Mackay – sacked from Cardiff City, is replaced by Ole Gunnar Solskjaer
Ian Holloway – leaves Crystal Palace by mutual consent, is replaced by Tony Pulis
Tony Pulis – leaves Stoke City by mutual consent, is replaced by Mark Hughes
Sir Alex Ferguson – retires from Manchester United, is replaced by David Moyes
Andre Villas Boas – sacked by Tottenham Hotspur, is replaced by Tim Sherwood
Nigel Adkins – sacked by Southampton, is replaced by Mauricio Pochettino
Steve Clarke – sacked by WBA, job still vacant at time of writing
Martin Jol – sacked by Fulham, replaced by Rene Muelensteen
Rafa Benitez – interim contract expires at Chelsea, is replaced by Jose Mourinho
Roberto Mancini – sacked by Manchester City, is replaced by Manuel Pellegrini
Paolo di Canio – sacked by Sunderland, replaced by Gustavo Poyet