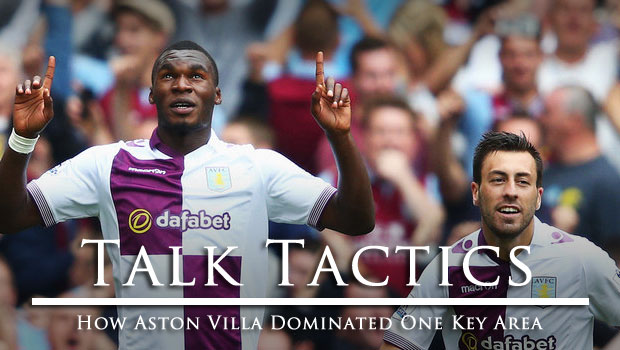 Against Arsenal, Aston Villa managed a 3-1 win. For the purists, it may not have been the most classic display of football, but it was a winning one, and winning is what matters.
Purists will point to the fact that Villa were unworthy with a mere 37.5% possession rate but, as stated previously, possession alone means nothing.
What is does illustrate, however, is that Villa's tactical methods will vary this season. Against Arsenal – or indeed any of the teams towards the top of the table – there will be a focus on getting what is needed from those matches using pace, fitness, and commitment.
At present, Villa aren't, man for man, better than the best teams in the league. Therefore they would be foolish to try and play football in a manner that tries to better those teams technically.
This may sound like giving up, but the reality is it is nothing like it – it is about adaptability.
There's Never One Solution To The Problem Of How To Win
Football teams rarely manage to win by doing the same thing all the time unless they have the best players and the best effort. In those cases, the opposition will always find it hard to beat teams of that calibre – just look at Barcelona for an example.
However, teams like Barcelona are beatable. If we look at the times when they have been beaten – such as when Chelsea won the European Cup – it was a case of other teams looking to disrupt how the game is played rather than trying to out tika-taka the kings of it.
Arsenal are, as many know, modelled in footballing terms on the Barcelona style. Few can doubt that Arsene Wenger's team have offered attractive football but – and this is the issue – they have won nothing. Commitment to the cause of silky football may be noble, but it isn't sensible if you don't win.
Which is something Villa fans suffered under Alex McLeish – here is the antithesis of Arsene Wenger football. In the dark days under McLeish, it wasn't about silky football, rather it was about trying to get points in as functional way as possible.
In those times, fans were understandably frustrated because the football was, well, hard to watch. Whilst Wenger's mentality of keeping to attractive football is flawed, McLeish's was just as flawed – you can't do one thing against all teams and do well.
There Are More Statistics To View Than Possession
Getting back to the game at the Emirates, the counterattacking game may not have shown Villa as high in possession, but they managed almost half – 47.5% – of the territory. What this illustrates is Arsenal may have had the ball, but were not in our half to be doing anything with it.
This is ultimately the flaw of possession football – possession alone wins nothing. Arsenal have proved that Villa can do well by not always sticking to a mantra of passing football, but sticking to a commitment of a wider concept, the three Ps – passing, pressure, and pace. If Villa can press hard against teams, pushing them whether they have the ball or not, they will do better than they managed last season.
Can Villa do well? We'll see if they can adopt a similar approach to the game played at the Emirates when the club visit Stamford Bridge to face Chelsea on Wednesday.