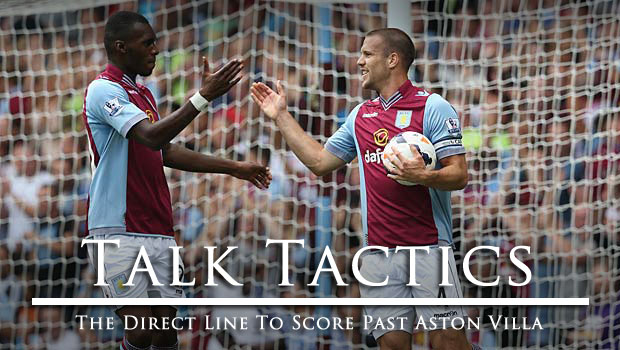 It's been a notable absence from me as I worked my fingers to the bone on a contract, feeling like I've neglected this place. The good news is that my contract is over for now, the bad news is that it means I'll be on here more often. Perhaps the good news and the bad news are the wrong way around, but there will be more of me here.
Anyway, I wanted to ease back into my old Talk Tactics column by discussing a long standing issue that faces Paul Lambert's teams when they play – the defence, and how it reacts when pressed.
As we all know, Lambert is a fan of attacking, so much so that the full backs are often pushing very high up the pitch. We also know that the football played under Lambert has to be high tempo – often we come undone when our fitness levels drop, largely because our game plan is based on pressing hard and fast until players can't physically take it anymore.
In the abstract, this makes for a very entertaining game – I'm sure very few people would trade the style of football for what we played under Alex McLeish. However, style alone doesn't win matches, in the same way that attacking doesn't.
I don't want to turn this article into a barrage of criticism – far from it – but I do want to highlight the flaw in our current style of play, and how, if I were an opposition manager, I would be looking to set up against Villa.
The Best Form Of Defence Is Always Attack?
One of the main issues that Villa's defence suffer from is that width has to be covered by two players – the centre halves – when the full backs are roaming so high up the pitch. To explain, I've drawn up an illustration of how the back four works together: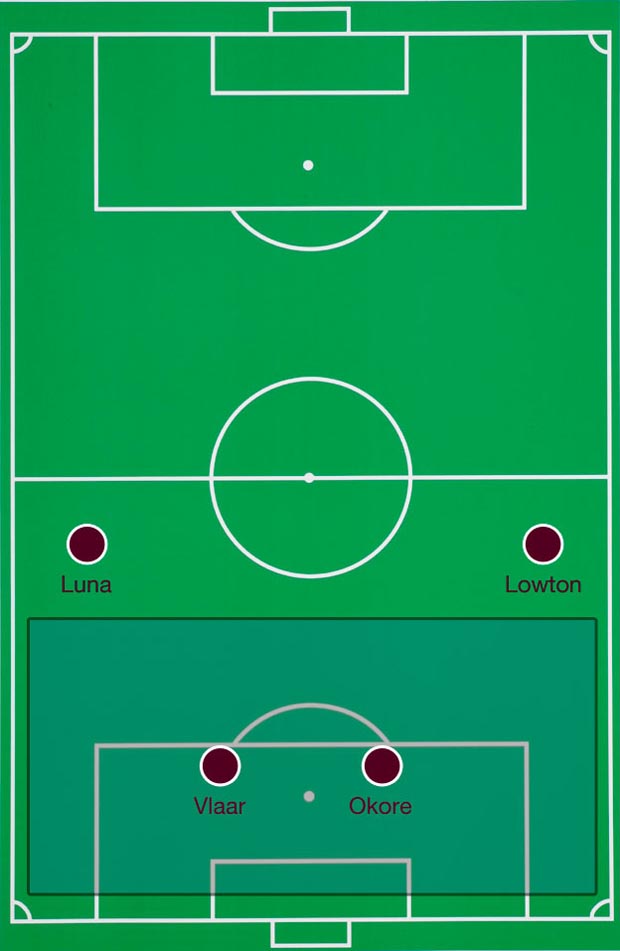 As you can see, when the full backs are pressed forwards to attack, there is a lot of space behind them – this is then covered by the centre back pairing, Ron Vlaar and Jores Okore against Malaga.
One of the reasons why Okore and Vlaar are picked is because they are both very solid athletes – one only need look back when we played Tottenham Hotspur to see that Vlaar was keeping up, pace for pace, with Gareth Bale, a man rumoured to be leaving for Real Madrid for a world record fee.
So, when it comes to the job those centre halves have to play, Okore and Vlaar are very much the right type of players for the job, but they aren't miracle makers – they can't stem the tide if numbers overwhelm them. When you consider that Vlaar and Okore can have almost an entire third of the pitch to defend, a counter-attacking team with pace can be very dangerous.
Pass & Passing – The Key To Unlocking A Tired Villa Defence
To illustrate how I would be counteracting Villa's play, I'll give a generic example of a play, and the characteristics of those players who are primarily involved in attacks: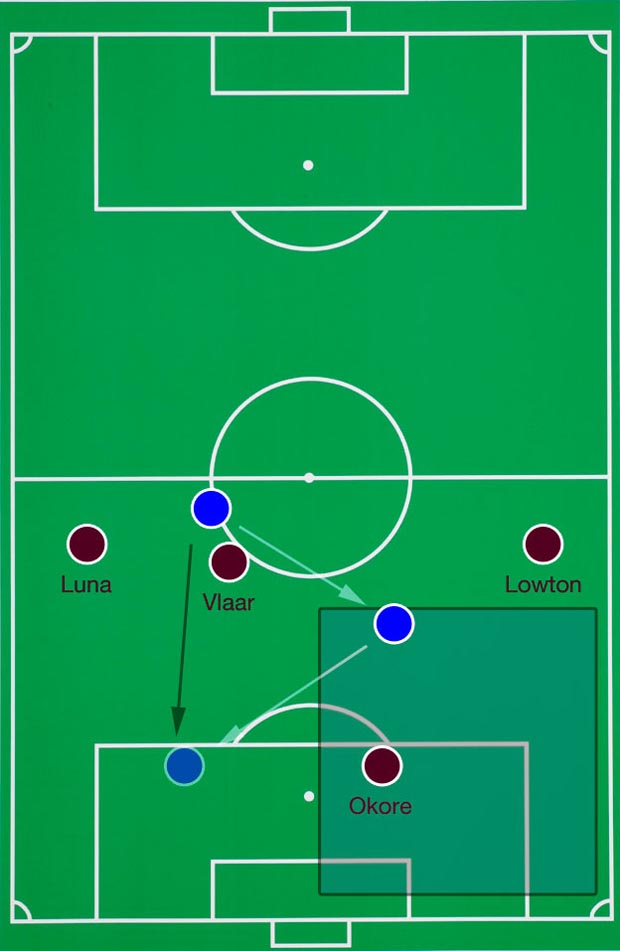 The key skills involved in making successful attacks revolves around two things – pace and passing ability. If a player can beat the full back, chances are the centre halves are going to have to split up to cover the gap. At that point, the defence is very shaky – the full backs are potentially either running backwards or having to turn to run towards their own goal.
At this point, the central pairing has to understand a few things – a) whether they keep a high line to try and pull the offside trap, and b) to know exactly where their partner is.
If the player moving for the ball gets it wrong, there could be acres of space in an on-side position to exploit, especially if the players coming into the attack are substitutes, and Villa are starting to tire – a key part of when they lose goals.
It is a pass-pass-shoot move, ideally with two players who can run at speed – wingers or strikers – who can then exploit space. The white arrows represent passes, the black arrow represents the run of the first player to receive the one-two.
If Vlaar runs for a player in possession, he leaves space open that Okore has to cover, potentially against one or two central players with pace. Okore can, like any professional, use his head to put himself between the ball and the recipient, but if the team have two players who can receive the ball – and a winger with great passing ability – there is a lot of danger to Villa. Want evidence? Look how Villa have struggled to contain Bale, despite Vlaar's athletic ability, though last season said more for a paucity of partners than anything else.
As with any tactic, this isn't foolproof – if it was, managers far better than me would be doing it every time they played Villa – but it is a definite weak point in our team, and the primary reason why we tend to struggle to keep a clean sheet.
We are, thankfully, set up far better this season with two pacy centre halves, meaning we should have more of a chance defensively, even if the football – overall – will be focused strongly on attack.
Is it the right way to do it? Ladies and gentlemen – it is over to you.
Happy Birthday Jay
Oh, and one more thing… we at Aston Villa Life wish Jason Chalifour a happy birthday as he is 31 today – have a great day Jay!