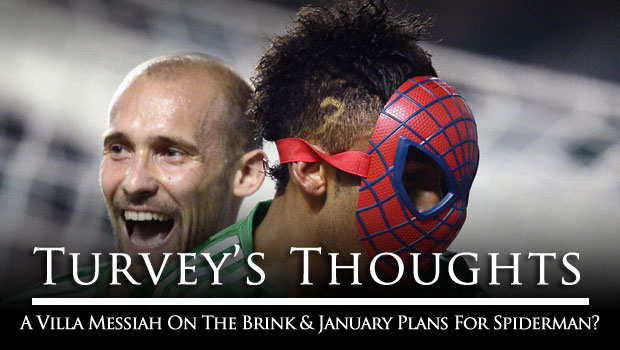 As I haven't been feeling particularly great over the weekend, I'm going to do my usual Talk Tactics article later this week and publish it on an afternoon after one of the articles of our regular writers. Hopefully readers won't mind the delay.
What I wanted to cover today was a general look at the direction we are headed, draw some parallels with past campaigns/managers, and ask what the club might have in store come January.
By securing a point against Stoke City, Villa have gone unbeaten for four games which is, by all accounts, an improvement. However, single points only go so far in terms of progressing up the league and Villa face a few tricky league fixtures over the next few weeks against Liverpool, Chelsea, and Tottenham Hotspur. At the moment, at least part of Villa's survival hinges on just how poor other teams will be over the course of the season.
This season has seen a marked improvement in the style of play in terms of football, but the position of the team has been much as it has been for all of 2012 – in the bottom half.
Against Stoke, Villa had more of the possession but less of the territory, though the home side comprehensively dominated the chances created and taken as the Potters seemed happy to grind out yet another draw against us. The style of football played by Stoke? Awful, but it was at least effective for them and being effective counts for a significant amount in terms of survival and progress.
Villa, by comparison, have attempted to play football in a more stylish manner when compared to either the opposition at the weekend or compared to recent league campaigns, and there is no doubt that Paul Lambert has the potential to take the club back to where many fans think they belong, albeit with a longer term view and plan.
New formations, same lack of potency?
Recently Villa have adopted a 3-5-2 formation in order to mix things up with the tactic offering both defensive cover through mobile wide players, allows for five in midfield, and a second striker up top. Given that Villa needed stability after a few losses against the Manchester clubs, the change to 3-5-2 could well be justified in the short term. However, whether it will bode well longer term is yet to be seen.
Which leads me on to January. There can be few fans who will be happy if January does not bring in both quality and depth in terms of purchases. Whilst Villa have uncovered a gem in Christian Benteke, and Ron Vlaar's captaincy has been effective, experience seems the missing ingredient for the club as they continue to field one of the youngest teams in the Premier League.
The future is undoubtedly bright for many of the young players brought in by Lambert, though Villa must concern themselves with the short term matter of survival in the meantime and that should logically mean experience.
Which leaves January as something of a puzzle to work out in terms of what is planned. Does Lambert continue with his bold but risky move of sticking with players who are young, hungry, and full of potential but in need of experience? Or does he have to adapt his view to take into account the short term view of survival and repeat a purchase akin to Darren Bent's £24m capture under Gerard Houllier's reign?
This is where things really become significant for Lambert and Villa as a whole. If Lambert can stick with younger players and lower wages as well as improving results and surviving, then everybody wins. However, Villa's position as lowest scorers in the league and with less than a point on average per game does sound alarm bells to fans, even though the club are currently outside of the relegation zone.
Cash alone can't fix the issues at the club
Of course, spending does not guarantee success either, and whilst a contingency of money will already be earmarked by Randy Lerner in order for the club to preserve its status as a Premier League ever-present, the worst thing for Villa would be a January money gamble that goes wrong – the club simply must survive whatever the tactic of the board and manager turns out to be.
One only need look at Sunderland, managed by former managerial messiah (in the eyes of some) Martin O'Neill, to see that things can go horribly wrong. Whilst O'Neill has managed to secure Adam Johnson and Steven Fletcher to name two of his captures this season, the north east club currently find themselves in the bottom three, albeit with a game in hand to potentially escape.
Looking at Sunderland does give fans the chance to see whose shoes they would rather be in between Villa's current charge and a team headed by a formerly loved man who delivered sixth placed finishes. Who would I rather have in charge? I'll surprise nobody by saying Paul Lambert.
Why? Despite funding by chairman Ellis Short, O'Neill appears to have taken the Wearsiders back to the level they were at when former manager Steve Bruce was sacked. An over-reliance on Fletcher is a weak link and O'Neill may not get the same financial boost as Lambert should, whether or not Darren Bent leaves the club. However, even if the Ulsterman does get the necessary financial boost, his past record at other clubs says little for sustainability.
Getting back to Villa, January will be a significant moment in the early part of Lambert's Villa career. If he gambles successfully, either on sticking with youth or buying experience, he will face an easier and more flexible future come the next campaign. If not, Villa face another challenging second half of a season for the third year in a row.
Will the club invest in experience in January? We know that money will be available to spend, it is just a case of what type of players the club look to bring in. If the club can offload Richard Dunne, Stephen Warnock, and Alan Hutton permanently, the £100k left spare should fund the wages of at least a few ready made players such as the possible move for Saint-Etienne striker Pierre-Emerick Aubameyang pictured above. If that move does happen, it will be a massive coup for the club.
The sneaky bid for Clint Dempsey in the last window illustrated that there is money available in terms of wages if experience is needed, especially with several unneeded players being in their last year of contract, so I would suggest that Villa aren't going to risk gambling solely on more youth – it is just too risky given the circumstances and potential risk of losing increased TV revenue for the 2013/14 season.
Whatever the result, the fans will likely be on the edge of their seats in either increased excitement or anxiety. Football, for all its foibles, certainly keeps us all on our toes, so here's to hoping January gives us a late Villa Christmas present.