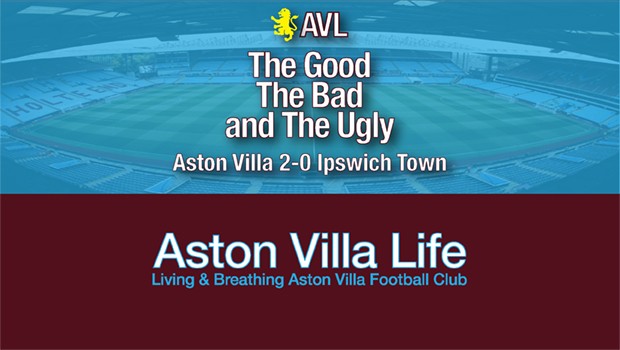 This is getting boring. Three matches, three wins, nine points. Eight wins in 11 now, as Villa handled Ipswich Town with relative ease to close out a very good week with a 2-0 win courtesy of an Albert Adomah brace. Please feel free to be positive. Or take a nap.
Here's what I've got.
The Good
Pretty much everything, really, apart from Jedinak getting injured again. Villa played some neat stuff, no one looked tired, and Glenn Whelan had to have had his best game in a Villa shirt, including playing Albert Adomah in for his first of two on the day.
And Albert. What can you say? He's been on fire, slotting home comfortably, doing all you could ask for. Lovely assist from Snodgrass on the second. Davis was a bit unlucky not to have found the net himself.
What I really liked was feeling no nerves whatsoever as this one wore on. 452 passes (130 more than Ipswich), 58% possession, two goals, a clean sheet, 16 shots, five on target (versus none for Ipswich) and apart from Waghorn's corners, no threat at all from the visitors with Sam Johnstone only having to make a couple catches. Ipswich did go close once, but that was really it. And of course they had a goal disallowed for running into Johnstone, which is what made the chance, so it wasn't a let-off.
Moreover, the side once again played a full 90 minutes, scoring in each half. Villa finished on the front foot and were comfortable throughout apart from a bit of a spell from Ipswich before Adomah fired us ahead. Was much more likely that we'd add a third than that Ipswich would pull one back.
The Bad
Jedinak getting hurt (looked to be his shoulder), and Davis coming off. From his body language couldn't tell if it was a groin pull or just a blow to the groin. Hoping the latter. Don't know what Elmo's late introduction for Taylor was about…Didn't see Taylor struggling, so I'm guessing Bruce just wanted to get Elmo a few minutes.
Just to fill up space, I might've liked to see O'Hare get a cameo like Grealish did, but when things are going well and you're in control, it's also okay to let the starters see out matches given there was no imminent threat. Perhaps that's also the best time to bring on O'Hare.
Oh, and I will say that even though it was just a few meaningless minutes, Jack's body language seems unchanged, and he is going to have to get more stuck in if he wants a starting spot.
The Ugly
Don't have anything.
Final Verdict
We've had some good performances off and on, but this was particularly satisfying coming as it did against a team well up in the top half and on the heels of two much more hard-fought matches earlier in the week.
Bruce persisted with his favored side, and whilst one might've been crying out for rotation beforehand, it wasn't needed at all. Perhaps the players have finally run themselves into the condition and mentality necessary to keep at it.
There were some sharp passages of play and Villa pushed it upfield quickly. These players are getting comfortable with one another, and while my thoughts on the midfield haven't necessarily changed, today we did play a bit better in tight spaces and Whelan was definitely an asset rather than a liability. Snodgrass also did what I asked, and looked for the pass more quickly instead of trying to too much on his own. Thanks for reading, Snoddy.
Of course, one has to wonder how long we can rely on Adomah to do so much. I was hoping for a third just to see someone else find the net. But it's working, Albert's scoring, and Villa seem to have grown this week. Rather than hide from the challenge they seem to be stepping up to it, and I might even have seen some signs of actual confidence in the side today.
It's a good Saturday, and I know I'll spend the rest of the weekend quite happily looking back on the week that was.
Over to you.