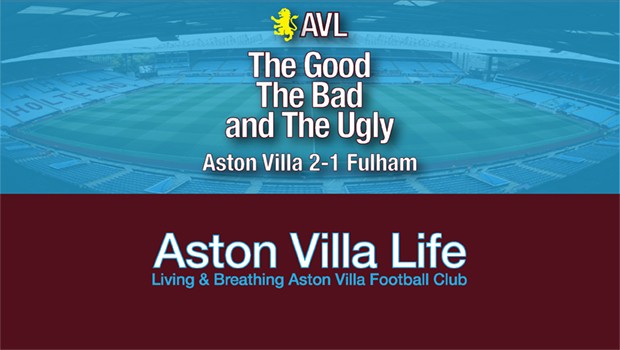 Villa hosted Fulham Saturday, and came away with a hard-fought three points. It was a good win against a decent side, and an important one for confidence and league placement after the defeat at Molineaux.
The Good
Obviously, a positive response following the poor outing against Wolves. Conor Hourihane's exquisite set-piece delivery was met perfectly by John Terry, who notched his first goal for the side to put Villa in front. Glenn Whelan played Josh Onomah through nicely, Albert Adomah racing into the box to slot home the delivery from the far side for the winner after Jonathan Kodjia whiffed at it first. Johnstone made a fantastic, point-blank save to preserve the victory. He moved well, anticipated the shot, and was right where he needed to be.
Villa were scrappy and worked to close down harder. It kept Fulham off their game just enough, and kept the initiative largely with the home side. Ritchie De Laet, a somewhat surprising late substitute, had a decent shout for a third.
The Bad
Not really going to say much here. In fact, nothing at all. Okay, maybe Kodjia whiffing on the ball Adomah put away, and then stroking it wide when he was in one-on-one. But maybe he knew he was offside and wasn't as focused as he could've been. Those are shots he usually buries.
The Ugly
One each, for and against Villa. First was the very silly foul Whelan committed to concede the kick Fulham would score from. Second, I'm not really sure how the rugby bit on Kodjia in the box wasn't a penalty. I only saw one angle, maybe there's more to the story—I assume the ref thought Kodjia went down too easily. Didn't see any mention in Bruce's post-match comments. So, what do I know.
Final Verdict
Always good to win, always good to bounce back from a bad game. I have to confess, I don't know what it would've looked like if Fulham had shown more cutting edge. Although a good side, the possession and passing led to not very much. On another day, it might've been enough.
But Villa showed the required resilience and doggedness. I've seen it said this is the kind of game we'd have drawn or lost last year, and I can't disagree. What seems to be taking shape is that the league isn't terribly strong this year, and that we're settling down. If we take the points from teams below us, stay in touching distance with the top two, and come out ahead on points with the teams around us, it's looking like we should be in fairly decent shape.
As always, I'd prefer to avoid a playoff scenario because you never know what can happen. And if we stay close, then the six-pointers left against anyone above us will be a big deal.
Now of course, that's a ways down the road. And the Fulham match, while it didn't necessarily make me feel great, certainly didn't make me feel bad. A consistent line-up has certainly helped, and by and large it seems to be the right group. McCormack was certainly a bust, and Hogan, too, at least for the time being.
But Davis' emergence and the Onomah loan have been key. Hourihane, too, has been instrumental, as has Adomah, who really has stepped up his game.
Maybe Lansbury will be able to make more impact when he returns, but apart from giving Davis and others the occasional rest, or subbing folks for fresh legs, it's hard at the moment to see a 'better' side picked out of our current options on most days. For me, of course, Whelan remains the weakest link, and I think we'd be a much more well-rounded side with a younger version of that kind of player in there. I think I say that every time I post something. But credit due when he played in Onomah.
Kodjia is still rusty, and right now seems to be forcing it and trying to do too much. But we've been able to give him the playing time he needs without diminishing the side, and his presence does still pull defenses around. If regains his form, we'll obviously be that much more threatening.
Big takeaway is that Villa need to show that kind fight week-in, week-out. Which we've been saying for years. If Villa can stop the more fluid teams from doing their thing at will, then we won't end up getting undone like we have against the better sides up to Saturday. It seems rather obvious, but that's largely been the issue, when you break it down…Looking like training cones and chasing shadows. Was it a one-off response, or has everyone finally come to grips with what's needed? We'll soon find out.
And of course, small heath is now on the horizon, and they will definitely be gunning for us. So there's some fun to look forward to.
So, it's glass half-full for me this week.
Over to you.