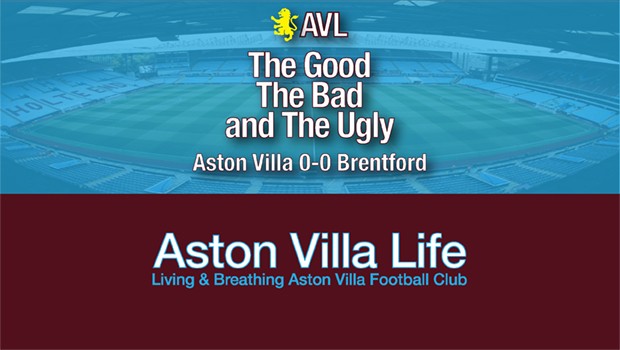 A frustrating afternoon saw Villa rather improbably keep a clean sheet while failing to offer virtually any threat, and the resulting 0-0 draw against visiting Brentford was a let off. And a huge letdown.
I've gone round and round on this one, seeing it one way then another. So this might seem a bit disjointed and not quite the fire and brimstone one might have expected. More than anything I feel tired and jaded.
The Good
Sam Johnstone had a good day between the sticks, making a number of vital saves as Brentford kept finding space and came at Villa with a number of good opportunities they really should have converted. Sam's distribution was not so good for the most part, though, needlessly giving the ball back to Brentford on a number of occasions.
Steve Bruce persisted with the line-up that's shown the most dynamism so far this season. And I was pleased to see that. On the day, it wasn't quite so dynamic, though. And we find out afterward that Bruce says the players were tired and jaded. So while I was going to give Bruce credit for sticking with Green, Hourihane, and Davis up top, it turns out that Green and Davis shouldn't have been selected. And indeed, Green, Davis and Onomah all left with injuries.
Not very clever, in the end, and you can take what would've been a Good and move it down to the Bad. Or the Ugly.
The Bad
Brentford were just the sharper, better team. And that's obviously unacceptable. They were much more aggressive going after the ball. Although a lot of the possession the Bees enjoyed was meaningless to begin with, they kept the ball away from us, preventing Villa from getting any rhythm or initiative. Then of course, there were the numerous chances that could've made this one a blowout.
For their part, Villa were sloppy and unable to make Brentford pay for sucking up so close. Players were either dithering too much, misplacing their passes, or mis-weighting them.
Whelan knows the game, but Villa need more pace and physical presence in that spot. Beyond that, he didn't have a good day, even at the low standard we're beginning to expect from him. He can't command his area, and is decidedly a weak link where no team can afford one.
And if the players were truly tired and jaded, Bruce could've changed it up earlier, avoided injuries, and injected some life into the side. But he seems unable to do that.
Were the players truly tired? Or are they tired of Bruce? We looked lively enough for two games that bought Steve Bruce some time, so it's hard for me to say he's lost the dressing room. But he's still failing to get consistent performances, and is persisting with certain players that are not producing.
The Ugly
All of it, in the end.
Final Verdict
I think Dr. Tony's post-match verdict was apt, as it was in many ways a disastrous day. Vital points dropped, promising players injured, and no Plan B.
And this is where I've struggled. One the one hand, there are going to be days like this, days where you just don't play well. You don't want them against a team you certainly should be beating at home. And you don't want to make them look good in the process.
Whelan is not an answer. Gabby is not an answer.
Bruce has Bjarnason and Adomah he could be turning to, but instead he's sidelined last season's leading assist man to go with Elmohamady, and turns to Gabby, who contributed nothing, instead of Bjarnason. Of course I hope Snodgrass does have something to offer, but he'll need to shake the rust off, first. And if Snodgrass becomes the preferred option on the right, where does Elmo go? I find it hard to believe we need four right backs.
Which all leads to the fundamental frustration that Bruce is still failing to figure out any combinations other than the one he was forced into, and one that was put out for Cup duty, played well, and duly forgotten about. He seemingly can't make moves to change a game. He'd apparently like his old Hull side back.
We should be able to switch things up. We should be able to bring on a proven goalscorer at this level and get something out of him. We have wide options that can inject energy and offer something different. I can't imagine playing Lansbury in a deeper holding role would be any worse than having Whelan out there. I don't think Doyle-Hayes would do any worse. Or Jordan Lyden. I don't think Terry is helping much of anything. This is a pacey league and he doesn't have the speed for it. When we're forward in numbers, Whelan and Terry are liabilities on the counter.
At any rate, it doesn't look good for Bruce. The campaign is obviously off to a poor start, promotion hopes are fading, and we're still getting outplayed and outcoached after 44 games under his direction. The momentum from the two four-goal wins has been lost.
If the side were tired, you can understand a lack of energy. But, once again, you can avoid that by not fielding tired players. Just poor management all round, and I'm having a hard time believing any other manager would be doing any worse.
On the upside, Kodjia and Jedinak are ready to get back in the frame. One hopes that spells the end of Whelan, even though Jedi is no Usain Bolt either. But at least he's more physical.
For now, Bruce has left me just as confused as he is.
Over to you.