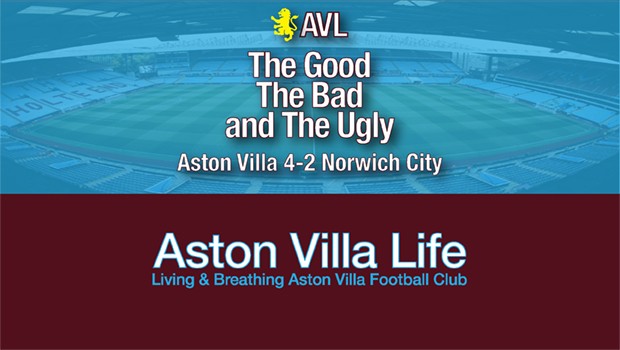 A huge sigh of relief all round as Villa showed signs of life, attacking intent, and more than enough finishing to see off the visiting Canaries 4-2. First time in a while I've enjoyed doing this schtick.
The Good
Obviously four goals and a vital win.
You can't really overstate the importance of the performance and the result. In what very well might have been a referendum on the clearly embattled and irritated Steve Bruce, the players stepped it up a gear, fluffed the usual early early scoring chance, got the goal they deserved, then added the all-important second before the half.
When Norwich pulled one back, Villa got another. Then pulled away again when the Canaries found a second.
As we all know, that initial two-goal cushion was crucial.
The hat-trick for Connor Hourihane was very well deserved. He might have had a bit of luck on the deflection, but it was luck earned, and it was his day. Andre Green's excellent all-round performance was capped by a superb finish to open his account and put some misses behind him.
Keinan Davis also looked the part, setting up Hourihane's opener with a perfect cross, showing good composure and strength on the ball, lots of motion and smart play. He and Green are obviously on the same wavelength, and Hourihane was right there with them.
Elmohamady shook off 30-some stitches and put in a good performance with a mix of tenaciousness, pace and clever, attacking intent.
And really, it was the combination of those four that made the day for Villa. Strong, fast, moving together, and showing class and skill (how many players did Green take on and beat?), they were a constant menace.
Hourihane himself could easily have had four, Davis was robbed by couple good saves, and Elmo was denied late by the crossbar. Chester will want back the header he powered over off a lovely delivery.
There's more, but you get the idea. A really good day for those players who clearly made as strong a case for themselves as they could.
The Bad
Both goals conceded were eminently avoidable. Hutton was undone all day, and that finally led to the first, and Terry clearly switched off and was caught ball-watching for the second.
What was frustrating was that although Villa had backed off, Norwich were doing nothing much with the possession allowed and it all looked rather comfortable. But a couple smart balls and good finishes threatened to undo all of Villa's work up front. If we hadn't found the third, well…blowing a two-goal lead would've been a catastrophe for all concerned.
Bringing Bree on, although belatedly, was the right move. But Bruce really should just have started with him. As I've said before, he can't be any worse a defender than Hutton, so I really don't understand why you just don't give Bree the minutes, let him grow into it, and close the book on a valiant but less talented player who has no long-term upside. De Laet really should be ahead of him in the pecking order, too.
Terry has also been less than rock-steady at the back. It will perhaps take a little time for him and Chester to work it out together, but he's obviously not the player he was. Of course, he's also shaking off rust since he didn't feature that much last season for Chelsea, but he's not really been an upgrade on Baker. That said, Baker had never seemed capable of staying healthy. One hopes Terry's at least providing the sort of off-field leadership I'd hoped he would.
The Ugly
It's a bit unfair that overseas Villans get to watch and UK supporters don't. Sure, that's spared many the embarrassments of the previous two matches, but it's still a shame. I obviously understand the reasons and arrangements, but it has to be a bit galling to be so much closer to the action and yet so much further away.
Final Verdict
The big question many have already put out there is whether Bruce will revert to form when other players are fit and step back from what looks a very promising combination up front. As I said, Green, Hourihane, and Davis couldn't have done any more except convert more, and they converted more than we have done in ages.
They won't be as good every week. No one is. That's what substitutes are for. But when a squad plays a great game, one of the best in recent memory, you have to keep going with the same selections. They were called upon, they delivered, and that really should be it. Gabby has nowhere near the skill on the ball that Green and Davis do, and nowhere near the ability to cause so many problems for a defense. And Hourihane's scored four in two games. How could anyone justify leaving him out?
I wouldn't even start Hogan when he's fit. Not saying Hogan wouldn't benefit from playing with Davis and Green. But I saw nothing today to say any of the three should lose their spot. Quite the contrary. They showed great understanding and cohesion today, and they've earned the right for a spell leading the starting XI. And it shouldn't be surprising, because any time we've had these youngsters playing together for the senior squad, they've showed the understanding they've developed over the years.
Moreover, I don't think Dr. Xia will be fussed about who starts as long as Villa win. It really will come down to whether Bruce reverts to caution and outsmarts himself, or wants to prove that his previous selections were valid and outdumbs himself.
Given the pressure he's under, and the performances he got today, no one will blame him if he sticks with this side and they struggle next time out. Well, some will, but you can't please everyone. So there's no reason for him to go wobbly or be pig-headed.
Bruce should just be thankful that, however it came to pass, he's been presented with a lifeline, one that was staring him in the face all the time.
Over to you.