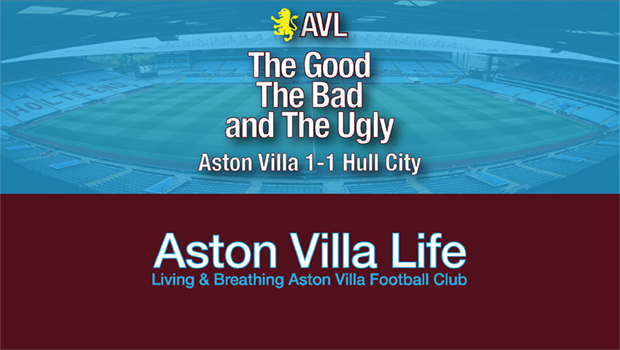 What seemed like a very short close-season came to an end yesterday as Villa hosted relegated Hull City in the first game of a crucial campaign. It all started off well enough with Gabby Agbonlahor putting Villa up 1-0 on seven minutes, and it seemed as though Villa were going to score for fun. Alas, Villa don't score for fun, Hull found their feet, and 30,000-some home supporters left Villa Park deflated by the final 1-1 scoreline.
I was deflated. But after watching the highlights again, I did find some encouragement.
The Good
Gabby scored. After much debate on the merits of him versus Hogan, they were both included, and it was Hogan at the top, Gabby playing wide and deeper. He made the most of it and looked better than he has for a long time. He proved me wrong enough, for a week at least.
The rest of it is a funny one. Throughout the majority of the first half, everything looked fine. I liked the formation, as the players seemed to be flourishing. They were working hard, fitness looked good, and they created several chances. The game should've been over at 35 minutes.
The play leading up to Gabby's first chance was quality, quick and assured, and Lansbury played him through beautifully. Hogan's run pulled the defense to leave leave Gabby open for a very confident finish on the goal. Hogan's dribble into the box was only just the slightest of nudges away from a clean chance. Lansbury's scuffed effort followed an unkind bounce. Elmo's deflected ball into Hogan showed the right understanding and Hogan was only just unable to connect. He also had a lovely flick to Gabby that required a perfect intervention that most days would've yielded a penalty.
In short, I was writing a very different post-match summary in my mind during the half. And yet, as many of us likely felt starting just before the interval, there was the nagging doubt resulting from being just one goal to the good. Would it once again be a tale of two halves?
The Bad
It was indeed a tale of two halves. Whatever Leonid Slutsky had to say during the intermission, Hull came out looking a different team. And as they came at Villa, one would hope playing into our hands, we were unable to do much of anything but finally concede.
Was this a result of Bruce's instructions, or just a natural swing in intensity that took the players by surprise? Bit of both, probably, and perhaps their own lingering doubts about being just 1-0 up.
It has to be said that we did finish on the front foot, and I really thought a winner was coming in the last 15. And it was there for the taking when Andre Green missed an absolute sitter. I honestly think he was surprised the ball made its way through to him. Onomah missed a more difficult chance, but would've been inches offside anyway. Terry's flick-on to him, following a good delivery from Lansbury, was the sort of quality touch you expect from a player like JT.
The Ugly
I don't want to be harsh here, and really, it could just go under "bad," but what looked like Villa bossing proceedings ended up looking more like Villa failing to take advantage of a poor 35 minutes from Hull.
And here I had been thinking, "Bruce has got it right, and we might well be on our way."
But in the end, the arc of the game was all too familiar. On top early, unable to capitalize, coming out flat in the second and conceding.
Final Verdict
As you can tell, I'm rather conflicted. A draw wasn't the worst result in the world, obviously, and you can't read too much into one match. Our most dangerous player, Jonathan Kodjia, wasn't on the pitch. Neither was the potential moment of magic from Jack Grealish. As many noted post-match, there wasn't much threat on goal from the edge of the box, and Grealish does provide that. Lansbury had a couple of opportunities and played some very good balls. And there was no Jedinak, who just gets things done, generally, but wouldn't have been as advanced as Bacuna. Whelan had a bit of an up-and-down day, but did show a lot of what you'd have hoped he'd bring.
Steve Bruce rightly pointed out that the team can't rely on Kodjia. And Dr. Tony took to Twitter again to say he was "bothered" by both the result and issues he'd thought they'd resolved. Touch cryptic there, but I think it summed up what most of us thought.
As many have observed, the substitutions may have come a bit late. Green and Onomah had an impact, and Green could've won it. A couple of players will be wondering how the loanee made it on before them seeing as he's only just arrived.
At any rate, we could've been looking at this one quite differently. It also looked like Hull had pretty much given all they had to get level, and Slutsky was content to get out with a draw.
I might've thought, besides Green, that either Hourihane or Bjarnason could've come on when Villa needed an injection of energy. I didn't have a problem with Samba coming on as a target. Might've seemed a bit desperate, but wasn't exactly uninspired at that stage of the game.
Does Green start? I would think probably yes, at some point. On balance, I don't think Gabby will have a lot of days like he did yesterday first half. But he did have an impact initially. A bit of clairvoyance would've seen Green come on to start the second, at least. He does need more minutes, bottom line.
I could also understand the thinking behind putting Bacuna out there. However, I know loads of supporters are done with Bacuna and would say it was a typical day for him—I understand and can't say I disagree.
Bacuna aside, I feel a bit better about the match than I did yesterday. Which isn't to say I'm not bothered that the game followed the pattern it did. But on balance, if we did that week-in, week-out, took just one more chance and didn't cede the initiative quite so firmly for such a large spell, we'll likely come away with more wins that last year. As always, the question will be just how many wins versus dropped points.
And my son did have a great experience…loved the banter, the fans, and the atmosphere. Disappointed we didn't close it out, of course, but still enjoyed his first visit to one of the shrines of English football.
Over to you.