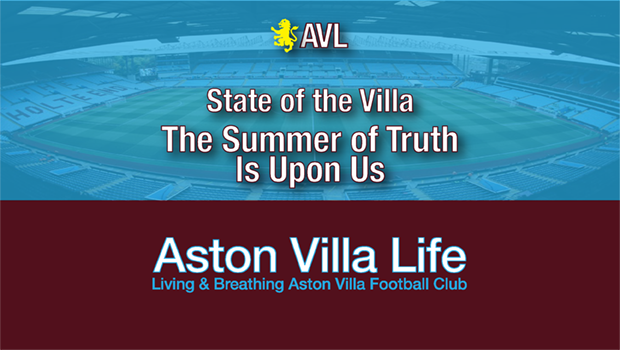 Tony Xia talking recently about financial considerations, FFP, and a team coming together rather than throwing indiscriminate sums around in search of a solution can't help but make a person recall the broad optimism that greeted Randy Lerner's arrival and initial investment, then the agony that ensued once he tightened the purse strings.
At the time, I thought Lerner was right to rein in Martin O'Neill, not only because of FFP, but because of the players MON continually signed for four years and £40k a week only to forget about them after seemingly targeting them at random. And I still think he was right about that. Lerner's failings were of a different and more insidious variety.
Is Xia is the second coming of Lerner? No. But that doesn't mean things ultimately couldn't go the same way. Dr. Tony spent a lot of money, and in season one, the returns were meager at best. We know that Xia is not interested in seeing his investment languish in the second tier away from the big stage and the big money. He has much bigger ambitions, and they require cash coming in at least as fast as it's going out.
Xia has been the opposite of the detached and seemingly clueless owner that Lerner turned out to be. But we also have no evidence that his enthusiasm will remain if Villa's fortunes don't improve, and still have no idea whether Steve Bruce is the man to make it all happen.
Right now, I think Xia is also right. Throwing money at the side last summer and this past January was necessary since so much of the relegated squad, arguably the entirety of it, were simply not up to snuff.
But providing money and spending it wisely are two different things. Given the summer recruitment binge, then the change of manager, new support staff coming, and more players coming into the mix in the January window, the spending seems to have been a bit disjointed, and did not necessarily conform to a plan. Many have noted how much better other sides performed this past season with far more modest resources.
Regardless, demanding that Steve Bruce fashion a real team from what appears to be more than adequate talent is completely reasonable. The staff to create a cohesive recruitment program and footballing philosophy are supposedly in place and working away. We've paid top dollar for a number of Championship luminaries, players that were doing very well before they showed up in B6. On paper, we should easily be a playoff team at the very least.
The issue is whether Bruce can make sense of what he's got. And if the real issue last season was that the players were feeling pressure, they're only going to feel it more in a looming promotion-or-bust campaign. If they don't actually have the bottle for it, we're in trouble.
As noted by several commenters, Villa are not aggressive or dogged enough. We play scared for large portions of most matches. We're not clinical. We can't seem to play to the strengths of the strikers. In fact, we seem to play almost opposite to those strengths. Forgive me if I'm not filled with confidence that Ross McCormack is going to fill the scoring void we face at the beginning of the season, never mind the fact that Kodjia and Hogan will not be integral to the team's preparations over the summer. Rushian Hepburn-Murphy and Keinan Davis have got to be given more than just a chance.
So, it's a nervy time at Villa Park once again even as our thoughts stray from football for a little bit. Bruce has to quickly come up with answers that seemed to elude him in the second half of the season. If he doesn't, Xia must have a replacement lined up. Christmas could be far too late, and we'll still face the same old conundrum of trying to find a quality manager with a magic wand in the middle of the season. I know I'm not alone in wondering if anyone has thought to give Monsieur Garde a call.
I can't say that I have any answers at the moment, but I do agree with Xia that we really should be able to kick on with two or three quality additions. For me, a left winger, a true ball-winning midfield dynamo, and a dominating partner for James Chester are the biggest needs. Maybe Jedinak drops to the back line. Maybe Andre Green is the winger. Perhaps Bjarnason will be the dynamo. Or even Jordan Lyden. It seems improbable that between Hourihane, Lansbury, and Grealish we don't have a way to link up and play the forwards in. If we do go for a striker, we need to replace Gestede if we're going to keep lumping it forward.
In the meantime, Gardner, Amavi, Hutton, Elphick, Richards, Cissokho, Tshibola, and Bacuna are surplus to requirements, as is Gabby. Kozak has gone. They're not the way forward and I wish them well. I'd still have taken a look at Carlos Sanchez if he weren't 31, and quite happily playing center half in Italy now. Neither Veretout or Gil want to come back, either. So, there's plenty of players to offload to ease the financial pressures.
But the financial issues will not be what holds us back this season. It will be Bruce, the players, and whether Xia knows if or when to pull the trigger on Bruce.
It's all about to get very interesting.
Over to you.