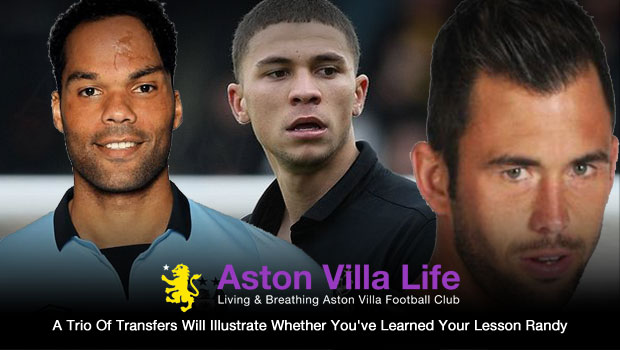 As we go approach a quarter of the way through the transfer window, there's been rumours ahoy – Nakhi Wells, Joleon Lescott, Steven Defour to name but three.
Of those suggested, some seem plausible, whilst some seem less so. For example, Nakhi Wells did a job when we lost to Bradford City last season, but he is hardly the experienced player everyone under the sun has been looking for to steady the ship.
Steven Defour, once seen as a top talent for Belgium, seems exactly what the club needs, but the fact that he is owned partly by a third party means that a loan is a no-go given the laws governing such ownership in the Premier League. This means the fee is likely to be £7-8m if we factor in the payment to the third party as well as the fee due to Porto. Is that too much money for Villa to spend? I wouldn't say it is impossible, but wages also have to be factored in, and I can't see Villa going any higher than £50k so I imagine it'll be that or nothing.
Getting on to Joleon Lescott, I have to say I'm a little puzzled. Of course I can see the rationale for Villa to get in another central defender – we haven't exactly had great luck with injuries to both Ron Vlaar and Jores Okore – but I do doubt Lescott is the right fit.
Why? Despite Lescott having the experience that Villa could do with, being a Manchester City player means Lescott is earning big money, predicted to be around £90k a week following his move to Eastlands from Goodison Park in 2009.
In that sense, and despite Lescott being a fan of the club, moving to Villa makes no sense. Firstly, because Villa can't afford to pay so much money in wages, and secondly because City are unlikely to subsidise the player in any dramatic manner.
Some may argue that City are fully capable of paying towards Lescott's wages if he was to move for a loan period, but a few things point in the opposite direction. Not only does Khaldoon al Mubarak (City's chairman) have FFP compliance on his mind – and thus is reticent to help another team out for nothing – but also a loan makes little sense for Lescott.
After all, Lescott's contract is up at the end of the season. As we all know, Bosman transfers are an opportunity to earn big money, with signing on fees being paid at a rate that might have previously been given to the club in order to pay for the transfer.
So, for Lescott, there's a strong argument to say that he could wait till the end of his contract and go get cashed out for several million, with the likes of West Ham or Fulham more than capable of both paying higher wages than Villa, and more than willing to pay a big signing on fee.
Of course, Villa could make a counter offer, and maybe Lescott could come for less than £50k, but all this would likely have to occur at the end of the season rather than now – I can't honestly see Villa coming up with both the contribution to Lescott's wages (£2.25m for the remainder of the season, plus a potential loan fee) as well as a signing on fee in summer and a big wage too. Feasible? Sure, but I'd like to think the club have learned their lesson from shopping at Manchester City.
The reason I say that is we have previously paid some of the biggest contracts in recent history to ex-Manchester City players. Richard Dunne, Shay Given, and Stephen Ireland have all earned big money at Villa, and all have ended up hard to shift. Yes, Dunne offered a few seasons of success, and maybe Lescott could do the same, but I'm not sure a wage as big as Lescott's is the ideal way to spend money – surely we could find a solid, experienced player in the mould of Ron Vlaar from a European league for far cheaper?
Which, in my view, is what I would be doing if I was Paul Lambert. At present, I don't think that adding more young players solves too many issues for the club, and I do think experience makes a lot of sense, though I don't think that means having to pay the earth.
If Villa do start doing that – paying big money again for the likes of Lescott – I have to think that there are some serious footballing issues at the club. Not so much in terms of how Lambert is operating as a manager, but in terms of the board's "plan" which seems to change direction faster than a tennis ball during a rally at Wimbledon.
Should Villa seriously contemplate throwing a potential record wage (if one discounts the bomb squad) to get another Manchester City reject? Some might say Lescott is exactly what Villa need, but I can't see how he will fix the club's problems as whilst he is an experienced defender he isn't, in my eyes, an organiser like Vlaar.
So, for me, Villa need more leaders. Not just people who will work hard, but individuals who can direct their areas and, in my opinion, I have my concerns that Lescott – Villa fan as he may be – is not the ideal fit for a club like Villa at present.