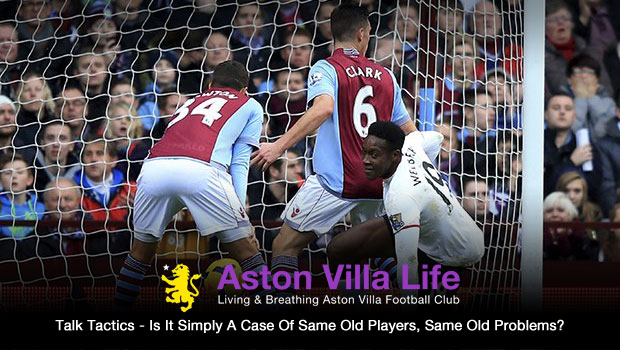 Oh Aston Villa. This was supposed to be different, at least according to some. On Sunday, with a backdrop of Manchester United injuries, this was supposed to be your chance to get revenge, to snatch a rare victory against the club's biggest bogey team.
Did it happen? We all know the answer as Monday comes upon us, and the answer is, sadly, no.
In keeping with a tradition of mine, I wanted to look at tactical analysis in order to work out what went wrong. In short, I want to try and address the key battles that Villa faced, and assume the role of Paul Lambert as I look at where the holes appeared.
After all, there is only so far any analysis can go with a purely emotional narrative. Whether we were poor, unlucky or somewhere between, the fact remains that the manager has to pick the team up, he has to go again, despite many hating that his post-match comments seem the same every week.
Getting into the tactical analysis, I want to talk about two key battles that Villa faced, and how they impacted the final result – both of these issues are points I have previously discussed in Talk Tactics articles but, sadly, are still unsolved.
First, we should look at the battle between Villa's centre back pairing and United's Danny Welbeck. On initial examination, it seems evident who might have won this particular skirmish given Welbeck notched two goals early on. However, why he managed it may take a little more time.
In the prior match against Fulham, Villa's defence was somewhat ramshackle. On Sunday, at least one issue was fixed – the defenders were all, at least, playing in their natural positions.
Despite this though, there should be few Villa fans who think that the centre back pairing of Nathan Baker and Ciaran Clark are anything other than a backup, even if they can – apparently – be seen as the best possible options available given the club's injury crisis.
In my Talk Tactic piece from earlier this year, I discussed the impact of withdrawn strikers, and their influence on pulling apart central defenders, especially when full backs are roaming high up the pitch.
In the same article, I also pointed out that teams with pacey players up front can exploit a defence that loses its shape. For the purpose of breaking up the analysis, I'll start with the latter point – how pace hurt Villa on Sunday.
Against United, the back four often seemed confused, stuck between whether they were supposed to be attacking or defending. In several cases, Antonio Luna would be 20 yards or more further forwards than Matthew Lowton, not particularly because of an attack going through the left, but because Villa's defence were often wholly disjointed.
The centre back pairing of Baker and Clark should, at least in theory, have some benefits. Both men are fairly tall and young, suggesting that a little athleticism and quickness shouldn't be beyond them. What we saw, instead, was more akin to another recent Villa defensive duo – Richard Dunne and James Collins.
Why? Like the aforementioned Dunne and Collins, Villa's centre backs were slow to respond, often outpaced quickly by Welbeck. Defending exhibited by Villa's former duo tended to include heavy touches, slow movement, and defending that was often termed as "heroic".
The issue with "heroic" defending is that it is little more than a player trying to make desperate attempts to get at the ball, often crunching in last minute at full speed. "Heroic" defending may well look like it is synonymous with players who play with heart but, sadly for Villa, the style tends to indicate something different – that the defence is simply too slow, both in pace, acceleration and turning terms.
It should therefore come as little surprise that Villa's centre backs were both yellow carded in the game, given late, sorry "heroic", tackles often lead to conceding fouls. It should also be no surprise that Welbeck, a player with pace, running against slow centre halves who often were just two of a disjointed defensive line of four, was on the scoresheet. In short, Villa couldn't handle United's number 19.
It wasn't just individual mistakes that cost Villa though, there were issues based around tactics that players picked on Sunday sadly were unable to enact.
In the same Talk Tactics piece, written on the 12th August 2013, I talked about the positioning of the centre halves when playing with attacking full backs. In that piece, I stated that playing such a style means a heavy reliance on mobility, needing players who are quick and capable, players like the injured Ron Vlaar and Jores Okore.
I also discussed on Twitter following the Fulham game the lack of midfield support for the central defenders when operating such a tactic. When using full backs so far up the pitch, a midfielder has to be prepared to track back and assist the centre halves when possession is lost. Against United, I sadly didn't see that support from the central midfield trio.
Such a move is a minor one, but if often means the difference between a back two splitting because they are deliberately being asked to do so (and being supported from the midfield), and a back two that are being pulled apart by the opposition, not because of their own decision making. Against United, it was evident that the latter was more descriptive of Villa's defending.
For my second point of analysis, I want to look at the role of United's number 10 – Wayne Rooney. Against Villa, United played a 4-4-1-1 with Rooney dropping back into their midfield when needed, offering a level of movement that helped disassemble the home team.
As I touched on earlier, having a striker that can play of the front man is a sure fire way to cause issues, especially when the opposition are unable to keep up pace wise. It makes sense, therefore, that many fans are eager to see a similar number 10 at Villa Park.
With his movement, Rooney was able to almost play the role of two separate players. The first, was occupying a role slighly ahead of a duo of Ryan Giggs and Tom Cleverley, giving United an effective five in midfield against the home team's five.
The second role Rooney managed to play was the classic number 10 role, operating in a role that wasn't as advanced as Welbeck but meant, especially in transition phases, that he was acting as a key player linking up the midfield and attack.
In having that freedom to move around the pitch, Rooney was able to give the likes of Karim El-Ahmadi, Yacouba Sylla and Ashley Westwood little time to think. In addition, I imagine there would be few Villa fans who would argue that a trio of Giggs, Cleverley and Rooney were all, man-for-man, better than any combination Villa could have put together, especially with recent form player Fabian Delph ruled out due to injury.
Yes, Villa are struggling with injury, but this was also a United team shorn of the likes of Robin van Persie and Marouane Fellaini. United were, as previously mentioned, seen as being in a favourable state for the Villans to take advantage of.
Sadly for Villa, a combination of factors left the game lost within the first 30 minutes. After a 10 minute opening where pace and attacking had United rocking, Villa failed to capitalise, despite Marc Albrighton showing ability going forwards.
Perhaps the final indicator of what was wrong came unintentionally as a man of the match was not announced at Villa Park. Had one been selected, I imagine that the tenuous honour would have been given to Villa's number 12, Albrighton.
Despite Lambert's teams operating without classic wingers, Albrighton showed potential, particularly in starting attacking moves, although his role in attacking play where he was not the starter of a move was slightly less capable.
To finish, a reflection of what Lambert should be saying to his team is mainly going to be based on motivation.
In defence, as we've seen earlier in this piece, the centre back pairing are the best Villa can manage, even if they are flawed.
In midfield, Villa were clearly lacking Fabian Delph, though they also had issues with covering the defensive midfield role when the full backs were advanced.
Up front, Villa's issues are fairly well known. Christian Benteke still looks a shadow of his former self, with a niggling hip flexor issue visibly affecting his movement around the attacking third.
So, with issues in pretty much every area of the pitch, it may well be a frustrating time for Villa fans. Coming up, there is a chance to get back on track with several games that should be winnable, even if they can't be expected to be.
Can Villa turn a corner and manage to recover some shape whilst injuries and poor form still ravage the team? For the sake of our collective sanity, I sincerely hope so.
*** NOTE ***
I'd also like to apologise for my inability to make the meet-up on Saturday afternoon as I ended up in bed all day with a migraine, an issue that also explains why I hadn't done match preview and review banners for the weekend's pieces either.
I should apologise mainly to B6toBrasil given that it is not too regular that he is able to be in Birmingham so, Joe, please accept my sincerest of apologies.
To the others who are more local, here's hoping we can meet up soon, perhaps in a 2014 when January might bring all Villa fans a little more cheer.