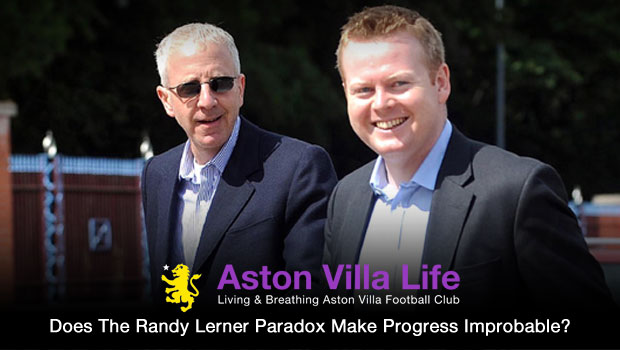 Over the course of the club's ownership, we've seen many sides to Randy Lerner, even if many of them have had to be inferred rather than explicitly declared, such is the reticence for Aston Villa's chairman to speak publicly.
In some ways, such an attitude is a blessing, in others a nightmare – after all, how can a fan feel comfortable if silence isn't golden, merely deafening?
As we know, things did start brightly for Villa's American owner, even if things have gone south since the heady days of excitement, with Lerner's arrival seemingly only second to Martin O'Neill's in terms of expectation.
The backdrop to Lerner's arrival was that of club in the doldrums, one hoping to restore former glories, and with the might of a billionaire to achieve things.
Indeed, as Lerner arrived, the playing field was far easier than it is now. Whilst Manchester United and Chelsea were funded strongly by rich owners, Manchester City – today's richest of the rich – were not the oil-driven behemoth they are now.
Things were different then, and Lerner couldn't possibly have expected the arrival of Sheikh Mansour. It may even have been better had Lerner not arrived when he did, as Mansour could have taken pity on Villa rather than the blue half of Manchester, leaving us the b*****d child of oil and money.
However, that is all in the past. Villa didn't get taken over by Mansour, and Lerner did takeover, starting strongly with support for his manager, support that eventually rose as high as over £140m.
Fast forward to today, and things are different, almost unrecognisable, as Paul Lambert leads Villa as manager. Whilst O'Neill had strong financial support, Lambert has worked on a budget, trying to resurrect the club from a similar position as when Villa's former Ulsterman sat down in the hotseat.
One thing that has stayed a constant is Lerner's decision to not deviate from a Premier League experience criteria – all of the managers he has employed have previously managed in the top flight, albeit to varying levels.
It is in this criteria that Lerner's logic seems almost contradictory. How? Well let me explain.
It is, of course, the owner's decision on the parameters that govern who is or isn't hired as manager. After all, Lerner's funds are intrinsically linked to the success or failure of the team – Villa can't make more money and do worse, at least not long term.
What is confusing, however, is that the same logic that Lerner strongly advocates – that the manager should have top flight experience – seems to be completely ignored when it comes to players.
Don't get me wrong, it isn't the owner's choice to pick who is bought and sold by the club – he has said previously the money given to a manager can be spent on one or ten players – but the restrictions in place, make it hard for Lambert, or indeed any alternate manager, to make good on those promises.
We know that Lambert appears to be focused on the development of youth, and the acquisition of players who don't play in the Premier League. In a sense, such a choice is sensible, at least as far as domestic players are concerned given the inflated costs charged for young Englishmen who have Premier League experience.
However, and this is very much a function of Villa's circumstance, the club has had, at least until recently, an inability to sign an experienced player from another club in the same division.
Is this a factor of Lambert wanting to stay with youngsters? Or of a situation that leaves a manager – whether it is Lambert or anyone else – challenged in financial terms?
The reality is that there is almost universal support for certain players to be added to the club's squad, with a strong midfielder being a prime choice. Yes, Yacouba Sylla is a comparatively tall individual in Villa's midfield, but he isn't the sort of beast that, in my opinion, Villa could really do with.
Such a player is Moussa Dembele. Like his compatriot Christian Benteke, Dembele is one of a seemingly endless stream of Belgian talent, many of which are not only technically capable, but physically dominating.
Sure, Dembele isn't a mammoth 6ft 4 marauder like the likes of Marouane Fellaini, but he is a top quality, experienced player, one who is as adept at lock picking defences as he is at scoring the occasional brilliant goal. I'm not suggesting Dembele is, as an individual, a panacea for Villa's multitude of issues, but going for a player of his calibre is most certainly a statement of intent.
The big question here is whether Lerner is able, willing, or interested in stepping it up a notch. If, as expected, Benteke leaves the club in the next few seasons, the investment of that money will tell its own story – if £25m is recouped, but the manager is only given £7m to spend, we know things won't be going forwards.
However, if Villa can start adding the likes of Dembele – a player who is still young enough to have a career and ability progressing on an upward trajectory – then there may well be credence to the belief that Villa can progress, not just from the bottom end of the table to the middle, but to the middle and beyond.
The next few seasons are key for Villa, or the point at where Benteke is sold become critical for the club. Benteke, arguably Villa's biggest young talent in recent history, may well provide the biggest value to Villa upon being cashed in. How money is spent come that point, will define if Villa have ambitions beyond those viewed publicly.
Should money start to flow again now the club are on an even keel, faith may be restored amongst the Villa faithful. If it isn't, and only time will tell, there may be increasing displeasure towards Villa's owner, with many feeling Lerner has taken the club as far as he can.
In a reign that has become increasingly a dichotomy of free spending and austerity, Lerner's legacy remains in the balance. Can Villa rise again? Many will hope so, though many fans may take significant convincing given the damage done to the club, both by lax spending controls and recent austerity.
The future may be uncertain, but there is still a good chance of progress, even if the speed of such movement may well be far slower than many would like.