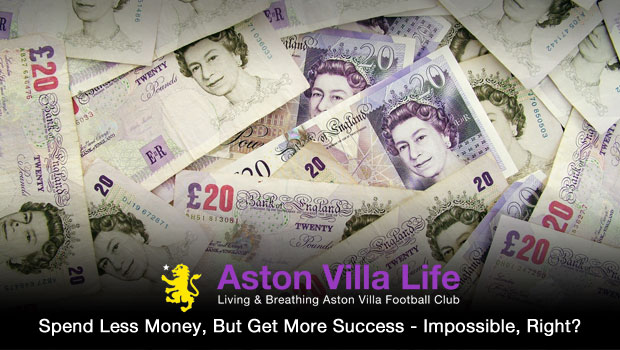 Firstly, let me apologise for the absence of articles over the weekend – between the international break and having a lack of writers available, I didn't want to bombard everyone with three days in a row of me rambling on. Anyway…
I was thinking last night about the reign of Paul Lambert as manager, and how his work has sat in terms of context for success.
On an initial glance, one might think success is the wrong way of titling Aston Villa's recent "achievements" – even achievements seems a strange description for a club that has spent most of its time in the past few seasons at the bottom end of the table.
However, despite the lack of any major success in league or cup terms, Lambert has done a lot of things right.
Last week, I read that the manager has spent around £40m over the course of his time at Villa Park. £20m a season does seem like a fair amount of money to have spent, but is it really?
We know, and have known for a while, that Villa, as a club, have been engaged in austerity measures. Whilst spending £20m a season may not seem like it, increased revenues from TV rights, combined with radically adjusted wage parameters, means that the goalposts have changed.
And they have changed a lot.
Over the course of Lambert's time at the club, he has purchased Christian Benteke, Ron Vlaar, Karim El-Ahmadi, Brad Guzan (re-signed after contract expired), Joe Bennett, Matthew Lowton, Ashley Westwood, Yacouba Sylla, Aleksandar Tonev, Nicklas Helenius, Jordan Bowery, Antonio Luna, Jores Okore, Jed Steer, Libor Kozak, and Leandro Bacuna.
Looking back at that list of 16 players, that's a lot of bodies, and taking the rough figure of £40m total spend, it gives us an average transfer fee of £2.5m per player.
Wow. When you look at it like that, £2.5m per player is not a lot of money to be spending. In fact, in reality, £2.5m is peanuts in terms of what a club can spend – we spent more than that to buy Savo Milosevic from Partizan Belgrade. In 1995. And this was a player who had a stuttering Villa career in terms of success, at a fee relevant almost 20 years ago.
Now before I hear that the transfer fees are varied, and that the average may not make individual sense, it is worth noting a few things.
Firstly, Villa needed to purchase a volume of players. Despite the fact that the team survived on what was a very minimal number of players under Martin O'Neill, the modern game needs a bigger squad and, as we have seen with recent injuries, without numbers, you can be dead and buried very quickly
Secondly, that £40m, lauded by some as significant spending, is not really a huge amount. Yes, there are deals that work out at better value individually at other clubs – the signing of Miguel Cuesta, known more widely as Michu, being one – but overall, it is hard to maintain a good level of success and quality at such a budget.
Yes, Lambert could be criticised for not finding the likes of Michu, but no manager is perfect. Even Sir Alex Ferguson, a man lauded as one of the best managers of a generation, spent money on players that didn't fit, from Bebe to Juan Veron.
At £2.5m per player, and in the context of it being 2013, there hasn't been a lot of money spent. Whilst there is a logic that is similar to how my Dad used to tell me not to spend my pocket money just on penny sweets – because you don't amass value by buying lots of cheap items – how do you build a squad with less money in fees, and wages, and still progress?
If Lambert didn't buy players at the rate he has, Villa would be decimated by injuries, something the club are struggling with now, and that is with the benefit of being able to bring in a number of players – without this kind of spending, we wouldn't be choosing to play the kids, we'd be forced to.
Yet, despite these restrictions, Villa have moved forwards. Sure, the moves haven't been so massive they have been earth shattering, but progress has been occuring, even if it may not feel like it, especially in the moments after losing games in what may not be seen as the most visually attractive football.
So why am I looking at the per-player value of the spend made by our current manager? Mainly just to see how his spending is stacking up over the duration of his reign. If we look back to a time where we spent comparatively more – under the management of O'Neill – we'd see that an average transfer spend was far higher, as were the wages.
Yes, I hear you say, but so was the success – after all, O'Neill took Villa from finishing 16th to sixth in two years, some achievement, with more rapid progress than the current manager has achieved.
However, that was in the context of being the second highest spenders in the league, second only to Manchester City, and with transfer fees that worked out not just higher individually, but higher overall.
Of those players purchased, O'Neill's significant successes were closer to £10m than £2.5m too – Ashley Young was £9.5m, and James Milner and Stewart Downing were around £12m each.
Yes, O'Neill managed to secure players who did a fair job for less than £10m, but there were also buys who struggled for close to the same budget too – Curtis Davies, seen by many as a failure in terms of his Villa career, cost £10m, a figure more than Lambert has been able to spend on any individual player.
So, with all that digested, is Lambert getting a fair crack of the whip from some fans? Or is he being judged by past standards on present budgets?
We could argue, perhaps strongly, that Randy Lerner could be more speculative with regard to spending – he could invest more money given the TV revenue increases for example – but there's a strong argument to say he has been burned, badly, by the return gained from throwing a lot of money at Villa's problems.
Instead, we're left spending (comparative) peanuts on boosting the squad, whilst still moving toward the right end of the table.
It may not be pretty, it may not be fast, but Lambert appears to be making a significant impact, spending less and moving forwards at the same time, something that shouldn't be underestimated, despite frustrations.
After all, sometimes it is hard to realise how fortunate a person can be without some absolute comparisons, even if it means you're relatively worse off compared to a large bunch of very rich owners.
Are Villa pulling up trees? No, but given the context of how things are being performed, it may be fair to cut the manager a little more slack as the club try and rebuild on the fly.