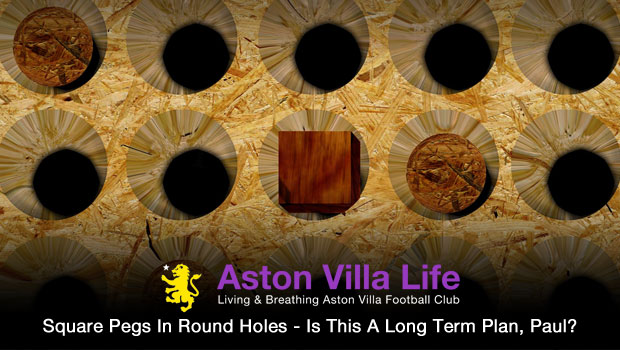 Despite winning against Cardiff City on Saturday, things are far from brilliant. Whilst not being part of the crowd who booed the team off at the end of the first half, I could see their point – that Aston Villa were making hard work of a newly promoted team.
What puzzled me most as I sat and watched the game was the tactical approach, seeming as it did to switch from one formation to another depending on whether we were attacking or defending.
Going forwards, we looked to play a narrow 4-4-2 diamond with Ashley Westwood anchoring, Alexsander Tonev at the apex, with Karim El-Ahmadi and Yacouba Sylla operating in the middle.
However, when defending, we often looked to switch to what appeared to be five at the back, presumably a variation of either 3-5-2 or 5-3-2 as one of the midfielders, usually Tonev, flipped on to the left hand side of defence, acting as a full back as Ciaran Clark, Nathan Baker, and Ron Vlaar became a central three.
Don't get me wrong, I can understand why this formation was implemented – to give more defensive strength when coming back towards the goal – but I did feel like certain players ended up not knowing where they were supposed to be.
As I stated before, Tonev was on of the midfield who seemed to switch into a defensive role when the ball was lost, though Sylla also appeared to take on a role wide left in a similar situation. In short, I was a little confused, and the players looked similarly disjointed in the first 45 minutes.
At half time, it left me questioning whether we were trying to be too technical, too advanced in our thinking. Whilst such a tactical approach is commendable, there are doubts as to whether the current squad can operate in such a manner.
Perhaps the tactics were, in reality, something of a third or fourth choice of how Villa should set out. After all, we should accept the fact that the squad has suffered dramatically with injuries, leaving many key players unavailable for selection.
In the end, Villa did win 2-0, but I was left with a feeling that some of the positions occupied by players at certain times were far from natural. Yes, the likes of Leandro Bacuna can operate in multiple areas, but we've seen so far in recent years that it isn't just one or two players being played out of position.
For example, both Gabriel Agbonlahor and Andreas Weimann are filling roles that are not their first choice. Of course, footballers should be expected to play where their manager asks them to, but there has to be some grounds for query on the deployment of certain individuals in certain positions.
Perhaps part of the problem faced by Paul Lambert is that he is having to "make do" with what he has been given, though one could argue that the current augmentations to the squad are a little unbalanced, favouring certain roles other than others.
In the close season, Villa signed Libor Kozak, a player who I can certainly see some value to, but whose position would not have been my first priority in a team that only seems to have full backs that play in wide positions.
We've seen in recent weeks that Marc Albrighton, one of very few natural wide players in Villa's squad, has been loaned out, and will likely be fortunate to survive beyond the end of his current contract.
A big question has to be – why exactly are Villa so narrow in midfield directly? Is this not an issue that needs to addressed?
Some lament the lack of wingers in the team, but it isn't just about wingers – it is about players who have a natural ability to play in specific roles. Even if the club want to play with a 4-2-3-1, Villa could do with players who play in wider positions naturally, rather than having to shoehorn both Agbonlahor and Weimann into unfamiliar roles, roles that are affecting their ability to score goals directly.
Perhaps there is a longer term focus for the aforementioned duo to be shaped into something else, but I've got to worry when we've seen them both struggling for form, in part because of where they are expected to play.
Of course, I doff my hat to Lambert's tactical nous, and accept that he has a lot of experience in the game, but I do have to wonder how long we can fit players into slots that they aren't suited to.
Is this a long term plan Paul? Or is it just a case of getting by until we can get the right people in for the right roles?
Whatever the plan, there has to be an understanding from the club that there are puzzling decisions being made. Yes, we may have won on Saturday, but that doesn't mean the team is beyond discussion, and Lambert may well find some of his choices placed under increased scrutiny should Villa struggle to grab more points in the next few fixtures.
Campo Retro Competition
Have you entered our exclusive competition with Campo Retro yet? Win yourself a free retro shirt by simply clicking the following link and answering a simple question – enter NOW! http://www.astonvillalife.com/aston-villa-blog/win-a-retro-aston-villa-shirt-from-your-era-of-choice/