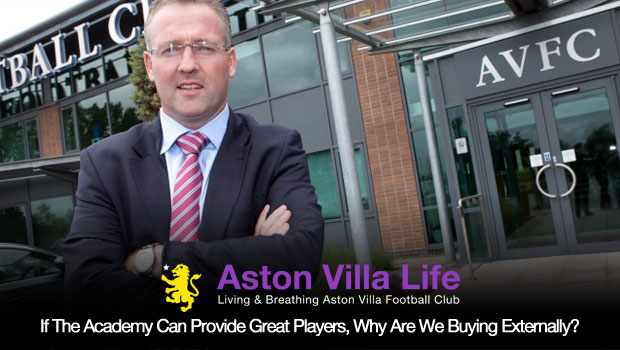 I was wondering to myself at the weekend why Aston Villa fail to provide many products from the academy. What is the reasoning? Is it a mystery?
After all, we seem to be seen as a club with a good academy – or at least good academy facilities – but we've had a less than prolific output of players when it comes to who has graduated.
In recent years, perhaps the only two who have gone on to any real success are Gabriel Agbonlahor and Gary Cahill. In fact, it could be argued that only Cahill has got to a more significant level, though that says more about Agbonlahor's loyalty than an inability to play for a better team.
Getting back to my original point, what is the most confusing situation is that Villa seem to do well – even going so far as to win the NextGen title – so what gives? How is it that good players go bad, or rather don't develop as expected?
In order to offer some clarity, it should be noted that the way Villa operate skews when compared to other successful clubs. For example, when looking at what was the reserve league, clubs such as Manchester City and Newcastle United simply were not entering teams into the competition.
In addition, clubs such as Chelsea, whilst having a team in the reserve league, adopt a differing strategy to developing youth players, often loaning out individuals to teams who play in other European leagues, much as they have with Eden Hazard's brother, Thorgan, who is on loan at Belgian Pro League team Zulte Waregem.
Given the above, this then offers some insight – it appears Villa are neither competing with a full compliment of teams, nor are they playing teams that are taking such a competition – in domestic terms at least – as seriously.
However, in addition to other club's attitude towards youth development, Villa are affected by a universal issue – that there are very few successes from the pool of people who want to get to the top.
As one might expect of any sport, the majority of contenders for a professional contract, especially at top flight level, are simply not good enough. In fact, I remember reading in a grass roots magazine that for every successful top flight contract, there are 1000 players who don't make it – a significant statistic that goes some way to illustrating just how hard it is to play at the top level, never mind being able to become a success.
Looking back at Villa specifically, our youth do have a significant challenge that affects them mentally – the weight of expectation.
As a Villa fan, I'm often guilty of wanting to see a star arise from our ranks, ideally from the academy, so when a young player starts playing well, fans want them to do well, often wanting them to get into the first team as soon as possible.
In a sense, such an attitude can come from sheer desperation, often because fans think that the current first team aren't being effective and thus change can only bring better things.
As with any situation, getting better is one potential outcome of a new player coming in, even if they are relatively inexperienced. However, it isn't always what happens, and successive introductions of youngsters who have fizzled out points to the fact that something is going wrong.
What seems strange, certainly in the past, is that Villa seem to go to one of two extremes – either they throw players in the deep end fully, or they don't put them in at all.
Last season, it was refreshing to see Paul Lambert introduce players in a way I feel is more beneficial to development – giving actual youngsters a slow, but steady, introduction to the fastest football league in the world.
Previous to that, we've seen managers have to rely on, or at least choose to select, players like Barry Bannan or Nathan Delfouneso. Whilst one could argue that neither are cut out to play at Villa's level, albeit for differing reasons, their involvement at first team level has been, in my opinion, forced, and that such an attitude has, again in my opinion, hurt these players' development.
However, it isn't just throwing players in the deep end that has damaged our own academy, there has been damage from ignorance too.
During Villa's pre-season involvement in the Peace Cup in 2009, Marc Albrighton was a star of the tournament. Throughout the competition, he performed well, finishing on a high, presumably with an expectation of breaking the first team under then manager Martin O'Neill.
What ended up happening changed the trajectory of Albrighton's progress. On starting the 2009/10 season, Albrighton failed to really get a chance, venting his frustration to those close to him that he didn't seem able to force his way into the first team with any degree of regularity, as though O'Neill was so committed to his selections that an outsider couldn't get in.
We know, as Villa fans, that O'Neill was famous for having favourites, as well as having people he would almost deny the existence of. For Albrighton, his "crime" wasn't so much of doing anything wrong, as simply not being able to force change in a manager who often selected the least amount of players of any squad in the Premier League.
Whether O'Neill was right to leave Albrighton out, few can argue that there was a significant change in Villa's young winger following the Peace Cup, leaving a young man thinking too much rather than playing with the freedom of playing with instinct.
What has made things worse for the many of the youngsters has been a historic commitment to view youth football as a suitable springboard for the club's academy prospects. Whilst I openly acknowledge that those in charge of the academy at Villa have far more knowledge of developing players than I do, the perceived reticence to give players significant experience on loan at other clubs is somewhat puzzling.
Getting back to Albrighton, his recent emergency loan to Wigan Athletic may well offer him a final chance to prove himself given he is in the last year of his contract at Villa. However, in my opinion, I doubt that Albrighton will get himself into the fold, if only because he is a traditional winger, a position that Lambert seems to be uninterested in utilising.
So as we look back on a youth academy that is lauded by many, perhaps those observing may well have rose tinted glasses on given the paucity of successful graduates, especially compared to the likes of Southampton or West Ham United, both of which have created numerous youngsters who have gone on to play at the highest level in England.
Can Villa cultivate a better approach to the academy? For me, it involves a wider scope than we currently operate in, focusing on significant investment in regional recruitment in other European leagues, and looking at getting more players in, at a younger age, from the wider area of Europe rather than, in the majority's case, from mainly the UK & Ireland.
Of course, there have been exceptions to the British & Irish-centric academy recruitment – Andreas Weimann being one – but I still feel there is much more to be built upon. However, much like Rome, such a progress isn't built in a day, and thus patience may well be needed if Villa are to move forward with such an ideology.
Campo Retro Competition
Have you entered our exclusive competition with Campo Retro yet? Win yourself a free retro shirt by simply clicking the following link and answering a simple question – enter NOW! http://www.astonvillalife.com/aston-villa-blog/win-a-retro-aston-villa-shirt-from-your-era-of-choice/