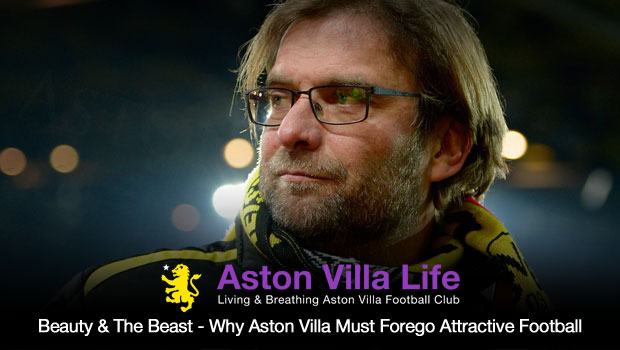 I was having a chat with my brother on Monday about football – as we often do – and we ended up discussing Borussia Dortmund and, more specifically, their tactic of gegenpressing, a tactic championed by their current head coach Jürgen Klopp.
In today's game, much has been made of Barcelona's style of playing the game, with silky passing, quick movement, and a lot of noted success.
For many purists of the game, there can be nothing bad said about the tika-taka style of Los Cules, with many a team/manager seeking to emulate their style. For some, there simply is no better way to play the game.
In the Premier League, we've seen first hand how Arsenal utilise their own variation of tika-taka, although they have arguably been less than successful in terms of their ambitions of winning the title, though the acquisition of Mesut Özil may well be the galvaniser that propels them into the title hunt this season.
Swansea City have, over the course of several years, looked to build a style of football that is fundamentally similar to Arsenal, with Brendan Rodgers, Paulo Sousa, Roberto Martinez, and most recently Michael Laudrup utilising tika-taka as their way to win. For many Aston Villa fans, playing as well as Swansea is but a fantasy.
The key question, however, is whether adopting such a footballing philosophy is actually the Mecca to which teams like Villa should be headed.
We've seen in recent times that Barcelona are not invincible with both Chelsea and two Bundesliga titans – Dortmund and Bayern Munich – slaying them in the Champions League.
In a recent interview, Klopp spoke of his admiration of Arsene Wenger, but also pointed out that playing the Arsenal way isn't always effective – that attempting to play tika-taka regardless is about as tactically foolish as failing to scout one's opposition before a game.
We often see a desire from our own fans to play beautifully, presumably why many were so eager to recruit Martinez as manager of our own club. However, as Klopp quite rightly points out, playing in a pretty manner is not always the key to success – playing with effort, commitment, and passion is the way forwards, whether you are a team of world class individuals, or simply a group trying to be a sum greater than its parts.
Now whilst making plans to win the Champions League is a long way away for a team like Villa, it does make me wonder whether we should be looking to have an ultimate ambition – as a club – to try and play like a Wenger or Martinez style team, a way that seems almost synonymous with both Spain and Barcelona.
I'll be honest. Despite having Spanish blood coursing through my veins, despite going absolutely crazy when La Roja won the World Cup, and despite following La Liga since a child, I simply don't find tika-taka entertaining.
For some, such a statement would be enough for me to be taken round the back and shot, hopefully non-literally. However, I simply don't enjoy watching how either Barcelona or Spain play – it isn't entertaining for me. Of course, this is just my opinion but tika-taka doesn't do it for me.
Don't get me wrong – as a guy who has loved football my whole life, whether from playing in leagues as a younger bloke or coaching and managing school kids, I know the value of great passing and good movement. However, despite all that, and the obvious need to doff one's hat to someone with the skills of Lionel Messi, it just isn't interesting to watch.
Getting back to the discusssion I was having with my brother regarding gegenpressing, we both said that it was far more enjoyable to be played out and, as we lamented over many bottles of Desperados, we hoped we could see our beloved Villa do such a thing.
Despite the circumstances of where we are at present, such a plan might not be too much of a fantasy. Sure, I have doubts it could be instituted in the immediate future, but I think it is a style more suited to Villa than tika-taka.
After all, look at how we set up against Arsenal. Arsenal wanted to out-football with better players than us, but we did something different and won the game. Whilst I'm hardly suggesting we are synonymous with Dortmund, it was a different tactic, and illustrated that tactics play a big role in the game.
Some will say that teams with better players will win games and, for the most part, they are probably right. What we all know, however, is that such a concept isn't a universal truth, brought up as we all have been on tales of glorious giant-killings and the magic of the cups.
What Villa managed against Arsenal was a focus on energy and drive. If you are a team wanting to win a game against superior opposition, you had better have the desire to want to outrun the opposition, outpress them, and be all over the pitch fighting both in defence and attack.
We've seen at Villa that we seem only capable of doing one of those things at a time – defending or attacking – leaving us either going for crazy scorelines with loads of goals or boring clean sheet driven football.
Deviating slightly from the point of overall tactics, one thing that has frustrated me the most this season is an injury we suffered, and not, surprisingly, the one that Christian Benteke suffered.
Instead, I'm lamenting the loss of another player, Jores Okore. We've seen, albeit in early stages, that Ron Vlaar has an athleticism about him that means he can get around quickly and effectively, often keeping pace with some of the fastest attackers in the league.
In Okore, we had an effective partner for Vlaar. Like Vlaar, Okore is big and fast. Like Vlaar, he is unafraid of being a ball playing defender, moving up into midfield areas if needed.
For me, that athleticism is a key part of what makes a tactic like gegenpressing work effectively. If your defenders have that ability – to get forward, play the ball, and chase down teams when you lose it – you have a chance against most teams.
Instead, we've seen the likes of Nathan Baker and Ciaran Clark fill in at the back with Vlaar.
I'm reticent to pan either player, but people will know that I have a frustration with how Clark in particular grabs shirts and looks off the pace – for me he is of the same vein as Richard Dunne, albeit a man with much less miles on the clock.
With Baker, there's potential there, and he puts his head into danger if needed, but I still think he needs to develop and, in my opinion, wouldn't be in the first XI if both Vlaar and Okore were fit.
So with this season being frustrating for some, maybe the loss of Okore has hurt us more than we might have imagined. Sure, the difference may not have been night and day in style or result terms, but I feel that the attributes our Danish central defender has – power, pace, and a strong ability to press – gives us a good chance of building on things.
To finish, one thing for certain is that neither Dortmund's successes, nor the evolution of gegenpressing came overnight, so as Villa lament a paucity of flair, perhaps it may be worthwhile to see the club's situation not as a static point in time, but as an evolution, one that can, and will, take time and patience.
The big question here is what do you think? Whilst Villa are far from masters of football like the likes of Barcelona or Dortmund, which route would you prefer we take? Tika-taka or gegenpressing?
For more information on gegenpressing as a tactic, you can read an excellent piece from FootballSpeak located here – http://footballspeak.com/post/2013/05/16/The-German-Football.aspx
Campo Retro Competition
Have you entered our exclusive competition with Campo Retro yet? Win yourself a free retro shirt by simply clicking the following link and answering a simple question – enter NOW! http://www.astonvillalife.com/aston-villa-blog/win-a-retro-aston-villa-shirt-from-your-era-of-choice/