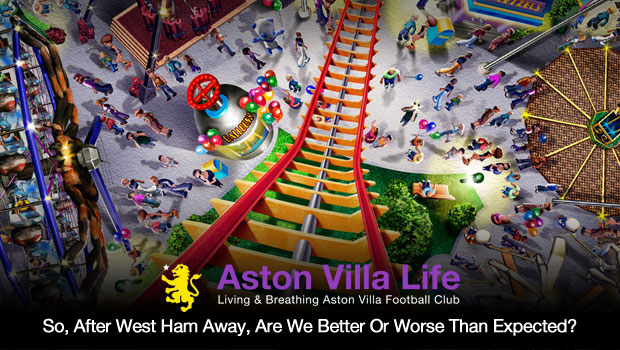 I set the title of the pre-match preview as "Time to see if progress has been made". The answer? Yes and no.
As with all footballing questions, there are a multitude of facets that inform an opinion. For Aston Villa fans, the main questions tend to revolve around what it is you are defining as having progressed, and how that meets what you think should be happening.
Against West Ham, there was a paucity of flair exhibited, perhaps what one might expect when two teams such as the Hammers and Villans match up. Not great, not pretty, exhibiting some function over form. However, when the end result is a 0-0 draw, even function can arguably be a sparse commodity.
To that end, all those who think that Villa are going backwards as a team playing football with style are right, at least based on the game at the weekend – the football was scrappy, and the team underwhelming.
"Hurrah!" some will say, "He finally gets where we are coming from!"
The truth is obviously I have always understood why some people are unhappy – I'm not sitting in a footballing vacuum, rocking back and forth stating "Lambert is the Messiah, Lambert IS the Messiah."
Style wise, yes, we've seen some bad performances. Couple that with the woeful results at home, and anger is unsurprising, expected even.
What throws a spanner in the mix is the ongoing comparison versus last season. Against the same opposition last time around, Villa have equalled or bettered every result played.
Whilst it is far too early to use such a statistical range as full evidence, these figures are at least one sign of progress by Villa, albeit in pure points terms – I know results will vary over the course of the season, so the figures will only be relevant once all 38 games are completed but, for now, we are ahead of last season.
I know one area that irks many a fan is that Villa deserve to be further up the table than they are at present. Whether based on expenditure, history, general feeling, or whatever area of analysis, that is a common theme that informs fan opinion.
In cold terms, distanced from a love of Villa, the team are probably, in all likelihood, above or equal to where things state they should be.
Ask a neutral if they think Villa are underachieving or overachieving, and I imagine most will say they are where they should be – not great, not awful, just another middle of the road team in the middle of a rebuild.
After all, the recent history of Villa reads more like a tragedy than a catalogue of successes, with relegation scraps, reviled managers, and a general lack of cause for excitement – perhaps the only shock is that Villa are still in the Premier League at all.
And, for me, in pure black and white, removed from any sentiment towards Villa, Villa are lucky to still be in the top flight.
Whether one wants to look at it as the owner to blame, the managers who have presided over the club or the players who have taken to the field, there has been an anaemity of ability that should leave Villa, and its fans, feeling fortunate that the club is still in the Premier League at all.
Is that good? Again, the question depends on how you define both good, progress in general, and the expectation of where Villa should be right now. Middle of the road teams aren't title challenging, maybe they aren't even average, but Villa are better off than last season.
Some will argue that the current team situation means that Lambert should be changed as manager. However, viewed in the context of a detached view of Villa, the reality is that Lambert has at least done as predicted for the club, perhaps even a little better.
However, as we all know, football is not often lived through a lens of pure factual analysis. Emotions can, and do, run high in the game, leaving anger turning into happiness, joy into despair, riding along like an undulating rollercoaster.
Despite what might appear to be an overall personally crafted nihilistic outlook, fans are synonymous with addicts, hoping, wanting, begging for a hit – "Please give us good football, it is what we deserve."
I've spoken before about the Kubler-Ross cycle of grief when faced with trauma, and I expect to see every facet illustrated for as long as Villa find themselves closer to the bottom of the table than the top.
Is anyone right or wrong in their opinion? No, but how the individual's happiness pans out may well find itself strongly aligned with which ever one of anger, denial, bargaining, depression, or acceptance is most prevalent in their mind.
Against West Ham, a point was secured. Whether it is considered good, bad or indifferent, a point can, at least, be seen as a step up from coming away empty handed.
Is that aim too low? Possibly but, for me, it is about as close to what I perceive as reality for Villa just now.
Campo Retro Competition
Have you entered our exclusive competition with Campo Retro yet? Win yourself a free retro shirt by simply clicking the following link and answering a simple question – enter NOW! http://www.astonvillalife.com/aston-villa-blog/win-a-retro-aston-villa-shirt-from-your-era-of-choice/