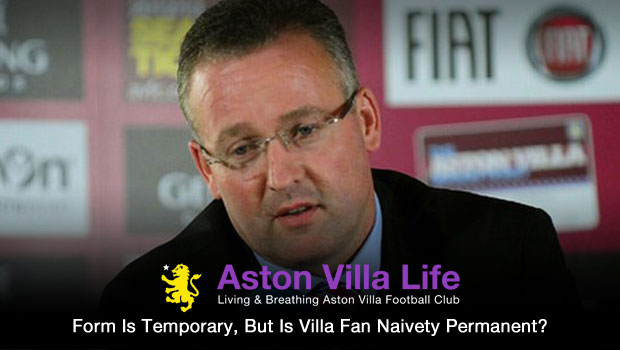 In the wake of Aston Villa's latest home defeat much soul searching and analysis of the squad has been undertaken by the fan base. It is very clear there is a number of players struggling for form, some of whom have been below average since the start of the season – a position that is hardly temporary when you take into account that's almost three months ago.
Mainstays of the side from last year such as Andreas Weimann, Matthew Lowton, Gabriel Agbonlahor, and Ashley Westwood, look shadows of the players we saw last year. Perhaps it is not their form we are witnessing, but their true collective ability – are these players just not that competent after all?
A running theme at the Villa in recent times has been defensive lapses, with all the team's effort and commitment often undone in the blink of an eye, usually through naivety of our defensive unit.
Last season Paul Lambert seemed to promote an ethos of attacking intent. It felt as if the philosophy for Villa last season was "if you can score two, we will score three". What mattered the most is the plan worked, with Villa surviving a relegation battle against some teams who dwarfed their financial capability in the transfer market.
So what has changed this year? Well defensively one could argue not much – the team still concedes from set piece situations, and often a simple one/two on the outskirts of the box is enough for an opposing team to slice through the central defensive column.
Wingers with potent shooting ability are often shown inside, almost as though they are given an invitation to shoot at the Villa goal. All the while, Villa seem so chronically naïve at times with the art of defending that they go into games with one hand tied behind their back – hardly ideal.
The side's collective attacking prowess last season often meant that despite Villa's defensive frailties, the team could score their way out of trouble. The problem Villa currently has this time around is that most of the players who provided the goal scoring threat, be it from assists or goals, are either totally out of form, have suffered with injury or appear to be displaying their true footballing ability.
This last month has been one to forget for the claret and blue boys, mainly due to the fact the side has not scored in the three games played in October.
Looking forwards, West Ham United (A) , Cardiff City (H) and West Bromwich Albion (A) provide the opposition in November. Clearly these fixtures provide an opportunity for Villa to recapture their goal scoring form, but to do so may require Lambert to drop certain players whose form has been nothing short of atrocious lately.
Can Villa afford to seemingly give a bye to certain players, regardless of their current form? Or are Villa simply out of options? We should find out based on the team selection at the weekend.
Campo Retro Competition
Have you entered our exclusive competition with Campo Retro yet? Win yourself a free retro shirt by simply clicking the following link and answering a simple question – enter NOW! http://www.astonvillalife.com/aston-villa-blog/win-a-retro-aston-villa-shirt-from-your-era-of-choice/