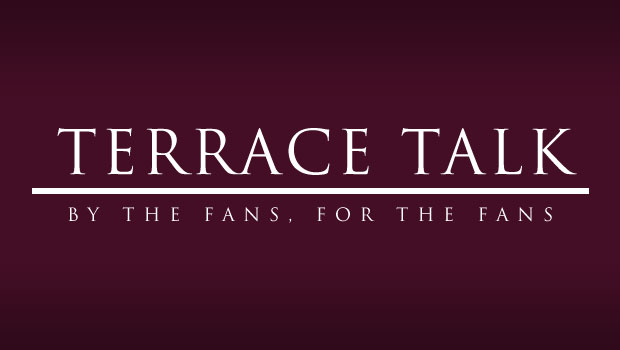 Before kick-off, the Villa were a huge 100-1 to beat Liverpool by the exact same score line with which we won up at Anfield in 2009/10. Amazingly our young guns were priced at 17-2 for the win at Sky Bet; but for I and many other Villans that I have spoken with it was not as big of a shock as what the media would have you believe.
"Brilliant result! Much different from when I made debut here few yrs ago! Support was fantastic again! #UTV" @bguzan
Both teams had been had been on a good run of results prior to our clash, but we've been threatening that sort of performance—with the result to match —for the past few weeks. Excluding the first quarter of the game I felt that all of the boxes were ticked across the board in the following areas: energy, hunger and commitment.
But these are traits we've witnessed for much of the season, whereas on Saturday afternoon we added two attributes we had been longing for. First, the ability to create clear goal scoring opportunities—and that despite having just 28% ball possession; and second, we were clinical in front of goal. Benteke obviously took note of the little whinge I had in last week's scribbling.
Much of the talk this week has been about Benteke, on Final Score Garth Crooks said of our young hitman, "I don't know how much he joined for, I didn't know a lot about him. I do now." He went on to say that he thinks Benteke is worth £12 million plus, and that's growing each and every day. With many of our babies showing signs of much more to come it's of no surprise Lambert felt the need to rebuff talk of easy pickings by stating, "If you want to buy these players, you'll have to have a few quid." Fortunately Villa are in a position where we don't need to sell and Lambert knows this, and so he played a pretty shrewd card by making comments about the promise of these youngsters. Their desire will only continue to grow.
The flat back three is working an absolute treat us, allowing our full-backs to go forward and adding extra impetus to our offensive play. On the flip side when we're under the cosh they simply fill in and create little space for the opposition to maneuver.
This week there has been talk of us re-signing Harry Forrester in January. I remember both United and Spurs were interesting in the lad when we originally signed him five years ago from Watford. For whatever reason he didn't make the grade first time around at Villa Park, having said that that was during an era when we were blessed with flair on both flanks and swarming teams at will. Whatever happens I'd still like us to go in for at least one experienced head just to keep things ticking along nicely. I'm sure it'd be good thing for the dressing room.
For the fourth time this month Villa are on the road again, this weekend for a fixture that in recent times has produced some exceptional results, including a 3-1 success last season: We're Stamford Bridge bound.
Chelsea return to Premier League action after their trip to Japan where they lost in the final of the FIFA Club World Cup to Corinthians. Rather than a free flowing end-to-end match that we're so used to witnessing when these two sides meet, it's likely to be much the same as last weekend, deploying the same system and tactics that caught Liverpool off-guard. But Chelsea are a step up in class—I'd be more than happy with a point in West London. That'll do nicely, Merry Christmas.
I'm going to go with 1-1 again this week. Maybe a late 92nd minute equaliser from a set-piece with Stan Collymore going absolutely nuts on talkSPORT.
Ho ho ho, Up The Villa.