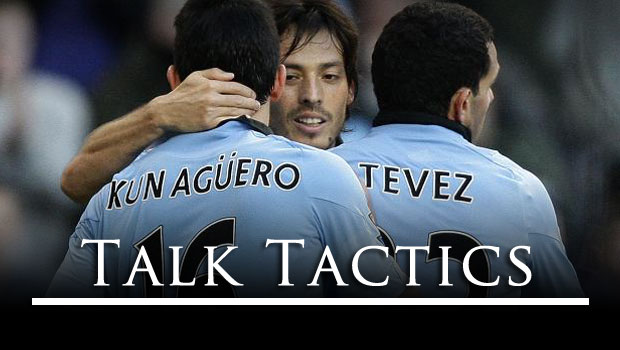 It's Monday and the usual slot for Talk Tactics. However, as the leader implies, there is only so much that tactics can play a part if decision aren't going to go your way. So, in short, this isn't your traditional "Talk Tactics" piece.
Some might think of this as a cop out, given that teams can perform when decisions go against you, but as we have seen with our young team, going behind tends to mean heads going down and an uphill struggle.
Explaining the future without red and blue arrows
In short, what Aston Villa need to do is find a way to develop a mental toughness to prevent the team from capitulating as a first goal goes in. Make no doubt about it, the game at the Etihad was influenced by poor decision making, but we won't survive based on blaming referees or linesmen – we must develop the necessary attributes to be able to cope with these situations.
The underpinning of the problem is that Villa have a very young team, and that team is affected by these sorts of decisions. Whilst few can doubt the leadership of Ron Vlaar, most of the team are under the age of 25 and they will struggle due to a lack of experience. The solution? Signing players with more experience in January, whether it is European experience or Premier League experience.
For me, I'd be going for European experience because it is cheaper, and because I don't think there is much difference in a quality player who plays in Europe or a quality player who plays in England – they both can play football, and thus will be good/bad dependent on other attributes that aren't based on whether they have played in England or not.
Evidence of this? Look at Christian Benteke – a good player is a good player whether they come from abroad or another league, with the advantage of European players costing less than British, Premier League experienced players.
Is this Groundhog Day?
Anyway, getting back to the game, there were issues that are repeating in the team that signal worrying times, largely because set pieces are being dealt with ineffectively. Is it a height issues? Partly it could be as Villa are not, on the whole, a massive team, but it still comes back to experience, or the lack of it, as to why the team aren't delivering.
Paul Lambert has certainly been afforded an opportunity to rebuild the team quickly, though it could be argued that more experience was needed. However, finances restrict the ability for the club to spend more than they did and, on the whole, I think many will agree that Lambert's signings have been good value – we can't really blame the manager for money he hasn't had.
With that said, Lambert is suffering as a result of poor spending in the past, with Villa being somewhat fortunate to have survived over the past few years after a boom and bust period of spending that went largely unmanaged until way too late.
We could argue that Randy Lerner could have pulled the plug on spending earlier, but it hasn't happened. However, we can't ignore the fallout of the situation afterwards, and whilst our quiet American owner may well see the club's survival as some kind of validation of austere measures, Villa are far from out of the mire yet – in fact they are in the bottom three now with the game against Reading (after the Arsenal game) potentially meaning we will be playing a team who sits above us in the league.
We have the right tactics but mental toughness is what is needed now
Tactics matter, sure, but overall mood matters just as much and whilst the Villa team are in good spirits despite the weekend's result, it is right to be concerned about how the youth of Villa's team – a large portion of the current first team – deal with the situation.
For example, look at the players in the Manchester City game – Barry Bannan and Andreas Weimann in particular looked affected by calls that were putting the team under pressure. This is perhaps understandable when you consider the lack of experience the pair have compared to some of the opposition players who played on Saturday, but it is wise to remember that these were the champions we were playing, not another mediocre team.
So five nothing was a harsh loss, and there are lessons that can be learned from retaining confidence and defending set pieces. However, there's nothing new from Saturday that tells us anything we didn't already know besides the need for more experience – January will be a pivotal moment as Lambert's lions look to strengthen under pressure.