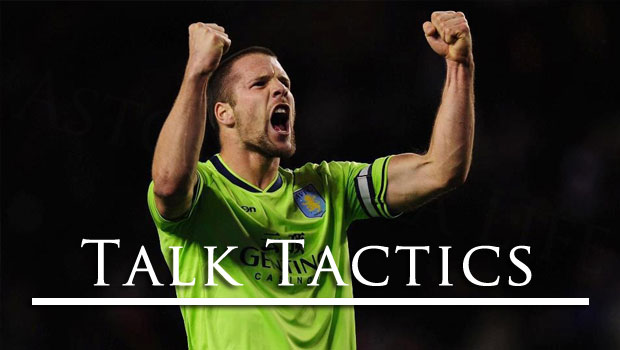 With Monday morning coming with an altogether "I've-forgotten-what-it-feels-like" feeling, Aston Villa have finally won away this season, and at long last. As the old saying goes, one swallow doesn't make a summer, but Villa can only beat the teams in front of them and that was exactly what was achieved on Saturday.
Looking at the overall statistics, Villa were not exactly dominating, falling behind on key statistics including possession and territory. However, as another old saying goes about the role of a man's endowment, it isn't what you have, but what you do with it, and Villa dominated the statistic that mattered most – goals scored.
Because, at the end of the day, winning is all that matters. Whilst some might take me to task on making such a suggestion, especially when I talk about the financial aspects of the game, winning games is what Aston Villa was created for. Of course, the financial side of the club can't be ignored due to the need to operate on an on-going basis, but winning games is, in itself, a way to make money.
After all, if you win games, and you climb places. If you climb places, you attract better players. If you attract better players, your team gets better. That, in turn, means you win more game – and so you get the idea.
January spending? Villa must focus on the current squad for the next few months
Paul Lambert has already come out and mentioned that he will be spending in the January transfer window, but now isn't the time to posit the needs of the club come 2013, but rather to see what is happening with the squad Villa can already pick from.
Against Sunderland, the midfield seemed far more solid. It's practically impossible to make analysis based off one game, but the fact that Stephen Ireland and Ashley Westwood operated in the middle effectively with Barry Bannan and Andreas Weimann offers at least some evidence to suggest the foursome would do well to stick together.
That the midfield worked hard, constantly moving forwards and backwards as a unit, and that they used the intelligence of Ireland to link up the play was positive. Against other teams, and minus the somewhat enigmatic Ireland, Villa have been a stop-start operation. Statistically Ireland exhibited the evidence on why his inclusion is critical to the club's success. Whether future performances will continue to follow the same trend, only time will tell. What is evident is that the centre of the team – up and down the pitch from defence to attack – is solidifying.
Some might wonder as to how Charles N'Zogbia and Brett Holman may get back in the team, though N'Zogbia is only not included due to injury, but depth of squad and selection headaches are a welcome problem, and far more useful to the club than desperately having to rely on whoever is fit.
The power of influence
However, it isn't the time to look at who didn't play, but rather who did. First up, I'll show the influence graphic for Aston Villa: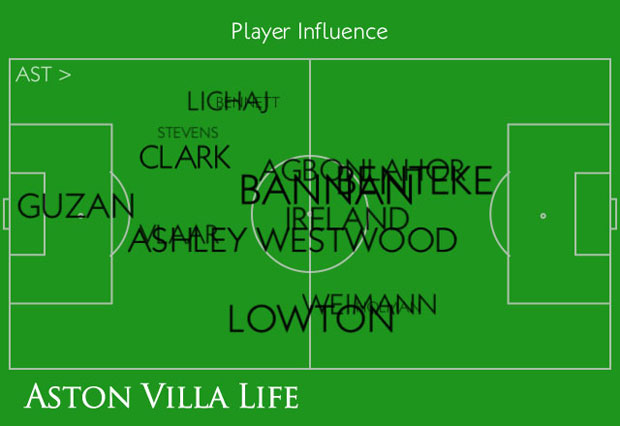 You can see visually that there was involvement of the whole team, all across the pitch. Whilst individuals' average positions may well indicate playing deep at times, Villa have not been used to exhibiting influence across the whole team. To give a comparison of the difference between Sunderland away at the weekend vs Sunderland away under Alex McLeish, I've included the graphic for the same fixture from last season below: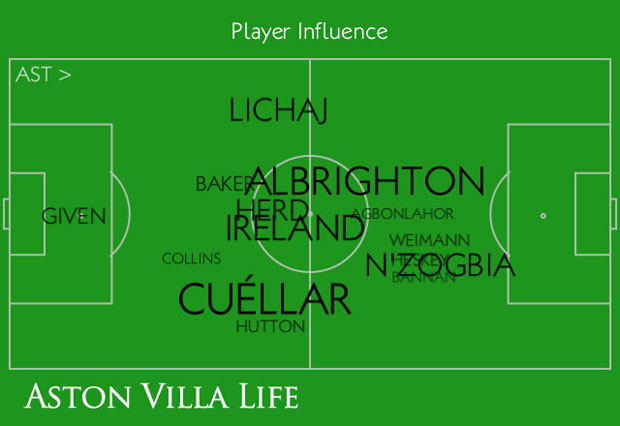 Look how different the spread is across the team with only half the team having any sort of impact. Try and make out the influence of Andreas Weimann vs his impact in the game at the weekend. Do the same for Gabriel Agbonlahor – it is clear to see Lambert's methods are having a far better team effect.
Which is why I have such faith in the former Norwich manager. Sure, results may not have been going the way we had wanted, but there's progress happening, and the sort of team based progress that only serves to assist the team, and not individuals – Villa's key to success and survival this season means hard work all across the pitch.
You can also see from the influence graphic the effect of Lambert's narrow midfield. There's significant importance placed on getting the ball down, into players, and getting it moved effectively – look at Bannan and Benteke's influences and how Agbonlahor was dropping deeper to act as a link up man for Christian Benteke's role as primary battering ram.
Agbonlahor's role behind slightly behind Benteke also allowed Villa to leave their Belgian number 20 as the man defenders would track, meaning Agbonlahor's main weapon – his pace – could be utilised effectively by having more space due to Benteke's role holding up players further up the pitch.
All of this contributed to Villa's success in having space to play the ball, and Sunderland's reliance on the sole supply of Steven Fletcher as their target man meant Villa's defence were capable in stopping Fletcher from getting on the scoresheet.
Passing, shooting, and other associated statistics
Looking at the passing charts for Sunderland, there was a strong focus of balls down their right hand side, focused against the Bannan & Bennett/Lichaj/Stevens axis. The large number of red arrows illustrate just how ineffective those balls were – Villa's left hand side were pressed back as illustrated by the left side of defence's deeper average position, but balls were dealt with effectively as illustrated by the lack of pass completion on that side of the pitch.
If we get into the individual statistics, things get a little more interesting. In all individual categories barring tackles and clearances, Sunderland had more men in the top five of each area compared to Villa.
Some might be surprised to see that Stephen Ireland was the best tackler on the pitch making four and completing three, perhaps eradicating some of the belief that certain fans have regarding his work rate. Ireland was also Villa's best player in terms of attacking third passes completing 12 of his 18 attempted.
When we look at attacking third passes attempted, only Ireland appeared in the top five of all players involved in attacking third passing moves. The rest were Sunderland players. This does serve to illustrate that having the ball, and even attacking with the ball means nothing without the end product that goes with it. If Villa need to learn one thing from their attacking passes, it is to think twice before going long – the stats show that Villa complete 63.1% of their attacking passes, but only a poor 41.7% of all long balls. Below is a visual of Villa's attacking passes first: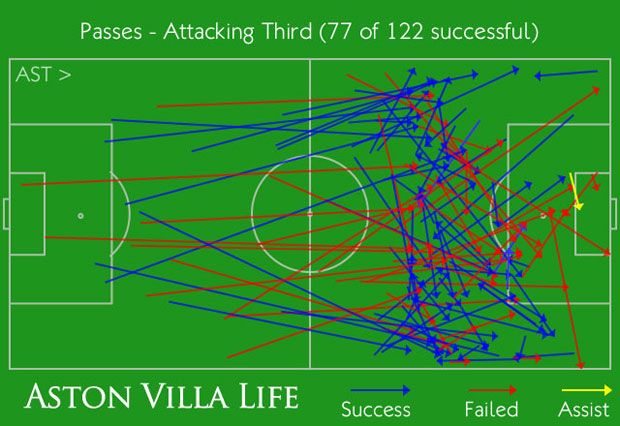 And their long balls: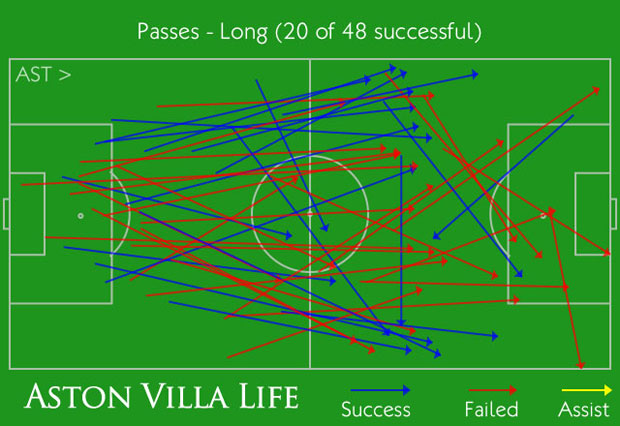 Pass wise Bannan and Ashley Westwood were Villa's top passers of the ball, offering some redemption for Villa's recent purchase from Crewe who was, in my opinion at least, receiving far too premature criticism regarding his ability.
Final thoughts – midfield the key?
The main question that arises from the performance of Villa's midfield is whether Karim El-Ahmadi deserves to walk back into the team. Is it fair for one of Bannan, Westwood, or Ireland to drop to the bench when, all things being equal, they played well and won a game?
Lambert's may be facing a selection headache with these kind of issues but I, for one, welcome this kind of issues – better to be having good players to choose from than having to fall back to who is available. What is evident is that the midfield was stronger on Saturday, and that can't be ignored – especially since other teams have carved through it with relative ease earlier in the season.
November may be a hard slog for the team from B6, but Lambert's Lions are showing signs of turning up in time to make a difference. For Villa fans, such a reaction is sure to be welcomed assuming that wins can be garnered over the next few months.
Oh and one final thing – Carlos, what exactly were you trying to do to Gabby when he scored? We love our former Villans, but this picture shows that you could have done some serious damage to our own Mr Agbonlahor. Tut tut.