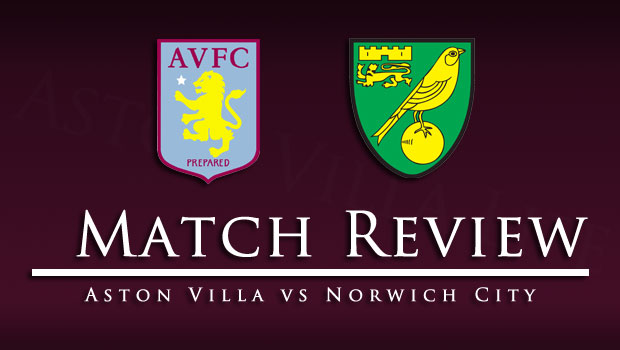 Aston Villa were somewhat fortunate to escape the game with a point as Brad Guzan's man of the match performance indicated.
Whilst Villa managed to take the lead via Belgian international Christian Benteke, two yellow cards for left back Joe Bennett meant that the home side made the task much harder than it needed to be.
In brutal honesty, Villa were lucky to come away with anything as Norwich were profligate with their opportunities, with two chances spurned late on.
On the whole, Villa's team were sloppy in possession with a multitude of passes missing their target, with Fabian Delph regularly getting into trouble via over complicated control attempts.
It pains me to say it, but the team are in real danger of imploding under the weight of long term issues. Booing at the end of the match was something I personally wouldn't do or support, but was somewhat predictable, albeit far from universal.
Quite how the club move forwards in this precarious situation is far from clear as there are multiple dangerous issues that may stack up.
Fans are disappointed and this is leaking slowly into the support of the team. The team are suffering with confidence issues and the amalgamation of issues are rapidly turning into a downward spiral.
It is a long standing truism that teams must give the fans something to cheer about, but inspiration must come from somewhere if Villa's fortunes are to change. One can only hope that the leadership shown by Ron Vlaar somehow spreads to the rest of the team, and quickly.
A tactical shift involving more width was Lambert's latest attempt at reviving the faltering position the team find itself in though the inclusion of Marc Albrighton seemed to offer very little in terms of attacking input – I personally found him largely anonymous
The underlying deeper problem is that Villa are suffering from very long term issues. The team are still stalled under the lack of quality and reeling following financial mayhem, and Randy Lerner may well find himself with a need to put his hand in his pocket in January in order to help Lambert salvage some of the current wreckage.
What is for certain is that Villa can not afford to play in the way they currently are. The team performance was bordering on comedic, with several players causing the team more issues than needed.
When Christian Benteke and Gabriel Agbonlahor both went off, Villa became increasingly limp, perhaps vindicating Lambert's benching of Darren Bent.
However, this is not the time to just point fingers at individuals – the overall team performance was simply not good enough.
For a full tactical breakdown, check my Talk Tactics column on Monday.
PS apologies for the brevity of the article – writing it in the car on the way home from Villa Park.