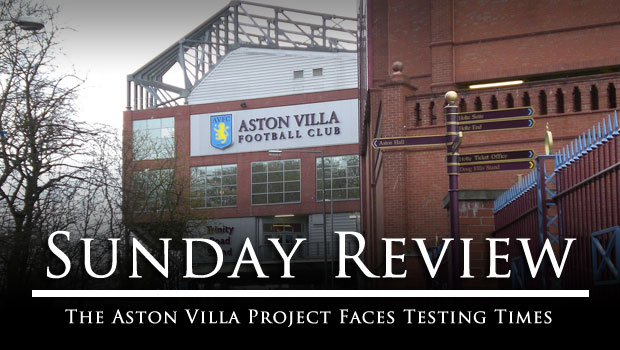 Now that my emotions have calmed down somewhat after a game where we were very lucky to come away with anything at all, it is time to face up to the well stated reality that this situation isn't going to resolve itself quickly, and that following the Sunderland game Aston Villa will be facing a very challenging period.
Of course, Saturday's performance was poor. There is no point making repeated excuses for what happened, but then this is not the time for me to pick apart the game into the tactical reasons for the failure – that will come soon enough on Monday as I write my third article in as many days.
What this piece wants to try and cover is the fact that things are going to take time. Like many, I was disappointed with the performance on Saturday, and I was disappointed with some of the substitutions. Whilst I've been able to look at the project as a work in progress all along, this was the first time where I felt things were going backwards.
However, with a calmed down mindset, I'm quick to realise that this could be a one off regression. Of course, it could be something else, but it is far too early in the day to be condemning the season as a write off, if only because there are limited options available in the current context.
Lambert's team – what is it?
Over the period of time where Paul Lambert has been in charge at Villa, there has been a lot of change. All across the pitch new players have come into the team, and a lot of change can mean issues with the team gelling. We should all know from personal experience that Gerard Houllier had issues when trying to change Villa from a predominately counter-attacking team to one that focused on passing – Lambert is facing something of a similar problem.
However, Lambert has also been afforded the benefit of bringing in players, though finances have restricted his ability to go out and pick ready made replacements. Whilst some of his purchases have had a fair amount of experience – predominately Ron Vlaar, Karim El-Ahmadi, and Christian Benteke – others are coming into the Premier League with nothing behind them but lower league experience.
It isn't impossible to take players from lesser teams and make them into Premier League players, but the transformation that Lambert has taken on is very large scale, and involves a certain level of risk, risk that is currently in the balance. Given the pressure of Villa's current plight, is it any surprise some of these new additions are struggling?
We've got to stick together in times of trouble
The problem that Villa face is that time waits for no man, and the Premier League can be a real baptism of fire for newcomers, with little mercy extended to those that don't hit the ground running. I wish there was a way to sit back, rebuild, and move forwards over a number of years, but the current relegation/promotion system means Villa need to get it right on the fly.
Villa had a similar issue with stability when Houllier's rag-tag assembled youth and experience team tried to make their way through the 2010/11 season with only two wins at the end of the campaign pulling Villa to a somewhat respectable position, though the club were perilously close to the danger zone for most of the season.
Which is why, in fairness, rationality states that each consecutive season was unlikely to be a total revolution of fortunes, particularly considering Randy Lerner's grasp on the finances at the club has had to remain tight. Alex McLeish managed a 16th placed finish after a season where Houllier's team finished in ninth, but only nine points above the relegation zone.
So, in that sense, the club have been on a downward trend. With that said, Villa were a significant spender in the last transfer window recording £19m worth of outlay, a fair amount and far more than last season's net spend.
In fact, looking over a longer term scale, Villa have recorded the fifth highest net spend in the past nine seasons of the Premier League with a £10.65m net spend on average every year, and are the sixth highest gross spenders overall over the same period.
So the club have spent money, and lots of it, but still find themselves in the mire. Is Lambert's future in need of bolstering with financial boosts, especially in light of the increased revenues of the Premier League in the next season? Relegation would cost the club even more than a "usual" Premier League season, though it is far too early to be considering such a thing as any kind of eventuality.
Lerner needs to contemplate investment – failure may cost him far more
However, Lerner will need to think about it come January, especially if the club have a difficult November – in which they case Manchester United, Manchester City, and Arsenal – where the fixture list may see them in an even more challenging position. Will it be time for another splurge? Certainly the team seems to lack confidence and experience, something that only existing experience can provide – Villa's young prospects may well be great for the future, but the focus remains clearly aligned with the club's present with points needs as soon as possible.
So, with that in mind, Lambert's lions may need supplementing with some real experience in defence and midfield, potentially at an over-inflated January window cost, and at a significantly higher spending level than his transfers to date.
Such a gamble may backfire as there are no guarantees in football, but Villa do need to realise one thing as a simple truism – failure to retain shape when under pressure will cost the club sooner or later. Some may even suggest the club are somewhat lucky to still retain their Premier League status after the mayhem of the past few campaigns, and I'd be inclined to agree in part retrospectively.
Villa need stability and experience to move forwards, and that means additional players. The only question that remains is will Lerner deliver in Lambert's hours of need?