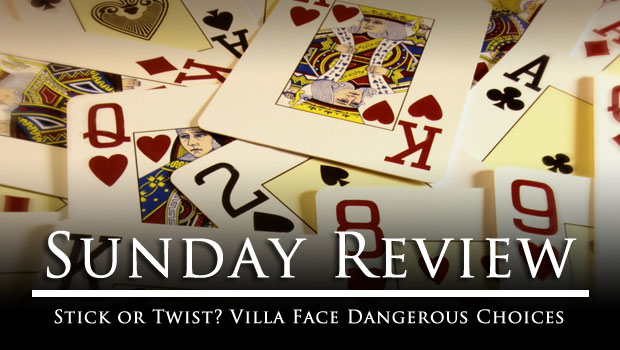 With Aston Villa losing against Fulham on Saturday, critical analysis will invariably spring up, and with good reason – Villa simply have to win points to progress.
Of course, such a statement is, by its very nature, completely obvious. Whilst my support for the club as an entity is, as always, unwavering, the performance of the team is a critical part of how the club live or die – failure to remedy problems, deep seated as we know many of them are, will have a consequence, and one that can have a large cost.
It would be very easy to just snipe at the team or individuals but, with our policy of remaining balanced, I don't intend to do so. The team are far from being above criticism, but the issues levelled will need to have some backing and an offered solution, rather than some of the reactions that invariably go no deeper than "That was rubbish.".
Fans are angry, and I totally understand that – anyone who wants to win won't be happy when they lose, but the way to bounce back is with some kind of plan, and some kind of stability.
More changes won't make it better, just worse
If there is one thing that Villa fans should know is that change is the spectre that has hung over the club for the past few years. The club have tried short passing under Gerard Houllier which nearly had us relegated. Then we had Alex McLeish in and played longer balls and almost got relegated. Now we have Paul Lambert and some are starting to believe we could be relegated.
Part of Villa's issue is that the logic behind the changes at the club, if that doesn't sound inherently contradictory, seems totally flaky. Nobody can doubt that Martin O'Neill's hangover is still being felt by the club, but having no overall plan of how the club is run is getting to be one of Villa's issues.
This doesn't mean I advocate more change – on the contrary, I think Paul Lambert is the right man for the job – but rather that the board have to have stay solidly behind the manager, something that the fans could do with doing too.
The times comes to ask the question – where is the root of the problem?
Of course, some of the fans will argue that sticking with Lambert means further misery, but certain things have to be acknowledged as truths. They are:
1) Lambert finished above Villa last season with a supposed lesser team.
2) Lambert managed to get back-to-back promotions.
3) The amount of games that the manager has had so far is far too small to be making judgements or changes.
Of course, managers can have blips in their career where they just don't fit the club's mentality at that point. A strong case here is Roy Hodgson at Liverpool although, in reality, much of Hodgson's lack of success came from a lack of support, and the invariable chop.
Liverpool then went on to hire Kenny Dalglish only to sack him after only a season and a half, arguably because his spending record was poor. Brendan Rodgers was appointed and yet Liverpool, in relative terms, still struggle.
Why am I covering Liverpool's plight? There are strong similarities in terms of a lack of overall coherence to a logic. Just as Liverpool are staggering around away from fourth nowadays, so Villa are at the wrong end of the table too, arguably because the board's overall plan has been completely ad-hoc.
Progress will only come from stability – in my opinion
However, to focus on the here and now, the board have to have some guts and stick with the man they have chosen. All things being equal, Lambert has the capabilities to do well for the club, though it may not be instantaneous – in fact we've seen from evidence it hasn't been.
When fans wonder why we are facing another "season of transition" as such periods are often marked, it stems from a lack of stability, from a headless direction for the club where, sadly, it appears many people from the board, to the fans, to the players, are all pulling in different directions – hardly ideal.
To get away from further transition, it means doubling down on Lambert. I am sure some fans will think that such an idea is utterly ridiculous – and they might even be right potentially – but Villa can't chop and change again. If they do, who comes in and, more to the point, how much money does he need to build another team in his image? It's more dead money Villa can't afford to waste building foundations again – the club have to stick on one plan.
The reality is that Villa are the problem – time will show exactly why
So what have the past few seasons told us? Primarily, due to the sheer number of variables that have changed, that it is Villa, and more specifically Villa's inability to remain pointing in one direction, that is the problem here. Something at the club is causing issues, and time will bear out as to prove what it is or isn't.
Just like in a scientific analysis, or even in a simple cooking recipe, individual components don't make an overall big picture. Adding sugar to rotten food doesn't make it any better, just slightly less foul tasting – this is much the same as adding Lambert to a mess of a club doesn't solve the overall problems.
There is no doubt that part of the problem is the spending that was overseen during O'Neill's era, and that part of that responsibility must fall on Randy Lerner's shoulders. To believe that O'Neill was the sole person who should take the blame is foolhardy, and problems invariably run deeper than that. Yes, O'Neill wasted money and, yes, Lerner would have been castigated had he stopped the money supply earlier by fans at the time, but the problems – whether down to naive belief or a simple lack of knowledge in Lerner's early days – have cost the club dearly.
So, in the third season after O'Neill departure, Villa are still in a troubled position. Panic may well be ensuing in some areas of the Villa fan base but it is time to focus on sorting problems out rather than simply pulling in different directions. If Villa don't start moving in the right direction as a group – from the board level to the fans with players and manager in between – then the reality is the club will be doomed sooner or later.
Time to see how Lambert's leadership holds up – I have faith in the manager, despite our current precarious situation. Just as sacking McLeish didn't offer a panacea for Villa's worries, so Lambert's introduction won't be a quick fix either. The present may appear bleak, but this is a time where more stability is needed, not less, as Villa look past the next few games into a potentially turbulent November, and it may well get worse before it gets better.
Podcast: Play in new window | Download