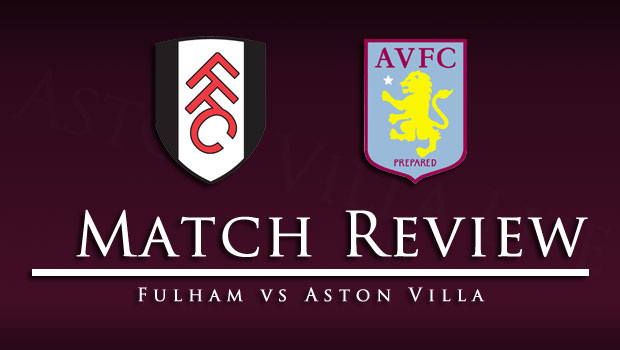 What a difference a minute makes. A tense and nervy 0-0 deadlock at Craven Cottage was broken out of nowhere by a Chris Baird flick-in from beyond the near post at 84 minutes. Sixty seconds later, Christian Benteke, on for Darren Bent, got the ball in the box from a Charles N'Zogbia cross while Fulham were looking for a foul, and stroked it wide right when he really should've scored.
And that was where the result all turned, in the end.
Once again, Villa seemed to be in no real danger after the first few minutes, and the game had settled into what looked most likely a scoreless draw, the home fans tense, and neither keeper being called upon for heroics.
Then just like that, Villa walk away with nothing when once again they looked to have done enough to have expected something.
The first 45 proceeded in familiar fashion, with Fulham getting the brighter start, and Brad Guzan was called into action early, saving smartly with his outstretched foot to deny Kieran Richardson who had the goal at his mercy.
Villa then grew into the game, and looked more comfortable as the half wore on.
At 17 minutes Gabby cut left to right looking to get space for a shot, but had the effort deflected, and Schwarzer saved easily.
There were a number of good moves for both sides, and it was an entertaining match, ebbing and flowing, even if it didn't produce a number of quality chances. The Ginger Ninja almost came back to haunt us, missing a header at 43 minutes he'd like to have back.
The halftime stats told the story, Fulham with 4 on goal versus Villa's 1, the off-target shots at 5 and 3 respectively, for a 9-4 tally, and Fulham had a 52%-48% edge in possession.
The second half started brightly for both sides, with Rodallega missing a volley before Gabby put a shot/cross across goal just waiting for someone to tap in. And at 48 minutes, Villa had the ball where they wanted it in the box and at Gabby's feet following some good work by Ireland, but it just didn't quite come off.
At 54 minutes, Darren Bent headed over a chance at the end of another nice move and Lowton cross.
Then at 58 minutes, Mladen Petric found himself in the box between Vlaar and Baker, who was starting for Clark and doing well. Baker held his ground, Vlaar closed in and muscled Petric off the ball, and Petric then fell into Baker, who rolled his ankle and had to leave.
Lichaj was then introduced, and Lowton stepped into the right CB spot, and Vlaar took the left. Lowton was immediately called into action with an important block of a Richardson effort. Sidwell skied the rebound opportunity over the bar.
Charles N'Zogbia came on for Stephen Ireland at 66 minutes, who'd had a fairly good run-out after missing three games.
At 75 minutes, Benteke came on for Bent, who did apply himself a bit having started the game, but still didn't do or offer much. Dimitar Berbatov, himself considered a "lazy" player, was much more influential, especially early on, and always looked much more of a threat and complete player. He outpassed Bent 23 to 6, had 3 successful dribbles (and 3 unsuccessful) compared to 0 for Bent in either category, and had 6 incomplete passes to 0 for Bent.
And to be fair, Sidwell did outpass Stephen Ireland and probably had a larger influence overall, though Ireland was the player most likely to create a chance for Villa. Hugo Rodallega also outpassed Gabby, 21-9, and the pair were dead even in shots on, 1-1, shots off, 2-2, crosses, 2-2, and successful dribbles, 2-2.
But it didn't come down to a squandered Bent opportunity, rather the one from Benteke, that saw Villa see a precious and likely well-deserved point slip away.
Obviously Benteke can score, having done so twice for Belgium over the break. But we could desperately stand to have him add to his Villa account. He's been in the right places and offers a good physical presence and work rate.
But what Villa need are goals, not just opportunities. The side are not creating enough clear-cut chances to be at all profligate, and it cost us again today.
Podcast: Play in new window | Download