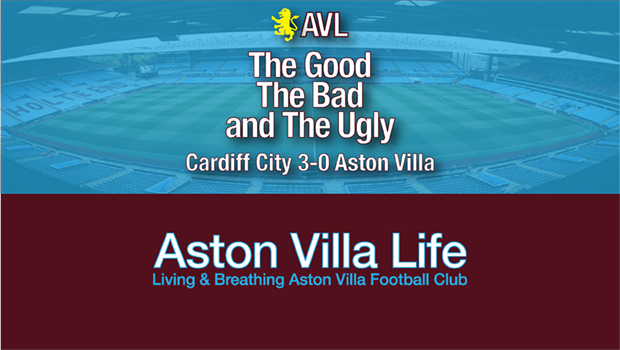 Aston Villa traveled to Wales for their first away match of the young Championship season, and were dismantled by a rampant Cardiff City side who will be shocked they only won by three. To say it was a bad day is being too kind.
The Good
Villa seemingly started well enough, though the signs were there early on that Cardiff were going to be the more dangerous side. Onomah played well again, showing confidence, skill on the ball, and covering a lot of ground. Sam Johnstone made a number of vital saves, bailing himself out one occasion.
O'Hare was lively when he came on, good quick feet and can play in tight spaces. Hogan did a lot of running.
That's it.
The Bad
Well, it was all bad, in the end. We don't tackle well, we don't have many ball-winners. We're predictable, insist on getting wide, but have no natural target in the middle, or good cutback patterns. Cardiff looked like they knew what was coming every time. It doesn't help that Villa's passing was all too often wayward…too ambitious, too heavy, too soft, and generally off the mark when trying to find the telling ball. Rarely was there an assured sequence of clean, quick passes with any incision.
In all, Cardiff simply looked a stronger, faster, more skillful and better-drilled side. They attacked quickly and decisively, skipped past players with ease, and were clinical even as they were profligate. This one could've been 6-0, easily.
Zohore, Hoilett, and Mendez-Laing were running at the back line at full pace all day with little in their way. I'd swap them for Hogan, Gabby, and Elmo (who, to be fair was injured early on) any day of the week. Gunnarsson and Bamba would walk right into our side. Maybe the whole Cardiff team would, at least on this day.
The Ugly
How easily we were taken apart. The back four were constantly exposed. Our fullbacks pose no attacking threat. I could go on and on. Like I said, could've been 6- or even 7-0. No answers.
Final Verdict
Maybe it will turn out to be Cardiff's best day of the season. Maybe our worst (it better be). But the ease with which we were undone, and difficulty we had creating anything threatening was disturbing. Hugging the touchline isn't working. Lumping balls into the middle from wide isn't working. Playing through the middle isn't working.
When we're not trying to break on the counter we're ponderous, confused, and hardly troubling. We can't seem to get out of each other's way. I'm still trying to discern a pattern beyond get it wide and then stall out waiting for everyone else to catch up. And I don't think our opponents are worried about us doing anything else either. If we do manage to get a ball in the box, we've no real target, and misplayed balls, poor control and poor decisions see it coming back at us too easily.
Lansbury deep is a wasted player. Gabby offered nothing much at all. Hutton just needs to make way. He doesn't defend well enough or attack well enough. I can't imagine Bree would've been any greater liability at either end. Our wingers never get the time and space we afford the opposition's.
Last week I was finding positives. This week I have none. This is clearly not the start we were looking for, 1 point out of 4, or 0.5 per game, with a -3 differential already. And that was not a performance to instill confidence in anyone on the team.
I don't want to sound hysterical, and maybe it gets better when Kodjia returns and there's a different set of options and/or a partnership up front. But that's been delayed, and while Jedinak will offer a bit more of an anchor, he's not going to solve the other issues, of which there are plenty. It seems a rather slender lifeline to be clinging to.
In short, I really can't believe the money we've spent to have so little invention, possession, creativity, or threat. This just isn't good enough. If we were to have played the U-23s could it have looked worse? I can imagine that lot growing into it over a few games. I'm having trouble right now seeing how this lot fits together.
If we don't get a result against Reading, we've already dug ourselves a hole, and Steve Bruce is going to be right up against it. And based on what I saw today, my immediate reaction is that he has no answers but to try and slow things down and play for 1-0s.
I'd feel a lot better about our prospects if we were Cardiff supporters. Maybe I'll feel better tomorrow, but I don't think so. All I can do is tell myself that you can't take too much away from one game. Or can you?
I'm off for some strong drink.
Over to you.