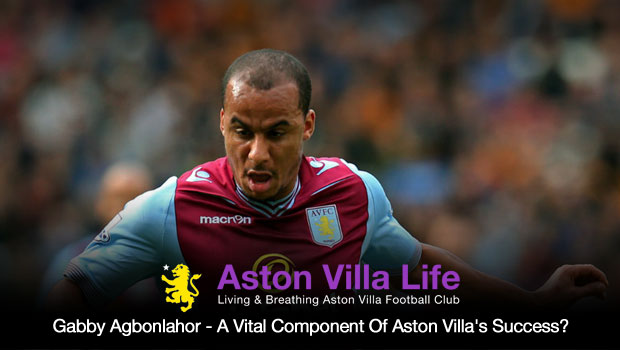 Gabriel Agbonlahor is a name that has divided the masses of claret & blue followers for many a year, but one thing is for sure whether you like him or loathe him, Agbonlahor is very hard to ignore.
Gabby, as he is often affectionately known, is an endangered species in the world of football. Why, I hear you say? Well because he is a local man playing for his childhood club – a phenomenon that rarely occurs now in the top flight of any major league in European football. However, that isn't the only rare trait associated with Agbonlahor, he displays a quality that is so rare now in the world of football, agents have to look up its meaning in the dictionary – loyalty.
Twenty seven year old Agbonlahor is a one club man, Villa's loyal equivalent of Francesco Totti – a local hero who will saviour every local derby he plays as if it is his last. Agbonlahor has seen many Villa incarnations come and go in his time, just as he has seen his role in the squad evolve & change under various managers.
As most will be aware, his sheer pace is his most potent weapon in his armoury, and once he revs up his afterburners, there is little hope for any opponent player. Agbonlahor's pace has been a blessing to him, but one could argue it has also been a hindrance, as he is now operating in more of a wide forward role than through his preferred central position.
Perhaps though the change to a wide forward is not the most challenging adjustment Gabby has had to make in modern times, more so that he is the longest serving member of a squad that lacks experience. In that sense, he's a leader by circumstance rather than intention but no one at the club, not even the manager, has the wealth of Premier League experience Gabby has.
Agbonlahor, in my opinion, does not come across as a natural leader. Why? He's not the most vocal player on the field, but then being loud is only one aspect of a good leader. He is, however, able to lead, and is leading by example – this has been evident, mainly when Villa take to the road.
On the opening day of the season, Agbonlahor sent a timely reminder to any of his detractors when he played a large part in Villa's demolition of Arsenal at the Emirates. He's played his part in many a successful Villa raiding party over years, and so in 2009 it was fitting that it was Gabby who scored the goal that saw Villa end a 26 year wait to beat Manchester United in the league at Old Trafford.
However, to dub Agbonlahor as just an effective away day player would be grossly unfair – for instance in 2008 he responded to a snub from Fabio Capello and England by banging a hit trick at Villa Park in a 4-2 victory over Manchester City.
So after years of loyal service why does Gabby still divide opinion at times amongst Villans? Well such is the potential of Agbonlahor, he naturally frustrates fans at times. Few can doubt that his pace allows him to get into positions that other players could only fantasise about, often after a head spinning run that leaves opponents in his wake. However, in times where there is no end product, whether through a tame shot or an over hit cross, he can leave many people doubting his undoubted potential.
In more recent times, the footballing ability of Gabby has greatly improved. This season alone, Agbonlahor has assisted goals utilising both feet. Last weekend, the game at Anfield illustrated just how important Agbonlahor is to this Villa team – when he was on the pitch, Villa were racing towards victory, but after his withdrawal through injury, the team seemed to be only clinging on to a point.
So is Agbonlahor a vital component in the Aston Villa machine? Ladies and gentlemen, it is over to you.