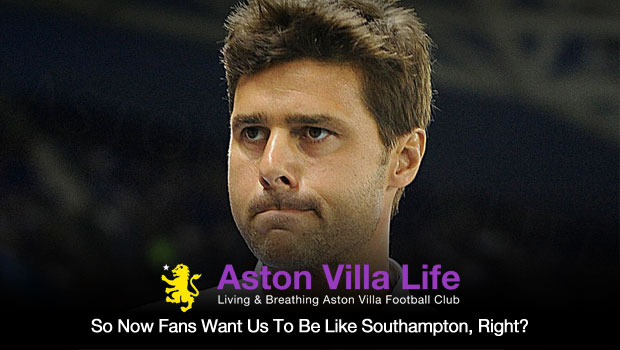 God bless Twitter. Why? I was reading some tweets yesterday and stumbled upon a conversation that Aston Villa should go hire a manager from La Liga immediately.
The rationale? Because of Mauricio Pochettino's successes at Southampton.
Like many superficial arguments, there is some logic, especially if one has no understanding of how football came to be, or rather how Villa, Southampton, or any team have come upon their current circumstances.
Yes, Pochettino has progressed the team since his arrival at the club, but he has not been a man who has transformed things from scratch. In fact, it seems – at least in the eyes of those seeing his arrival as the basis for Southampton's success – that Nigel Adkins has been forgotten.
We all remember Nigel Adkins, right? Like Paul Lambert, he managed to take his club from League One to the Premier League in two seasons. Call me foolish if you like, but that kind of achievement indicates a certain degree of ability – if winning the league is a marathon, doing it twice in a row at different levels is an ironman challenge.
However, it appears one of two things appear to be in the minds of those suggesting such a change at Villa. Either:
A) The fans figure that Adkins only got so far so he was removed. Therefore, under such logic, Lambert should be removed in order to progress Villa.
or
B) The fans figure Lambert is doing so badly, he simply deserves to be sacked by the board.
In reality, both of those attitudes are strange. In the first example, the comparison is off by quite a lot. Southampton, when they had got rid of Adkins were a club on an upward trajectory with no real shackles to hold them back. There were no more massive debts to worry about (something I'll come to later) and they had one of the best academies in the land – producing the likes of Alex Oxlade-Chamberlain, Theo Walcott and Gareth Bale in recent times.
The second option? Villa are further forwards since Lambert has joined, around four places better off this season compred to last. If keeping a job is about performance, I struggle to see why the manager should go – whether the football "style" is better or not is largely irrelevant because the crux of football is about results, not how they are achieved
Getting back to the comparison with the Pochettino project, we shouldn't just look at the positives of Southampton's recent history though – we should examine the whole context.
Whilst fans of Villa are unhappy with progress at the club, Southampton have had to suffer far more than the Villans have. On 15th May 2005, the Saints were relegated to the Championship. The man in charge? Harry Redknapp – a blot that appears to have been erased from the view of the national psyche by a media who seem to unreservedly praise him.
It got worse though. It wasn't just in 2005 that Southampton were relegated. In the context of financial issues, and after 10 points docked as the club's parent company went into administration, the Saints went down – again – in May 2009, just four years after falling from the top flight.
The comparisons with Villa become more stark at this point. Southampton, in their history, failed to deal with the debt that shackled their club. Whilst Randy Lerner's tight financial controls on Villa may well be frustrating for all of us, at least we haven't had to suffer the ignominy of administration and a points deduction.
Forgetting Lerner for now, Southampton are far from an eternal success story. It cost them their place in the Premier League, and the Championship, before they started their way back up the leagues.
For reference, the man who was sacked prior to Adkins' arrival as manager? The now lauded Alan Pardew, now managing a team a point ahead of Pochettino's Southampton – perhaps such a turnaround says a lot about the clubs being the issue, not necessarily their managers.
After all, isn't Andre Villas-Boas suffering at the hands of Tottenham Hotspur fans despite being amazing at Porto? Hasn't Martin Jol just been sacked despite taking Spurs to the top five not so long ago? Maybe there is a broader issue that the club needs fixing that shouldn't keep sitting on the shoulders of men who are here for only a season or two in recent times.
Getting back to the matter of the club comparative, the question must be asked – if one wishes to take the Southampton route, are you going to be happy if we have to take the whole dose of medicine, not selective bits? Are you going to be happy if we go down twice in four years, only to come back nearly ten years later? In short, are you OK with Villa going down with maybe the benefit of a top half challenge by 2022?
No? Whilst the above is a direct comparison, the reality of what others have had to do is there for all to see. Southampton did not just spring up out of nowhere as they've invested in their academy – something many Villa managers have failed to even consider, arguably because the quality of output has been too poor to supplement the squad – and they've had to pay their price in financial debts.
When one considers that Villa have managed to avoid relegation so far whilst still steadying the ship, it is a pretty massive achievement. Nobody is saying it is some laudable miracle, but it is certainly better than Southampton managed when they were trying to get their ship on track – had Villa gone down a few seasons ago, they too might have been facing the same issues if they hadn't bounced back up.
So, with Southampton's efforts lauded so highly, it may well be worthwhile understanding the whole context of how they got to their current position, and the suffering they had to endure.
Whilst an old saying says it is better to live a day as a lion than a thousand as a goat, life has its consequences, and words are cheap, for it is surely better to be alive and able to function in a competition that runs forever in theory? I'm pretty sure that was how the tortoise beat the hare.
Whether Financial Fair Play has the expected ramifications or not, one thing must be certain – surely progressing four or five place slowly this year has to be infinitely preferable to dropping down two leagues just to get back in ten years, right? Or is that really what people want – the Southampton route?