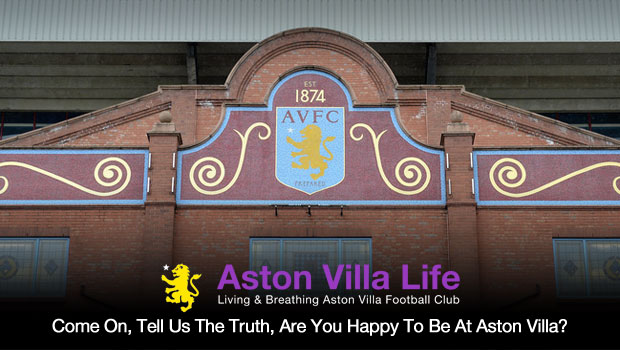 The reclusive nature of Randy Lerner has prompted many an Aston Villa supporter to second guess his intentions with regard the club, but lately I've found myself wondering what is going on inside the heads of not only the owner, but the players and Paul Lambert too.
After all, we hear many soundbites about this thing or that thing, but how do they really view the club? Is it a stepping stone to bigger things? Or do they feel genuinely ecstatic to be here every time they walk out on to the pitch, as though it is their best move so far?
In addition, do these people get how big we feel our club is, and are they ready to step up to that challenge? Or, maybe, is it time for Villa fans to get some perspective and look at the club through the eyes of how the wider community view Villa currently?
Lambert stoked up the fire of the derby build up with West Bromwich Albion when he said:
Aston Villa is a massive club. I don't think anyone can ever dispute that. It's a club that's won a European Cup, league titles, has a massive fan base and has a bigger stadium. That's no disrespect to West Brom at all – they're a good club in their own right. I haven't been at West Brom or managed the club but Aston Villa, for me, is a bigger club.
He added:
"There's a rivalry because of the vicinity where the two clubs are. We'll go there and try to win. I don't think you use the aim of finishing above them as a motivational tool. Everybody knows a derby is important for supporters, first and foremost.
"For the team and the football club, it's vital to try to win a derby game. But the thing with a derby is the fact it doesn't matter who is playing well – you could be top or bottom of the table or near each other because in that game people do things which look extraordinary that they wouldn't do in a normal game. That's a derby."
Lambert clearly views Villa as a big club, but one wonders what his train of thought would be in terms of where Villa should be, not only right now, but in the next few years, what his targets are, and whether those targets are really backed by the owner? Of course, reality dictates we'll never hear an honest answer, or at least we won't have any way of knowing if it is just flattery or sincerity.
Getting back to the players, many of them currently at the club have been plucked from relative obscurity, be it from lower division clubs in England, or moderately successful clubs in Europe. One wonders whether some of the players currently at the club have already reached the pinnacle of their careers in their own heads? Or if they all have room to grow beyond their current abilities, rather than just Christian Benteke.
Is there a drive, is there a hunger, and is there a belief within the Villa dressing room that they can achieve more than just hovering about the relegation zone? Or are they struggling to keep up the form of where they currently are?
Do some players have a burning desire to improve so they can play on the international stage?
In order for any collective to fulfil their potential, I would assume the individual components need to be pulling in the same direction. A controversial fellow countryman of mine, Roy Keane, upset many a fellow professional with his approach – one that meant anything less than second best was seen as not good enough but, to be fair, he has a very valid point.
If you or I attend a job interview tomorrow, you can bet your house that the interviewer will ask the question "Where do you see your career in five years?" but my main thought is I wonder what many of the Aston Villa players & manager would say in response to that question if we could get them to be truly open about their thoughts.
Campo Retro Competition
Have you entered our exclusive competition with Campo Retro yet? With just a few days left of the competition, grab your chance to win yourself a free retro shirt by simply clicking the following link and answering a simple question – enter NOW! http://www.astonvillalife.com/aston-villa-blog/win-a-retro-aston-villa-shirt-from-your-era-of-choice/