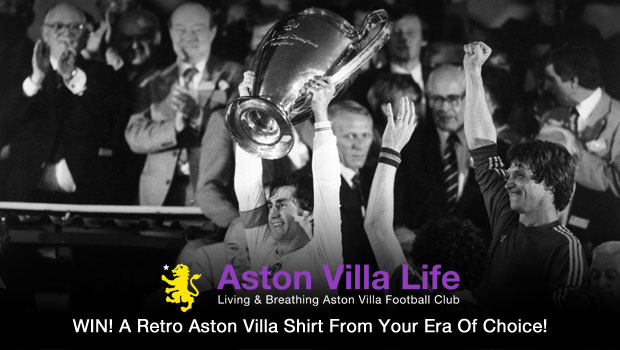 Peter Withe. Tony Morley. Shaun Teale. Dalian Atkinson. These are just some of the players who have left their mark in Aston Villa's history. And they are players we'd be proud to have on the back of our shirt.
We've teamed up with Campo Retro, a company who do retro football with a difference. They connect with fans to find ideal nostalgic shirts inspired by moments, influenced by icons, born from a love of the beautiful game.

Campo Retro have a range of Aston Villa retro shirts available, ranging from 1957-1994. And what's more, they'll print any name and number you want on the shirt from your memorable era.

We're delighted to bring you the opportunity to win a retro Aston Villa shirt of your choice with the player from the history of the club of your choice on the back. You could even have your favourite player from one era in a Aston Villa shirt from another era! Maybe you want Peter Withe's name on the 1994 Cup winning shirt? Or Shaun Teale's name on our famous European Cup winning shirt?
Take a look at the different Aston Villa shirts Campo Retro have to offer, choose one, then tell us which shirt and player you would choose and why. The best answer will receive the shirt!
After choosing your shirt from the link above and deciding your player, let us know your answer using the form below. The closing date for entries is Saturday, 30th November 2013.
The competition is open to all residents worldwide, so if you're a Villan from the UK or abroad, enter now for your chance to win!
If you are unable to view/enter the competition below, please click the following link and input your details in the form that follows – https://docs.google.com/forms/d/1nrYOsFcD31gdtYxHMgsagu_i7l_BAROCchhjcQcoWwA/viewform