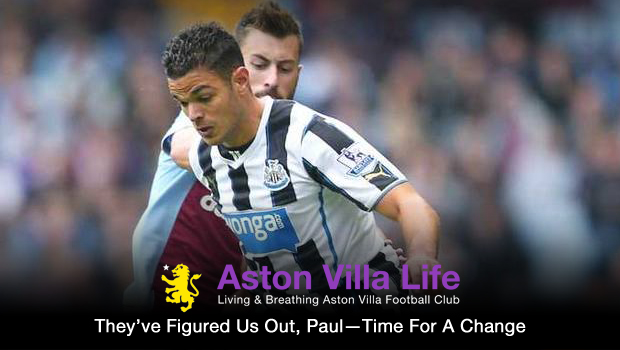 After the rather abrupt end to the Martin O'Neill era, many began to carefully examine the cracks in the foundation at Villa Park. As the club became a fixture in the top six and fans dared to dream about returning to the European Cup many of us looked past what in hindsight were some serious problems and limitations.
Notable among the team's limitations was the over-reliance on counter-attacking football. Since O'Neil left the club has tried to address this. When Gerrard Houllier was brought as O'Neill's permanent replacement he tried to implement what he called a more "continental" style of football. When the players he inherited were ill suited to playing the way he wanted, and his health didn't allow him the opportunity to acquire players who could, the defense leaked goals like a sieve. I'll do everyone a favor and not mention the board's solution to that problem.
When Paul Lambert was appointed he came with the reputation of playing good football. Not the dogmatic tiki-taka of Brendan Rogers or Roberto Martinez, but fluid passing football with a bit of pragmatism mixed in. Lambert also had the reputation of a German schooled, modern football mind who unlike one of his mentors, O'Neill, would rotate players and change formations.
We did see a bit of that last season, but we need to see more of it now after the team has not only failed to score at home this season, but to create chances. The over-reliance on counter-attacking football has been an issue to this point. After the performances against Arsenal and Chelsea, playing mostly the same players in the same fashion made sense. The league looks to have adjusted, and the time is now for us to adjust to the league again.
I don't have any genius ideas of how I would set up the team against Norwich. I do think the midfield could use Sylla's size and physicality. Delph, Westwood, and KEA feel a little too similar to me to play together all the time. It may also be time to give one of the new attacking players a start. Helenius could provide a different dimension with his height and skilled feet. I wouldn't even be opposed to a 4-4-2 with Tonev and Bacuna on the wings. Whatever it is, it is time to do something.