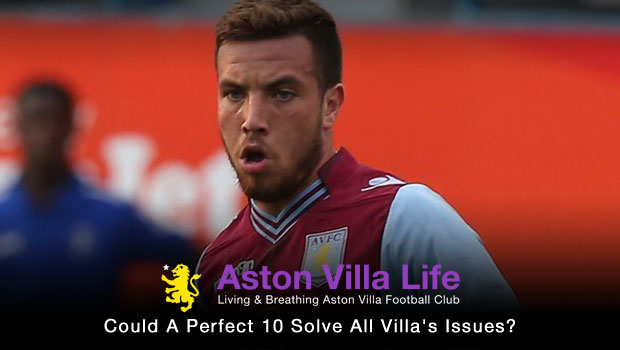 On Saturday we were given a rather sterling example of the damage an effective attacking midfielder can cause. Helped by a lacklustre left side of defence on Villa's account, Hatem Ben Arfa of Newcastle provided rather close to a master-class in wing play. Antonio Luna and Matt Lowton, however, probably provided coaches with a rather easy to find "How Not to Defend" DVD tutorial.
As we know, Paul Lambert had identified and, rather vaguely, attempted to address the inexistence of a player such as Ben Arfa amongst the Villa ranks. His failure to acquire such a focal attacking presence in the summer can be understood, however, due to the ongoing mass overhaul of the entire Villa squad. It was just the case, though, that the Newcastle game would highlight how greatly Villa could do with such a talent – or even just a player with decent ability able to play in that position.
As it is, we go onwards until at least January with strikers-cum-wingers in the shape of Agbonlahor and Weimann, backed up with the rotation options of Bacuna and Tonev. Not long ago I mentioned the resurgence to form of Agbonlahor and how this could the season for him to properly assert himself as a top performer both in the team and the league. But he will always have his weaknesses – his ball control is not to the standard of a top winger, his off the ball movement is still lacking, and he possesses that total miss-hit in his locker.
Alongside Weimann, an honest workhorse but lacking in skill and creativity, Villa's frontline has so far – and will likely continue to, struggled when the onus is on them to take a game to someone. Far better suited to counter attacks and runs from deep when the ball is played over the top of fullbacks, it seems we're left hoping that Tonev, Helenius and Bacuna can provide an injection of creativity. I don't know about you but I'm not confident any of the aforementioned are quite fit to slot into Lambert's tactical design for the team.
My suggestion would be to try Helenius behind Benteke, as we saw a glimpse of promise from their partnership during the last minutes of the Liverpool game. Helenius can then take the heat off Benteke in terms of flick-ons which we so often are forced to resort to, and allow The Beast to roam a little more and get on the end of attacking moves. Other than that, I can't see much flexibility in the role apart from testing Charlie out upon his return from a holiday injury. Or perhaps a switch to 4-4-2, which would again leave us using strikers as wingers. Out of form strikers at that.
For now, Paul and his team are going to need to buck their ideas and performances up in order to find advantages in our play when at home.
Are you considering taking a gamble on the next game at Norwich City? If so, why don't you open a William Hill betting account today!