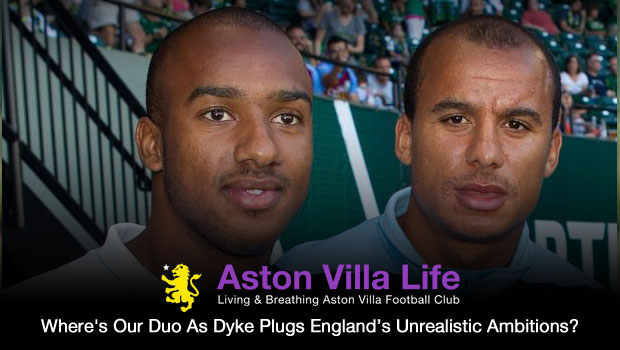 With no Aston Villa game this weekend, it will be up to England to give fans the footballing fix they are looking for, minus two of the high performers in the league.
Despite Villa winning just one of their opening three games this season, performances have been good, and two English players in particular have been operating at a very high level – Fabian Delph & Gabriel Agbonlahor.
However, despite the performances of two Villa men, both seem to have been overlooked for international duty, with many puzzled that other players have been picked above them.
Not long ago, Villa were something of a home for English talent in season where Gareth Barry, James Milner, Ashley Young, and later Stewart Downing were part of the club's setup.
However, all four have moved on and whilst part of the club's lack of English international representation is down to Paul Lambert's choice to go continental, both Delph and Agbonlahor have performed well enough to be part of their nation's squad.
Nobody is saying that both players deserve to be automatic picks in England's starting XI, but in an era where the nation's own manager, Roy Hodgson, is lamenting the lack of available talent he can select from, surely the pair from Villa can offer something?
All of this seems to underline that, despite all the rhetoric, the nation's team selection does appear slanted in favour of certain clubs. After a statement by FA Chairman Greg Dyke on Wednesday regarding England's highly ambtious targets – to reach the semi-finals of Euro 2020 and win the World Cup in 2022 – there's a feeling that England are, in more ways than one, detached from reality.
Why? Even with the very best players plying their trade in the Premier League, few would suggest an English team would be able to progress past the quarter finals of a major international competition, less so win it – that there is a belief, however unrealistic, that England can win the World Cup does little to make such a plan believable to outsiders.
Inside the minds of England fans, anything is possible, though reality rarely transpires to be as lofty as the hopes and dreams of the supporters, proven as we know by repeated heartbreak as, predictably, the nation underperforms against expectation.
Getting back to Villa, the question must be asked when two of the country's best performing players are not picked by their nation's manager, is it any surprise that England fail to succeed, even at more sensible levels of expectation than those expressed by the FA's chairman?
Here's one fan who hopes the Villa duo's efforts are recognised sooner, rather than later.