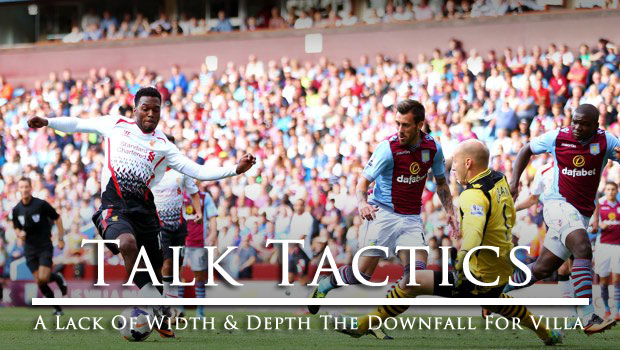 Football is, as ever, a story of narratives, and being a fan of the game is no different. As Aston Villa lost 1-0 to Liverpool on Saturday, I'm sure different fans walked away with different opinions on both the game, and the opening three fixtures.
How you will feel now, reading this article on Monday morning, will likely be driven by the underlying narrative of how you, as an individual, feel about the way the club is being run on and off the pitch.
Three points out of three games isn't, in my eyes, good or bad inherently. When viewed in the context of who we have played, three points is a good achievement, but losing two games on the spin can draw statements that the trajectory is no longer aiming upwards.
What do I think? I think that Villa have suffered as a result of three games played in quick succession, that the Arsenal game was great, the Chelsea game illustrated the difference in squad depth between us and them, and that the Liverpool game was part tiredness and part rotation exercise.
As a paying customer at Villa Park on Saturday, I didn't see anything particularly interesting or exciting about how either team played – it wasn't exactly a classic. One thing I did see, however, was a defensive width issue.
When Villa play under normal circumstances, we see the full backs pushing high and wide in order to get the ball forwards. There are issues with this tactic – as there are with every tactic in the book – but it has benefits in terms of stretching the play wide.
Against Liverpool, the defence played very narrow for most of the game. When looking across the back four, there was rarely a time in the first half where Matthew Lowton or Antonio Luna were any wider than the 18 yard box, leaving the forward players to pick up any slack if going wide.
However, Villa spent very little time getting wide until the second half when Luna's runs in wider areas opened up Liverpool – then, and only then, did I see a goal threat.
Now don't get me wrong, as a person who has coached teams to play, there are logical reasons for setting up as we did, especially if Paul Lambert anticipated a high volume of balls into the central areas. What did surprise me was that Leandro Bacuna was given his debut ahead of Karim El-Ahmadi – a player who had been solid since being included in the first team this season.
That Bacuna got man of the match at Villa Park bemused me somewhat given that Luna and Fabian Delph offered more effort, more passing – just more of what was good. I don't think giving Bacuna his debut was the right thing to do but, as with every decision made by the manager, he will live and die by it.
Getting back to why I felt Villa struggled, the defence was struggling to get forward, instead playing tight at the back, a marked change from the usual gung-ho Lambert approach.
Some might say that defence was needed against Liverpool – and it might be hard to argue against such an idea – but a combination of three games in quick succession, mixed with a change in football style, meant that Villa stuttered in the first half, and didn't do enough second half to win the game.
Villa have, as in past games, dominated the territory, but were profligate in front of goal – that Villa had 17 chances compared to Liverpool's 5 – leaving the team with zero points instead of one or three.
Passing wise Liverpool and Villa were roughly equal with 82% and 84% pass completion rates respectively, though Liverpool both completed and attempted more passes in the attacking third than Villa (completing 92 of 135 versus Villa's 79 completed out of 126).
As stated before, the width of Villa's team in the second half was key to their improvement where 16 crosses were attempted, compared to just 7 in the first half. Whilst crosses in both halves were hit-and-miss, Luna's width gave Villa more chances to beat Liverpool, rather than simply mount an attack against the centre of a crowded midfield.
In the end, it came to what many football games come to – a moment of brilliance and one goal margin. Sadly for Villa, the team were on the wrong side of the result, but there is still plenty to play for – three points from three games ain't so bad, is it?