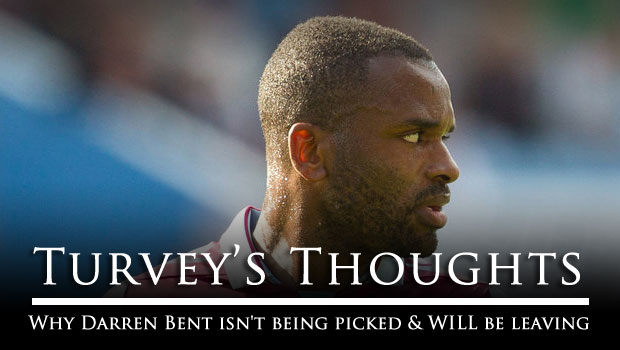 As Paul Lambert left out Darren Bent for Aston Villa's latest game against Reading, much has been made of a "rift" which appears to have arisen between the manager and the player. Newspapers, clearly eager to write stories painting a picture of problems in the Villa dressing room, have started the rumour putting two and two together and getting fifty-seven, but spreading panic in the meantime.
When it comes to the modern game, Bent's inclusion is something of a luxury. There is no doubting Villa's number nine's ability to score goals, but when viewed in the context of his career at large, there are issues that should be providing some evidence as to why the former Tottenham striker has fallen foul of Lambert's dressing room revolution.
Firstly, Bent has never won anything at a club he has played for. Of course, many players play for clubs and finish their career with no trophies, but a £24m forward would normally be expected to have won something in his career, especially seeing as great goalscorers are worth their weight in gold.
The problem here, as much as it may stick in the throat of certain fans, is that Bent isn't a top forward. As stated earlier, he scores goals – unquestionably – but that is it. Some fans may think that is sufficient – that a player just scores goals – but no striker of similar price or reputation plays in the same way.
The well marketed Darren Bent fallacy
There's no doubt that Wassermann, the agency behind Bent's representation, know how to market their man. The sporting agency clearly hit the jackpot with their involvement in securing his move to Villa Park from the Stadium of Light. Bent was reported to have received millions in a signing fee, and the agency will have had a healthy reward for securing the move.
Bent was what Villa needed at the time of his purchase – a pure goalscorer – as Gerard Houllier's team were anaemic in front of goal, and with the ready made supply line of Stewart Downing and Ashley Young, Bent was in his element.
Since then, much has changed at Villa Park. Young and Downing have since moved on, and the managerial merry-go-round has picked up and dropped Villa's former French manager as well as former Birmingham manager Alex McLeish. Bent, once seen as a first name on the teamsheet is now not even on the bench. So what gives?
Getting back to the case in hand, Bent's role as a top forward is in serious doubt because of the contributions of his peers. Other strikers who are often named in the same breath as Bent – Wayne Rooney, Didier Drogba, Jermaine Defoe, or Carlos Tevez for example – have a far more rounded game than Bent. The aforementioned strikers don't just score goals, they create them too.
Some might say it is unfair to compare Bent to the likes of Rooney or Tevez seeing as both rivals play for the top teams in the country. It is certainly true to say that Tevez and Rooney do play in better teams overall than Bent, but this misses the point – the issue with Bent is that he doesn't contribute to the team. In fact, statistics show that Bent is behind current favoured striker Christian Benteke in terms of contribution, never mind those already revered as Premier League greats.
Benteke has played 11 games scoring three, whereas Bent has played nine and scored two – whatever the reason for Bent's fall from scoring one in two through most of his career, the inclusion of the former Sunderland player clearly is too expensive a luxury in team terms to be included. Benteke has more dribbles, more touches of the ball per game, seven times more tackles, and the Belgian has assisted two goals so far at Villa – Bent has assisted none.
No team contribution means no place for Bent
In recent press conferences, the manager has been repeatedly questioned as to why Bent isn't featuring for the team, as though dropping a player is somehow a crime no manager should even engage in. The reality is that Lambert picks players on form, much like any manager who wants a long term relationship with his whole squad would do. Yet it seems this is insufficient for many of the journalists in this country, as though Bent should enjoy a similar status to the ones that Harry Redknapp has been raised to – that of being beyond criticism.
This is utterly crazy. There is no player bigger than the team. Whilst Cristiano Ronaldo regularly had his ego fed by Sir Alex Ferguson, even he was not indispensible, and Ronaldo is ten times the player that Bent is. Again, Ronaldo was playing for a team packed with far more quality than Bent has ever had around him at Villa, but our current number nine has never dug in for the team, preferring to be the man at the end of the move each time, rather than wasting his effort in the middle.
Statistically, Bent has 102 Premier League goals but only 13 assists. Compare his strike rate to a player with a similar haul, Didier Drogba, and whilst the Ivorian has two less goals than Bent, he has a full 41 more assists in the Premier League. Jermaine Defoe, often framed in the same mould as a "poacher" like Bent, has over twice the number of assists as Villa's number nine as well as seventeen more goals despite being less than two years older.
Some may say it is unfair to compare Bent to a player such as Drogba, but why is it? Bent is not a young player with a high price tag like Andy Carroll, but rather a player who is almost as old as Robin van Persie, who has 31 more assists than Bent and two more goals to his name.
Had Bent been a player bought for the same amount of money as Javier Hernandez – a mere £6m – then he could be judged under different circumstances. If he had been a young player with a great future ahead of him at a high price – much as Sergio Aguero was and is – then he could be shaped into a more complete player.
As it stands, he is what he is – a goalscorer who is too far into his career to contemplate doing something different, especially when one considers he has been paid handsomely to play football. As it stands, why does he care about changing if what he has done works for him in terms of his career and life? Who is Paul Lambert to tell him he should change?
That is, of course, Bent's right. He can stay as he is, but such an attitude is unlikely to wash with a Scottish manager known as much for his discipline as his humility. Bent may well be a good player, and may consider himself bigger and better than any of his rivals but, as Lambert continues his revolution at Villa Park, the room for an inflated ego in the dressing room is no longer there, especially when you consider that his current wage is reportedly more than the combined wages of Lambert signings Ron Vlaar, Karim El-Ahmadi, Christian Benteke, and Ashley Westwood.
Bent may score goals, but his value to Villa seems to be diminishing with each passing week. Can Villa afford to keep their number nine? As January approaches, the answer appears to be no.