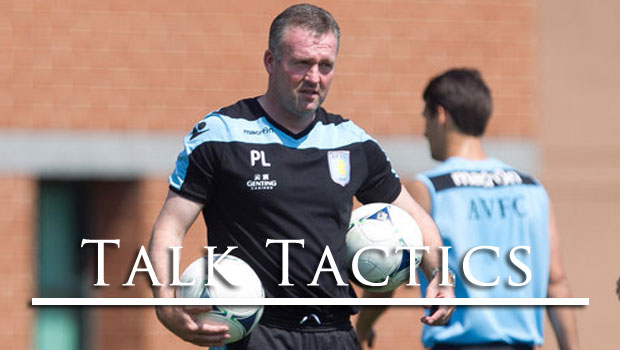 As I sit here just after 1:30am UK time after a Sunday filled with emotion, both from the highly charged derby between ourselves and West Bromwich Albion as well as the phenomenal European team win at the Ryder Cup, many questions will present themselves. For the sake of keeping to the topic of football, I'll resist the temptation to pepper the article with golfing thoughts.
Against Albion, Aston Villa's performance was very variable. As a prime example, the number of shots that Villa fashioned was a hefty 21, though the smaller number of three shots on target showed that merely kicking the ball in one direction is not synonymous with making anything of said opportunity. Though Villa dominated many of the statistics that matters – passes (attempted and completed), shots, possession, and crosses to name a few – there was little end product, little that actually made much of a difference as a 1-1 scoreline invariably illustrates.
Is it ever fair to have one rule for one player, and another for the rest?
Some might suggest that the spark that ignited Villa was the introduction of Darren Bent, the player who scored the goal to pull back a point after Villa had gone behind to a Shane Long goal, but Bent's introduction will prompt multiple different responses as to how this should affect the team going forwards.
For some, Bent's goal will indicate a strong desire for the player to return to the starting lineup, whilst others will see things differently – one swallow doesn't make a summer. For me personally, Bent is a prime candidate for the role of impact sub, something I spent time talking about last season on social media, though I forget in this early morning bleariness as to whether I turned such opinions into an article on here amongst the hundreds I have written – I will be sure to put up a link if I do find it on here.
Bent's potency, if listed in goals a sole marker, was proven by his introduction. Whilst Gabriel Agbonlahor and Christian Benteke didn't manage a single on target attempt during the game, Bent managed one – the difference being that his one attempt on target brought a goal. Again, statistics can be read a number of different ways, which is why I didn't want to rely solely on figures for the purpose of analysis. If I did, all of the time, then there would be no explanation for the games that show dominant statistics apart from in the goals scored area.
Getting back to Bent, his introduction was a positive thing, though his work rate wasn't overly large when he came on. Looking at his influence graphic, he showed little impact on things besides his goal which, as with the other topics of discussion brought about by statistics, creates a whole abundance of talking points. Does Bent's goal scoring when his work rate is low vindicate, all things being equal, that our number nine should be exempted from teamwork tactics? Or, by the rule of equality, should it mean that a poacher has to adapt his game, whatever the impact on his performances.
Again, there are multiple arguments on both sides, and no right answer to hold aloft as the one people should stick to – at Villa's current level, the club can not attract an all-round polished brilliant striker, only unpolished players or one trick ponies.
It isn't just about talents, it is about managerial tactics too
Now before I get stick for indirectly calling Bent a one-trick pony (in the context of his role as a poacher, not in terms of his overall, more rounded recent game), there has to be reflection on the point about if a player such as he can be exempt from normal rules and, if he is, how that affects morale in a team. If strikers score, they are fulfilling their purpose just as much as a keeper who keeps a clean sheet – few people would suggest, for example, that Brad Guzan should be dropped if he only touched the ball twice in a game.
Bent, however, managed to use his poaching instinct combined with the freshness of coming on as a substitute. That, for me, was why Bent was effective this time, and why I would personally keep him on the bench as a weapon, though one could argue that Benteke also suits the off-the-bench-weapon role with players like Agbonlahor and Andreas Weimann more suited to tiring a team out due to work rate.
Speaking of work rate, one player who had a great game was Joe Bennett. In his position as left back for Villa, he was assured, solid, and effective – the influence charts show him as the biggest player on the pitch in terms of contribution which is why I was most surprised when the sponsor man of the match was picked out as Fabian Delph – a player who I thought made several mistakes.
It wasn't just Delph who was at fault though. One thing that puzzled me was the turning of defenders on our team, especially Ciaran Clark. I should clarify, I don't mean our players being turned by opposition players, but rather a strange pattern of defenders making risky moves by turning their bodies away from attacking players in deep positions.
Defenders must defend, and need to keep it safe as well as simple
Don't get me wrong, I understand why players pull this sort of move, shielding the ball with one's body being the primary reason, but Villa's poor touch, especially in the first ten minutes of the second half, combined with an overly dangerous set of passes, was the majority of the reason that Albion were 1-0 up. After all, one only need look at the times that Villa were sloppy in possession – Delph had countless times during his time on the pitch (his card was the result of sloppy play followed up by sloppier tackling) – to see that this was Villa making things hard for themselves whilst, at the same time, managing to be squanderous with their chances.
Part of the fix for Villa's problems involves the upgrading of players, though this is something the manager can't do anything about until January at least. Another part must come from the collective growth of the Villa team, something that may sound diametrically opposed to the aforementioned introduction of other players.
Will Villa improve? Based on the evidence on Sunday, there are a lot of positives that can be garnered from the game – Brett Holman's work rate, Agbonlahor's involvement in his all-round game, and Ron Vlaar's solid defensive abilities – but they must be tempered with the negatives – poor defensive passing, sloppy attitudes by other players, and a lack of end product – that must be fixed in order to progress.
Villa's transformation may be far from complete, but progress is being made. If fans can retain the collective patience exhibited at Villa Park in future, the club will stand a great chance of moving forwards despite challenging fixtures looming on the horizon.
*** PLEASE NOTE *** Please accept my sincere apologies for the lack of graphics and heavy statistical analysis but, if you will forgive me, after a long weekend of sport, weddings, and other family bits, I'm very tired as I conclude this piece at 2:10am. I'll provide further graphical analysis later in the week if the writing schedule affords me the opportunity to write again.
Podcast: Play in new window | Download