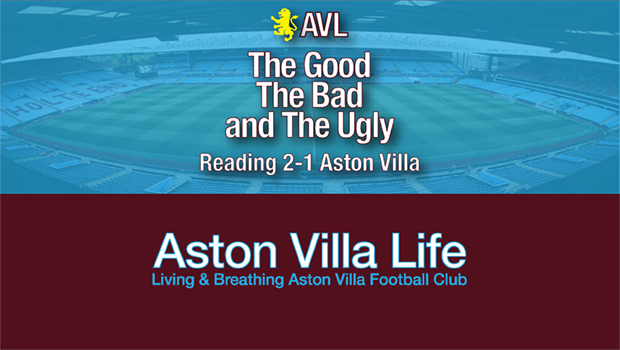 You watched it one way or another. You listened to it. You might have bravely traveled expecting something different. But Aston Villa again looked well off the pace and fell 2-1 to Reading for a second straight defeat (5-1 on aggregate, for those of you following along at home), and one point out of the first nine.
Let's get to it.
The Good
No one died. Although we all probably died a little inside today. But wait…Connor Hourihane scored a late consolation goal, so at least someone in midfield has the ability to produce a nice finish. Three games, two goals.
The Bad
We're still Aston Villa and we still haven't got a clue.
The Ugly
All of it. I actually felt sick watching.
We knew heading in that Bruce's likely response to the 3-0 thrashing by Cardiff would be to park the bus and play for a 1-0. And for the first 15 minutes or so, Villa looked fairly disciplined and competent with 11 behind the ball. We were even pressing a bit, but not terribly ferociously. We missed another early chance when Green was clear in on goal and passed it straight to the keeper.
As the game wore on, though, we dropped deeper, and Reading were soon firmly encamped around us. Villa basically played the role of cones on the training ground.
Reading were relentless in winning the ball back. We weren't. We had no time. They did. And if you pressure us, we crumble. That's the book on Villa. We couldn't even summon nastiness.
Watching Reading's movement compared with ours was like watching Barcelona play a pub team; they'd get a tougher test at the park on a Sunday afternoon. Villa's "pattern" of play is simplistic and easily sussed. Whatever the personnel, it doesn't change. Always too predictable, always too slow. Reading were mesmerizing in comparison.
The failings were almost too numerous to count. Hoof ball without a hold-up man. Poor passing. Timid pressure with no one marking the outlets. Couldn't get out of each other's way. No discernible plan. Woeful passing. Second to almost every ball. Out-anticipated at every turn.
Why do we look like we're playing two men down? Is there any coaching going on? How can professionals who've excelled at this level look so out of their depth?
Bottom line, we looked a shambles, a team with no confidence in the game plan whatsoever, and maybe no confidence in each other. They certainly didn't look like they were killing themselves for Steve Bruce. Hull's resurgence in the second half of the season opener turns out to have been a prelude to two disastrous performances. Where, and how, does it end?
Final Verdict
Again, as so many have said, it just beggars belief. This team hasn't progressed. It's regressed. If I were Jonathan Kodjia, I might very well start agitating for a move. It appears that Bruce has no answers and that at this moment he's inevitable for the sack. Without Kodjia, we can't do anything. And we can only do anything with Kodjia because he does it by himself.
Some might be tempted to point to the possibility of scraping a draw as a positive. And I suppose it is. Or could be. But that would be ignoring the preceding 170 minutes. We only ever came into the game once Reading decided it was over.
Is it time to sack Bruce? Well, it might sound ridiculous except for the fact that the team is going backward after months of him being in charge and two windows to work with. The players he signed are shadows of what they were elsewhere. Sure, he's a "promotion specialist." But if there's a method to his madness, I'd dearly love for someone to enlighten me.
I'm sure I'll have something more constructive to say later. Or maybe not. I might force myself to watch it again, just to get more insight into…what, I'm not sure. But at this moment, barring a drastic change or divine intervention, it's looking like another season in the Championship awaits us.
As ever, I hope I'm wrong. I hate panic. I hate being a downer. I wish I had a ray of light for us all. But right now, this doesn't look good in any way, shape, or form.
Over to you.