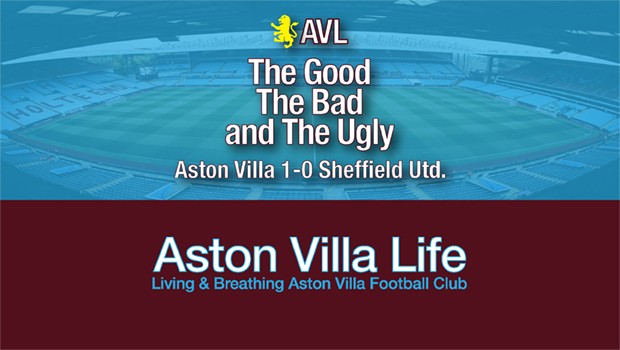 It looked like it was shaping up to be a night of frustration for Villa in their season opener, but Tyrone Mings and Ezri Konsa managed to combine off a corner to finally break through Sheffield's defense and seal all three points for the home side. Oh, and some guy named Martinez saved a penalty.
With John Egan sent off in the 12th minute, Villa, who'd started brightly, suddenly found themselves in trouble. Breaking down 10 men has not been a forte of the Villans, and it looked for long stretches that we'd never find a way through. Never mind the fact that Matt Targett stepped into Chris Basham, who'd ghosted in behind him in the 36th minute, and conceded a penalty.
New-boy Emi Martinez, though, was up to the task and, guessing right, his big frame stretched to brush away the attempt with ease.
Here's what we've got.
The Good
A clean sheet, three points, and a win, finally, against 10 men. Douglas Luiz looked sharp, as did Matty Cash. Grealish wasn't at his all-time best, but wasn't half-bad, and could've had a couple himself. Konsa and Mings had a fine game together, including combining for the goal. And it looks like we might have a real keeper. Apart from the penalty save, Martinez wasn't asked to do much, but he claimed the ball with confidence, distributed quickly, and was calm with the ball at his feet when Villa tried to play out against the Blades' press. Watkins was perhaps a bit unlucky not to connect and open his league account, but he seems to be fitting in well. He was whiskers away from a couple of goals. And I'd be remiss if I didn't say that Konsa is looking more the part week in, week out.
The Bad
Targett switching off could've given Sheffield a goal they didn't deserve, though it was set up by a tidy pass. McGinn, while showing a few flashes of his former self, was again very up and down. Trez ran and ran, and you can't fault him for his effort. But time and again, he passed up chances to take on Enda Stevens, and never really gave the defense much to worry about. And if I'm being fair, there looked to be more than one opportunity where Jack didn't pull the trigger on a through ball that could've been on. Me, I think it's down to him taking too much on his shoulders, wanting to make things count, but he's going to have to roll the dice on those more often. It's been a criticism, and I think he's reached the stage where he's got to trust more. I've a feeling Watkins will reward him.
The Ugly
Well, you know there's going to be moaning. And Wilder is feeling a bit of pressure already. But Egan was clearly beaten, grabbed hold, and the ensuing 'controversy' regarding Watkins' arm has everything to do with the player trying to stay up, break free and not simply go to ground and sell the red. If you're honest and fight, then suddenly it's harsh? That's why players go down.
To go on and say Targett should've been sent off is just daft. Yellow card, penalty. Fair enough. Sheffield had a lifeline and let it slip.
Final Verdict
You expect a team down a man and defensively stout to play for the 0-0 or a smash-and-grab 0-1 off a set piece or lucky break. Didn't work out that way for Wilder and his men, but no surprises. After they went down and ventured forward, Villa probably should've had one or two more.
For the rest of it, Villa weren't very quick or incisive against the two banks of four, but that's no joke of a defense. They're big, solid, and very well drilled. They were playing about as deep as you can, and played a man down about as well as you can. Scoring has always been Sheffield's issue, not defending or working hard.
If Villa had the world-class attacking talent of Liverpool or City, yes, we'd have sliced them open. But we don't. It was going to be a game of attrition, and it's very, very hard to play for extended periods under the cosh without a slip-up. Villa had to be patient, and they were. Konsa took a difficult chance well, putting the ball the only place it could go to beat the keeper.
As I said above, when the game was more open, Villa looked the more dangerous.
Which isn't to say it was thrilling. Smith mentioned rust, and you could see it. But that's a game we'd have drawn or even conspired to lose last season.
Tactically, Smith may have waited a bit too long to take Conor off. We didn't really need him given how dedicated Sheffield were to staying behind the ball at all costs, and Davis provided a spark with his physicality up front. That said, I can understand that Smith may well have wanted to keep on a dead-ball specialist given how hard we were finding it to make clear-cut chances.
So, not a lot to be gleaned, really. If I'm looking out the outfield players, where I'd say we can improve is Conor and Trez. I'm sure a lot of people would say that, and others will disagree.
With Trez, it's about presenting threat as a forward who can take men on. He doesn't, for the most part. He's been most effective as a goal-scorer by poaching when left unattended away from the ball. And he does get crosses in. But if we're still pursuing Rashica or any other wide men, I can understand why.
For Conor, it's all about when we don't have the ball. He links up well, keeps things ticking over. He works hard, has a great attitude, and has scored some beauties. Obviously has a wicked delivery when he's on song. But defensively, he's more a body trying to get goal side and into passing lanes and ends up being a bit of a passenger.
I will also say that I hope McGinn finds himself soon.
He was struggling before the injury after a flying start last season. And even though we all adore his grit, tenacity, and work-rate—and know he's got a great ball in him, which he showed once or twice—at times he's feeling like dead weight. A bit slow, late to the show, and a bit sloppy overall. Smith's showing the patience and faith McGinn needs. It was a serious injury, and he's shown a lot of guts trying to play his way back from Restart on. I hope he can get there sooner rather than later. But at the moment, Luiz is the only player in that second three showing that he's indispensable. This is why I wouldn't be unhappy if we brought in another midfielder.
Anyway, roll on Bristol, which is a bit of a pain in the arse right now, and then Fulham next week. If Villa can get 6 out of 6 in the opening two fixtures, that would be 17% of last season's point total in just two games. These are the kinds of back-to-back matches we have to take advantage of.
Over to you.