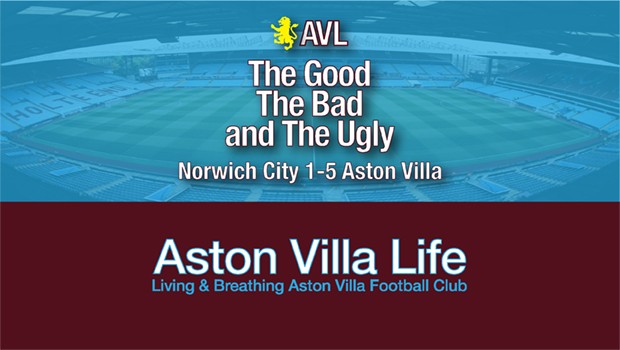 Even though Villa's first win in their return to the PL was met with euphoria, I'm pretty sure that feeling was exceeded after Villa's 5-1 dismantling of fellow returnees Norwich City. I've taken a few days to calm down (partly enforced), take it all in, and see what's being said. So, for your consideration…
The Good
Where do I start? Wesley: Excellent response. Jack: Imperious. McGinn: McGinn. Hourihane: Taking his chances at every level. Marvelous: Calm, composed, almost eerily quiet in his effectiveness. Luiz: Sidelined, but he sure does have a nice shot on him. In fact, all of the goals were very nicely taken. Really clinical finishing.
But of course it was a team performance. High pressure. Attacking support from both flanks. Smith carrying over his tactical tweak for Burnley to get Jack roaming free and Hourihane into the lineup.
The Bad
You never like to see a missed penalty. And if the game hadn't turned our way, AEG's header onto the crossbar might've come back to haunt us. Some loose play at the back, a goal-line scramble…It was all to play for early on.
The Ugly
Everyone loves Tyrone, but that backpass wasn't his finest moment. Heaton's either.
Final Verdict
It's easy to get carried away. But the palpable relief and joy of seeing our hopes given more solid footing is real enough. And it's always a good thing when there's proof positive that the manager sees things the way you do. For Smith, it's just been a question of time.
For one thing, he needed to get his fullbacks settled. Guilbert became a fixture first, and then, once healthy and given more time to integrate, Targett has stepped into the frame. Smith wouldn't have bought these players if that wasn't the plan all along. Less defensive players than attacking support, they provide a wider range of attacking options. This obviously complements Jack's move to a free role further up, and El Ghazi's role on the right. To be honest, I don't think we've lost anything defensively, either.
Of course, you can't have attacking fullbacks without a solid and mobile CB pairing that can play in space. There's insurance in Konsa and Hause, strong, mobile players who fit the same mould.
Naturally, the holding midfielder is every bit as crucial. Perhaps as important as anyone on a team like this. You can't get forward in numbers if you're always worried about getting caught out. You can't get forward to great effect very often if your most creative player always has to carry the ball from one end to the other. You can't stay forward without a supporting lynch-pin who can get the ball back, retain it, and distribute.
Just four starts in, Marvelous Nakamba has won over the support with an understated ease. He's quick, athletic, reads the game well, and is comfortable on the ball. The fact he's supplanted Douglas Luiz in the pecking order speaks volumes, as does the fact no one disagrees it's the right move. Here again, though, Luiz provides Smith with insurance, and it seems to be the case that he can be brought on as an effective, and attacking, substitution. Not bad when you can shore up the midfield with another player who's skillful and can apparently hit that top right corner with regularity.
Then there's Hourihane. Some have wondered what he does besides excel in dead-ball situations. This misses other parts of his game, like simply helping things cohere given the great understanding he has with McGinn and Grealish and his ability to be in the right places and keep things ticking over. Moreover, we know he likes to get into the box, and whether it's late runs or being available a little further out, he scores and helps create goals.
When it all comes together, you get 5. And we probably should have had 7. On a perfect day, another couple close calls from McGinn and Grealish go in, and we could've had 9. That's as many quality chances as you could expect of any team on the day.
The key is that these are distributed chances and goals. Jack and El Ghazi take pressure off Wesley, who responded fantastically given better service. McGinn is McGinn. Scoring, defending, showing dogged determination and seemingly endless energy. Nakamba obviously gives everyone the freedom to get forward. Hourihane? You never know where he'll pop up. And the fluidity amongst the attacking players is hard to defend. There's no single point of focus, no set pattern.
Naturally, I don't think we'll see Villa playing such wide-open football against Liverpool and City. I'd assume we'll revert to a more compact, counterattacking set-up, but Smith will be emphasizing that we don't want to sit too deep. We'll want to press out a little more, and stop getting too clever trying to work the ball out. We can't be as loose at the back. But, really, in this season's League, there aren't any other teams of their quality.
So full credit to Smith. Full credit to the lads. Full credit to the supporters who've been pointing to exactly this set-up.
"It's been coming" has been verdict, and it's true. That's Dean Smith football, and it's now Aston Villa football. We've taken a lot of leads, and we finally got the second Smith's been pointing to. Create, convert, and force the opponent to open up and give us the room to create more opportunities. We're here to play, and here to offer up positive, exciting performances.
It obviously won't go that well every week. But it certainly does make survival (and perhaps more) a lot more realistic. And it will go a long way to convincing the players and everyone else that Villa aren't destined to bottle it. The side's coming together, and Smith is finally getting what he wanted onto the pitch. His calm demeanor and quiet confidence has carried through. He has a plan and knows what he wants to see. He's gone and gotten the pieces to fit the way he wants to play.
If Villa can follow up that performance with another victory over Brighton, we'll be in a good spot heading into what most would expect to be consecutive defeats. But I also wouldn't bet against us getting something out of at least one of those games, and you'd almost have to think it would be City, who've shown much more vulnerability than the scousers. If The Canaries can put one over on them, who's to say we can't, as well?
But one game at a time, as Smith likes to say.
Over to you.