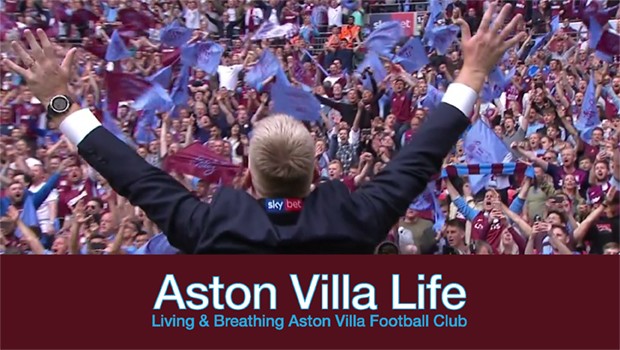 "How long was that last 15 minutes?" Oh, Deano. An eternity. But you did it. Villa did it. And now we're back where we belong. I really still can't believe it.
The scenes at Wembley were fantastic, unbridled joy and a huge helping of relief. We've seen now how hard it is, how the Championship just seems to claw at you. Just ask Leeds. And Villa being Villa, it was never going to be easy.
Truth be told, you could see Villa were feeling it down the stretch. After the swashbuckling, nothing-to-lose 10-game win streak, the weight of expectation fell heavily on the club and players. You always had a sense they'd have an answer this time, and they did, but we were nowhere near our best in the semis or the final. We'd almost run out of gas.
But in the end, there was just enough heart, just enough quality, just enough belief to get us over the line. At the third time of asking, Villa said: Yes. We can.
And that's the hardest part, breaking through all the mental barriers to find a way to win when everything is on the line. When there's been nothing for years but disappointment, frustration, and failure: When that's become the expectation.
You simply have to find a will to win. And we did.
So, it's short from me. Doesn't matter how anyone played. Doesn't matter how nervy it was down the stretch. All that matters was that Villa scored two, Derby scored one, and that was how it stood at the end of the 97th minute.
Villa have done it the hard way. But they've finally won something, finally lifted the clouds hanging over the club. They've overcome adversity, near financial ruin, and disenchanted support to finally take us over the line. It's been a wild ride. And as I think about it, it was fitting, the end. Instead of quietly securing a place, Villa had to play through a winner-take-all final on the big stage. Had to have it all staring them in the face. Had to finally give the supporters a reason to walk out of Wembley elated.
We know there's a lot to come. We know the side will have to change. We know it'll be tough to stay up the first year back. It'll be Liverpool, City, Arsenal, Chelsea, United and Spurs coming to Villa Park instead of Rotherham, Reading, and Brentford. Or small heath.
But none of that matters right now. It's time to celebrate. Time to enjoy being a Villan again. Time to be optimistic. Time to have a few too many drinks.
So let me say well done to all of us long-suffering supporters. Well done, Dean. Well done, the lads. You've accomplished what looked almost impossible, and in the process etched your names in the history book of our beloved club and given us all the footballing joy we've been lacking for so long.
Up the Villa.