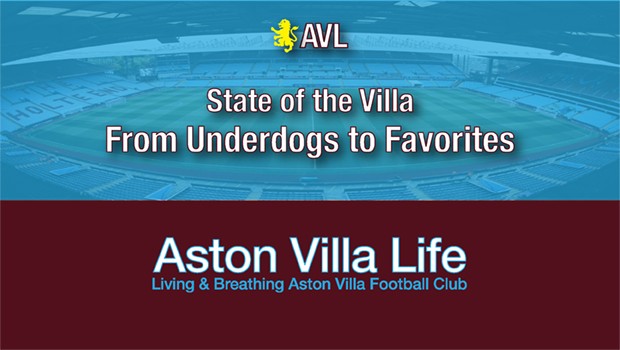 Hands on hearts…Did you ever expect this team to set Aston Villa's all-time record for consecutive league wins? Me neither. Yet here they've gone and done it.
So. Congratulations, you Villa boys! Something to be proud of. You've dug deep, kept believing, played hard for each other, the badge, and the manager, and simply refused to lose. And I don't know that any of us thought you had it in you. Thank you for proving us wrong and doing yourselves proud.
Given all that preceded the run, it really is an epic feat that's not only rescued the promotion dream, but given supporters something to truly savor. We've seen history made for the first time in a long time. Well, positive history, that is. We've seen Villa Park rocking, great crowds, and a real feel-good factor return.
And I know I didn't think 10 on the spin was going to be as crucial as it turned out to be.
So, there's that, and as Deano's been saying, it all means nothing if we don't get promoted. Sure, he's managing expectations, but I like the fact he's being level-headed and remaining focused at all times on the ultimate goal. This is obviously carrying over to the players, the training sessions, all of it.
But even if we fall short of the ultimate goal, I'm encouraged for Villa. I think we have the right man in place, finally. One who can handle a rebuild and duties for either the PL or another year in the second tier.
He's gotten a bunch of veterans and younger players on board with a much more demanding culture.  He's stuck to his guns, kept doing what brought him success elsewhere, and proven out his approach. The players are seeing the benefits or else they wouldn't be buying in.
He's also shown us what's been missing at Villa for a long time: a culture of accountability and professionalism. I usually don't like that managerial-jargon stuff, but that's what it comes down to. And it takes someone to be in charge who can make good on a simple promise: Do what I ask, give it a chance, and we'll all see the results.
Now that we're in, we'll see how Deano approaches things. It's one thing to talk about winning another five. But that doesn't necessarily tell us who he's going to put out there. He's got momentum and belief to maintain, expectations and psychology to manage. The players are buzzing, but now we're being seen in the press as an unstoppable force. Moved from underdogs to favorites.
And that's the challenge Villa face going forward. On our day, I think we can beat anyone. And were it not for us seemingly raising opposition keepers' performances, we'd have had a few more emphatic wins. But we keep creating excellent chances and remain tight at the back despite an ever-rotating cast of CBs. We've ground out results, found late winners, overcome adversity, dealt with nervy finishes, and stayed on the front foot as much as possible. We can run and play for 90 minutes and never think time's up. We've shown we can finally beat pressure, be composed, play quickly, and handle all sorts of different tactics and teams, home and away.
Can we keep doing it as favorites? That's what we'll find out. Is Smith secretly hoping for a loss or draw to bring everyone back down to earth and ease up this invincibility talk? Or does he believe we can keep going like a buzzsaw? Given his emphasis on attacking for the full 90, I'm inclined to believe he does think we can keep it up.
It may well be the case that the structure and focus he's introduced, the demands he's put in place, the routines and culture, will keep the players' heads right. If they believe they're as well prepared as anyone, as resilient and well drilled…That's half the battle. And maybe the more important half.
There's luck, of course. It can turn at any moment. But apart from maybe a couple of favorable calls agains the Robins, I don't think we've ridden it. Players have come in and stepped up when injuries have inevitably hit. Kodjia's goal in Tammy's absence might well have been as important to the side as the win without Jack. Jedi's stint deputizing for Tuanzebe/Mings/Hause has shown the preparation and mentality can carry throughout the side. It sounds like Tammy will be okay for the playoffs, at least, and Tuanzebe for Leeds.
We're Villa, so cautious optimism is always warranted. We've secured a playoff spot when it looked like a dream, and now have, one hopes, just five (or really three) games standing between us and a return to the promised land.
I'm as excited and nervous as anyone. All I can say is that unlike last year, when I couldn't see us winning through the playoffs, this year I can. Doesn't mean we will, but we can. All we have to do is keep playing like underdogs.
Over to you.