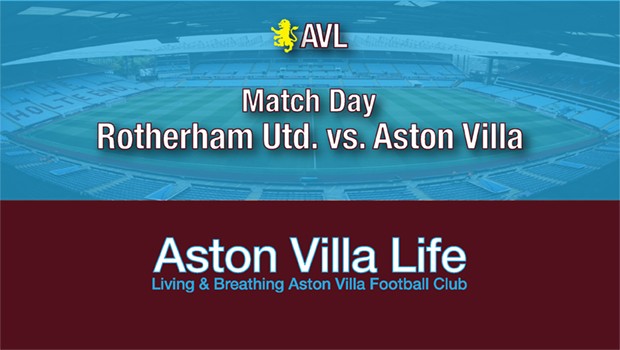 Six left, and the one up tonight is a real banana-skin. Rotherham, bang in the middle of the relegation fight, are not going to roll over meekly, and certainly not at home. And Villa, sitting sixth, have little room for error. Which is a bit harsh after six wins in a row. But that's how it is when you go on a late run.
Saturday showed us how fine the margins can be. Two minutes away from a draw after being under the cosh for virtually the entire second 45, Villa somehow managed to will themselves to three points. We'd still be sitting sixth on goal difference had we dropped the two we gained, but you can't overstate the importance of every single point with so many sides in striking distance and Villa still having to face Bristol, Leeds, and Norwich.
By now, everyone's digested the Wednesday game. The poetic justice of Jed Steer and Albert Adomah playing pivotal roles in the victory. The resolve to bend but not break. The wasted dominance of the first half. Coming back to equalize after going behind against the run of play by virtue of McGinn's brilliantly taken goal, and Green's fabulous assist.
All in all, a day when three points normally might've eluded a side. But as everyone always says, these are the kinds of games good teams find a way to win. And Villa had just enough belief, and quality, to hold on and make something happen. They want to win and don't give up.
So now we've seen Villa rampant and Villa hanging on. The quality seems to be there. The resolve seems to be there. And results around us have largely been favorable.
You'd figure Deano will be doing some rotating with Bristol up Saturday, though he's obviously been reluctant to break up a winning side and admitted he perhaps should have made changes earlier against the Owls.
I have to say, Jack didn't look at all himself Saturday, even if he rose to the occasion at the end. I wondered in the comments whether he's fully fit after not seeing him really challenge the man-marking from Wednesday. Maybe he didn't need to, but normally we'd see him trying to and winning fouls, if nothing else.
But I don't know that he's going to want to sit, and even when not at his best, he does open things up. So it'll be down to whether there is anything wrong, whether Jack's hiding it and trying to play through, and what Smith thinks. Whelan? I think everyone could see him getting a break, and Conor could use a run-out.
Adomah vs. Green? Hard to say. Green's work and pass to create McGinn's goal was lovely, but I think he's been a bit of a detriment overall if I'm being honest. He's not lacking talent or speed. I think he's just been out for a long time, wants to impress, and is trying too hard to do too much. He's not quite at the races in terms of decision-making. The only cure is to keep playing him. But I've no idea whether Dean will lean more toward Green's youth and development or Adomah's relative freshness and how that plays into his Bristol thinking.
Regardless, each of these last six matches ends up being a 'must-win'. There's room for error, I'm sure, and I don't know that anyone would expect us to finish by winning 12 in a row. But I'd rather we win this one and keep the pressure on than lose or draw and give anyone near us any encouragement. Just as long as going out to win it doesn't jeopardize our chances against Bristol.
So. We'll see.
Over to you.