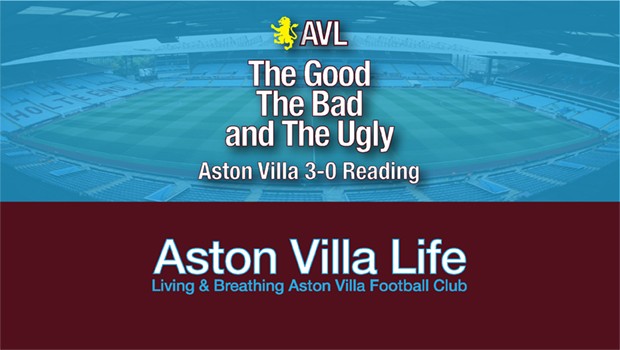 Villa's best side were on display Tuesday night, and they got Villa back to winning ways. In style, even. The 3-0 scoreline could've been more heavily weighted toward Villa, who were all over Reading from the off, but it might be even more indicative of Villa's performance given that it came against 10 men.
What I mean: Once a team is playing with 10 at 0-0, they obviously pack it in and are often more difficult to break down. In that context, three goals is a very decent return.
Anyway.
The Good
Pretty much everything. Villa were quick, combative, energetic, and as free-flowing as we get. On the front foot all night. Birkir Bjarnason, who I think was probably everyone's man of the match, had an outstanding display, leading one to wonder how he could ever be excluded. He defended, he scored, he tackled, he carried the ball, he was tireless. You can't even compare his influence to Jedinak's. Nor Hourihane's to Lansbury's.
While the breakthrough didn't occur until the second half, it had seemed inevitable up to that point. The only nagging doubt was whether Villa would rue not having capitalized on their first-half dominance, given our habits. But we came out for the second just as dominant, and quickly put to rest any worries about another 0-0 stalemate.
It might very well be the case that Reading were poor on the night (I certainly wouldn't have been happy as a Royals supporter at any point), but Villa looked like they had something to prove. It was the kind of game that showed what we could've been for much larger chunks of the season, and what we were like at our best when on the eight-game run.
Apart from a couple breakaways on the counter, Reading had absolutely nothing to offer, and Villa were in possession virtually the entire game, including the period before Paul Evans was sent off. Why was he sent off? We were running rings around them. Which was pretty much a 180 from the fixture at the Madejski earlier in the year.
The Bad
The only thing I've got is that the performance makes one wonder what Steve Bruce was thinking starting any other combination.
Oh, and something more substantive. Early on, we kept playing wide and lumping crosses in. They weren't bad, by and large, but Reading were more than equal to it. And if your striker is diminutive to boot, then why? Give him balls on the deck. Play through the middle. We finally figured things out, though.
The Ugly
Zero, zilch, nada. Unless Bjarnason can't go again Saturday.
Final Verdict
If Villa needed to find some momentum, last night was the performance they had to have. It was good all round. While certain players may not have shone as brightly as others, the real takeaway is that the unit produced, and that's what counts.
We've had unending debate about certain players. What I've said many times is that it's how they come together that matters. Before the game I called on this lineup because the midfield of Bjarnason, Grealish, and Hourihane is our quickest and most fluid. Adomah and Snodgrass are givens. Hogan? Not so much of late.
But the point with Hogan, as we've argued tirelessly, is that he's the right type of striker to fit in with the others. He harries and defends from the front. He pulls defenders with runs that open up space. I think we went around at some other point about his conversion rate and determined his is not really any different than Harry Kane's. The issue with Hogan, as I see it at least, is simply that we often just don't find him. Doesn't mean he can't be found. Just means we don't get it to him enough. Is he Gabby 2.0? No. Just no.
Did he miss a couple? Yes. Did he force at least one outstanding save? Yes. Point is, when you suck everyone in deep, there are opportunities for someone like Bjarnason outside.
Hourihane once again chipped in with another nice goal, edging his man to angle a header home. And Hogan finally got on the scoresheet by capitalizing on the industry that characterizes his game.
Bruce has to box clever, obviously, given the glut of fixtures. I was glad to see him bringing players off for that reason. But to my mind, he has one imperative: get the best team out there and firing. It's the only way we have a hope of making it through the playoffs.
If nothing else, one would hope last night instilled a bit of confidence and belief. Bruce's task now is not to outsmart himself. Doesn't really matter where we finish…It's how we finish.
Over to you.