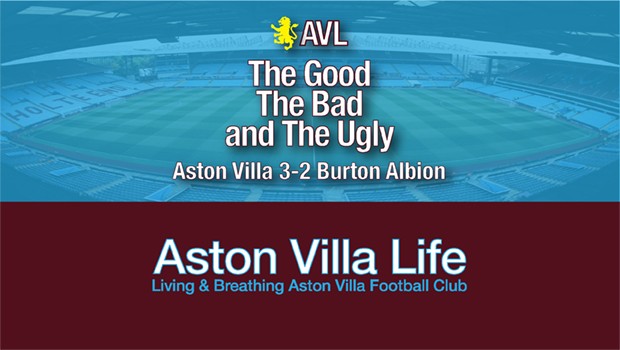 Winning six in a row isn't easy. Certainly not for Villa, anyway. Despite making it hard work of it in the end, Villa did just that, beating the visiting Brewers 3-2. Good thing, because even after six on the trot, Villa finished the day in the same place they started.
The Good
Everyone on the front line scoring, bar Snodgrass, who instead assisted Adomah on the second goal, and played a lovely ball in for Albert to square for Hogan on the opener. Grealish hit the crossbar before taking Elmohamady's cross on the volley and firing home for his first goal in ages.
Then of course there's the matter of winning six straight, which is a mental issue as much as anything. You can talk about building confidence, which Villa do seem to have more of these days, but as win streaks build, they can carry their own pressure. And certainly when the streak has been necessary to get Villa up around where they want to be and just as vital in keeping them there or thereabouts. Instead of feeling like you're cruising, you're realizing you need to keep winning even if you have just equaled the longest win streak since '97-'98 and now since '90. Hard to believe it's been nearly three decades since we've had a run like this. Or maybe not.
At any rate, we did what needed to be done and scored some nice goals along the way.
The Bad
A funny one from Villa, who did play hard, but also seemed a bit off the boil. There were some very tidy passages, and after we got the opener, the remainder of the first half saw us reasonably comfortable. However, Burton started hard and were the better team up until we opened the scoring. And they didn't go away. You wouldn't think a three-goal performance could be called lackluster, but it felt that way.
Credit to Clough and Albion, though. It's a very hardworking bunch, nicely drilled, playing it quickly and looking to get forward. They didn't come to park the bus, and were dangerous down the flanks. It was a very open game, and perhaps you can see why the Brewers are struggling, insofar as they acquitted themselves quite well, yet seemed powerless to intervene in any of Villa's goals. Simply a difference in quality.
Quick word on Jack's penalty shout: You've seen it given and not. The only downside to a player like Grealish winning so many free kicks is that he does risk, fairly or not, being perceived by officials as going down too easily. Certainly seemed the case yesterday since he got booked. He's a clever lad, makes a lot of players look foolish, and anticipates what they're going to do very well. But he'll want to avoid being seen as another Ashley Young.
The Ugly
Brilliant clearance from Elmo, who had a bit of a rough day defensively. I'm wondering if he had a tenner on 2-1 Villa.
To be fair, though, he did put in a lovely ball for Grealish to hammer in. But Burton seemed most threatening early on coming down the their left, and Elmo was having trouble containing Dyer. Akins was a menace from the other side, as well.
All's well that ends well, though.
Final Verdict
It really seemed more like Villa going through the motions than anything else. And not really in a bad way, just insofar as they looked a side that expected to win, kept thinking they had done enough, but didn't really put their foot on the throat. Concentration seemed to wax and wane.
But as I said above, you have to give Burton credit as well. They didn't quit. Neither did Villa, though. They worked hard, continuing to exert more energy in the pressing game and getting gritty to win the ball back. Each of the three goals was well deserved.
As I also said above, was really pleased to see Hogan continuing to be in the right places. It's so important that he feels he'll have chances and that he'll bury them. Today's was as easy as they get, but that's how it looks when everyone does things just right. Also very pleased to see Adomah get back on the score sheet. And of course, Grealish, as well, who's been very near to that elusive goal and finally got it. The balance up front is crucial.
From a tactical point of view, Steve Bruce's double substitution to put on Axel Tuanzebe and Josh Onomah seemed a bit forced, and was actually a bit risky, as well. I wasn't really a fan of the move in terms of the game itself. Bigger picture, rotating players in, especially Tuanzebe if you're planning on using him, well, you'd like to think you could introduce him while you're winning at home against the bottom side. And Onomah, since he's staying, does need to be kept involved. So, it made sense in the big picture, as did keeping Snodgrass safe on his yellow.
Grealish? I keep saying it, but the kid really is coming into his own and I truly enjoy watching him play. He's working hard all over the place, asking for he ball, making things happen, and just oozes quality and confidence. The wonderful thing is that he's almost certainly still got more to show.
Hogan is now feeling it, Adomah continues to be a consummate team player, and Snodgrass has made himself an all-round asset: if he's not scoring he's setting someone else up, and keeping Villa very balanced. You have to like his workrate and commitment.
So…another week, another win, and now small heath standing in the way of seven consecutive wins. They certainly ought to get Villa's full attention. As wonderful as this run has been, though, it remains very tight up top. With Derby and Cardiff both cruising to easy wins, you can see why it's imperative to win as many as possible. We've dug ourselves out of a hole and gotten right up in it. But the job is obviously far from over.
At any rate, I'm enjoying the football, enjoying seeing a balanced team with goals in it, enjoying liking the players.
Over to you.